Has Someone Betrayed Your Trust?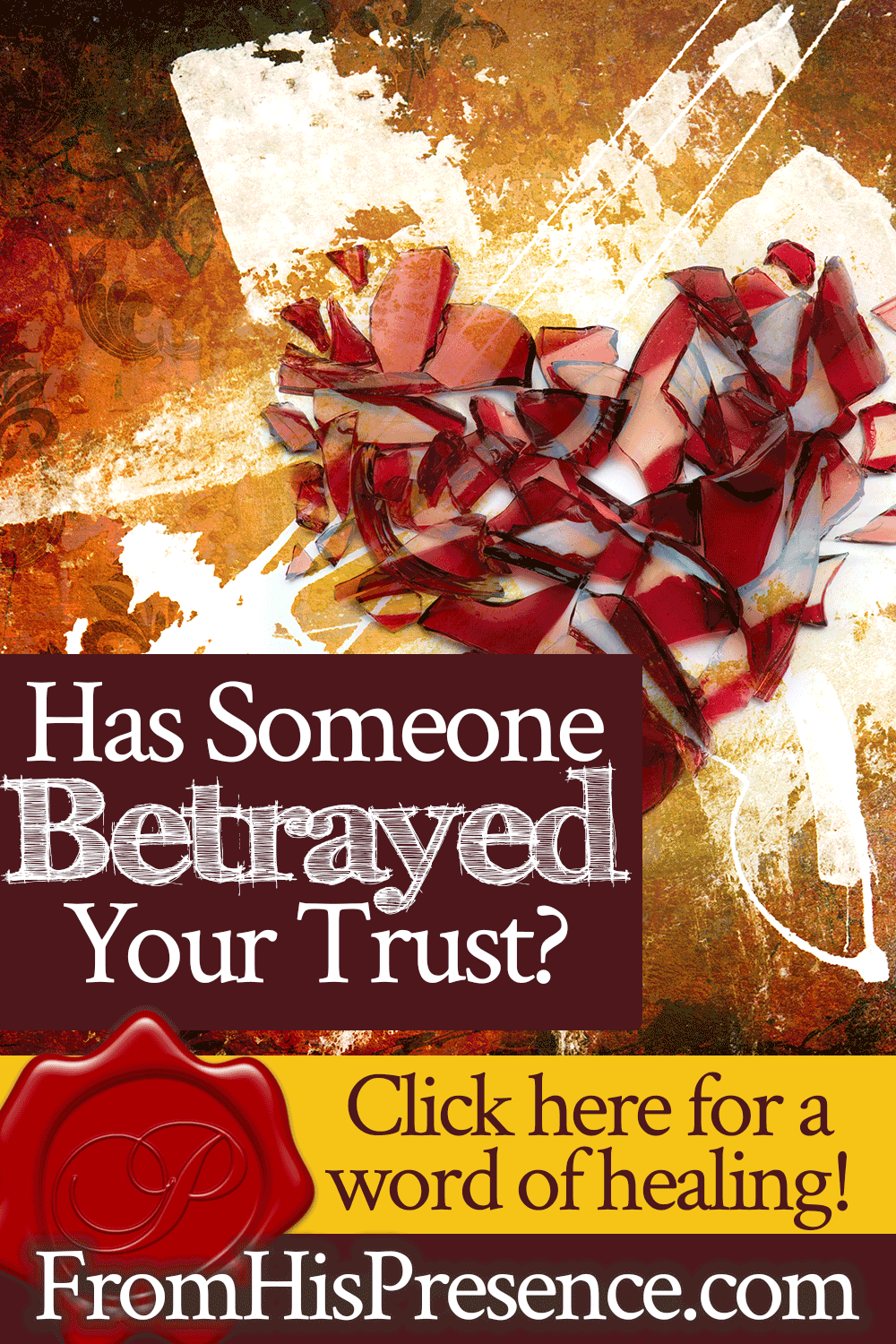 Friend, has someone betrayed your trust? Are you still hurting over it? And, do you find it hard to trust God ever since the betrayal happened? If so, today's word of healing is going to minister deeply to your heart.
Yesterday, I was praying and asking the Lord to show me some things that were going on in my own heart.
Specifically, I was struggling with the difference between faith and trust. I have tons of faith in God; faith is one of my highest supernatural gifts. But, for a little while now, I have been struggling with trusting God. (Read about the short prayer, "Lord, help me to trust You," that the Lord led me to pray recently here–and how this simple prayer helped.)
One of the biggest problems, however, was that I hadn't been able to identify the difference between faith and trust. And I knew the Lord had to show me that in order to show me why I WAS believing (in other words, operating in faith), but was not trusting Him.
Here is what He showed me about the difference between faith and trust:
Biblically speaking, faith (in the Greek) is the word we transliterate pistis, which means both the deep, inner conviction of a thing PLUS the simultaneous verbal confession of a thing. You cannot have Biblical faith without speaking your faith out loud, and without being deeply convinced of it down in your gut. That is what faith is!
But trust, I realized (by revelation of Holy Spirit–not by my own self for sure!), necessitates a belief that a person is trustworthy. In other words, in order to trust someone, you have to believe they are deserving of your trust.
Did I believe that God was deserving of trust?
I pondered this and continued asking Holy Spirit for help and wisdom to understand. And I looked back over the last few years, remembering when I definitely felt God was deserving of trust.
(Keep in mind, these were totally subconscious thought patterns I was asking the Lord to expose and reveal to me. I never, at any point, consciously chose to think God was not deserving of trust. But I was asking the Lord to dig deeply into my inner man and reveal things I didn't know, in order to heal my heart.)
I know for sure that I used to think God was worthy of trust. But I realized, to my sorrow, that I had not been considering Him worthy of trust for the last several years.
Why? What happened? And in what way did I subconsciously believe God was not worthy of my trust?
I suddenly realized that, in order to be considered trustworthy, you have to believe that someone will not turn on you.
Review the basic keys to inner healing!
If you want to get healed and stay healed, you need to understand how inner healing and deliverance work. Take a moment to review these slides.
And with that revelation, I began to understand … because, over the last seven years, multiple people whom I loved with ALL my heart had suddenly and viciously turned on me, and for no reason. People have been inconsistent and NOT trustworthy.
Therefore, I had developed a paradigm without even meaning to that said, "People I love and trust are going to turn on me." And that paradigm led to the inner belief that God is the same way: that, because I love Him and trusted Him, He would also turn on me.
So I lost my trust in Him. I never, at any time, lost my faith in Him. But I did lose my trust in Him.
I knew He was faithful, and I never lost that faith in His faithfulness. I've come too far with God not to know who He is, and I wasn't denying that part of His DNA.
It was the personal application to me that I was struggling with. I knew He was faithful and didn't lose my faith in that. But I did lose my ability to believe that He was going to be kind to me, and that He was not going to abandon me, betray my trust, or get angry at me.
It was the trust in His personal passion for me that I lost. I lost my trust in His kindness toward me, and I ceased thinking that He was my Protector and Romancer and Lover (of my soul) and Best Friend–instead thinking of Him as being my Sovereign and Lord and God Most High.
(Which, of course, He is … but He is so much more personal than that.)
So I didn't lose my worship, but I lost the personal ability to trust in His goodness toward me. All because people have not been trustworthy or kind or consistent or good to me, and God didn't stop it.
(He didn't stop it because He respects people's free will, but He DOES work it out for our good. This article, for example, is one way He is working this out for my good–because He is using my story to heal YOU, and that means the world to me.)
Well, when Holy Spirit showed me these things, I immediately knew that I must not have forgiven the people who have betrayed my trust for these things.
Forgiving from your heart is a process that requires Holy Spirit's help. Why? Because every bad situation is like a dark, black diamond.
It's dark because it's bad and hurtful. But, it's like a diamond because it has many, many facets. And if you forgive for 99 of the 100 facets of your situation, not knowing there are any additional facets, then you'll only have 99% healing. That situation will still have a "hook" in you until you forgive the person for every facet and angle of what happened.
However, without Holy Spirit's help, we won't notice all the facets or angles of a situation. We can forgive for everything we notice, but we need the Lord to continuously disciple us and show us anything at all that we may need to yield to Him, leave at His feet, and forgive.
So, in that moment, Holy Spirit showed me that I needed to forgive the people who have betrayed my trust.
Forgiving the people who hurt you–forgiving from your heart–is the key to healing any root issue. (Read more about that here in What Is Unforgiveness Jail and How to Get Out of It.)
I had already forgiven them, long ago, for everything I could think of–and for everything He showed me at those times. But this was something new; something I had never thought about before. (People are like onions; there are layers, and Holy Spirit will show you the layers over time and walk you through each one as He deems the time to be right.)
Since I had been feeling like God was going to turn on me, the Lord showed me that I needed to forgive the humans who actually did turn on me–and forgive them for that specific thing.
So I did. I used this prayer that I wrote for our inner healing classes for forgiving from your heart:
"Heavenly Father, in Jesus' name, I choose to forgive      (insert person's name)       for      (insert what they did and also what they failed to do)       . I choose to leave these things at Your feet; to let them go; and to give up all resentment.
Father God, I place these things in Your hands right now. By Your grace and mercy, I choose to not pick any of these things back up anymore. I take my hands off of these things, and I look up into Your eyes.
Optional: Father God, I know that whenever I give You something that You have asked me to release to You, You have something better for me in return. So Father God, because I have handed You my hurt, I know You have something better. Father, please show me: what are You giving me in exchange for all these things I've handed over to You?
 (Pause a moment here. The first thought that flashes across your mind that lines up with God's Word is usually what Holy Spirit is saying—even if you feel it's too good to be true. He will always tell you what He's giving you if you ask Him. And when He does, take a moment, thank Him, and tell Him that you receive the gift(s) He's giving you.) 
Now Father God, in Jesus' name, I confess that I have harbored bitterness, unforgiveness, hatred, anger, rage, resentment, and even a spirit of murder toward this person.
Lord, I confess these things as sin. Please forgive me for my sin. Cover me and wash me with the blood of Jesus. Fill me with the Holy Spirit where all these things were, and make me like You.
And now, Father, I pray for      (insert person's name)       . Forgive them for everything they've done. Cover them and wash them with the blood of Jesus. Give them a new heart, and make them pure and holy. Fill them with the Holy Spirit and draw them closer to Yourself. Bless them, Father. In Jesus' name, amen."
And you know what, friend?
As I prayed through that prayer to forgive the people who betrayed my trust, it was like a breath of fresh air:
Suddenly, I no longer felt like God was going to betray me.
Suddenly, I both knew AND felt in my "feeler" that God can be trusted.
And suddenly, I felt His kindness, affection, and love radiating toward me again. I felt His pleasure and delight in me, and I sensed that holy romance again between myself and Jesus, the Lover of my soul.
I felt the passion of His love toward me again, and I sensed His protectiveness over me.
I always knew those things, but it had been awhile since I "felt" them in my feeler. 🙂 Life can knock your feelings right out of you sometimes, and I've been through absolute hell for the last 7+ years.
But suddenly, I felt the divine romance with my Lord Jesus was back.
I had not been sensing that romance for awhile because people, even recently, have betrayed my trust so badly. People who were supposed to protect me didn't; they turned on me viciously instead.
As a result, I had subconsciously, and without meaning to, assigned those false characteristics of people to God. But forgiving those people for betraying my trust, and for how they treated me in general (even though I had forgiven them before!), cut off the root of that false feeling about God.
To renew my mind, I then began meditating on God's Word about the lovingkindness of God toward me.
I called to mind Scriptures about His love, His kindness, and His protectiveness toward me. And I was able to apply it and internalize it like I haven't been able to do in a long time.
Friend, has someone betrayed your trust?
Have you also been struggling with trusting God as a result of those people's betrayal? Have you continued believing God, but have you deep down lost your trust in Him?
Have you been thinking, whether consciously or subconsciously, that God would turn on you, betray your trust, and not be kind to you?
If so, you can heal from that today. All you have to do is let Holy Spirit lead you through the prayer to forgive the people who betrayed you from your heart.
How do you forgive from your heart? Like this:
Pray through the sample prayer above.
Let Holy Spirit lead you as you pray.
When you finish praying, meditate on truths from God's Word about how kind He is toward you; how protective He is toward you; how trustworthy and CONSISTENT He is toward you.
Friend, you can heal if someone has betrayed you. And your perception of God can heal too.
You can get the divine romance with Jesus back. You can have that sensation of His passion and kindness toward you restored. And you can see the manifestation of His kindness both in your emotions and in the level of blessing, comfort, and nurturing from the Lord you receive every day.
So what are you waiting for? Scroll up and pray! Release the burdens and pain of betrayal, inconsistency, falseness, and everything else to our Father who knows you best and loves you most.
Then leave a comment below and let me know if this word about healing from betrayal helped you!