10 Prayers to Become a Soul Winner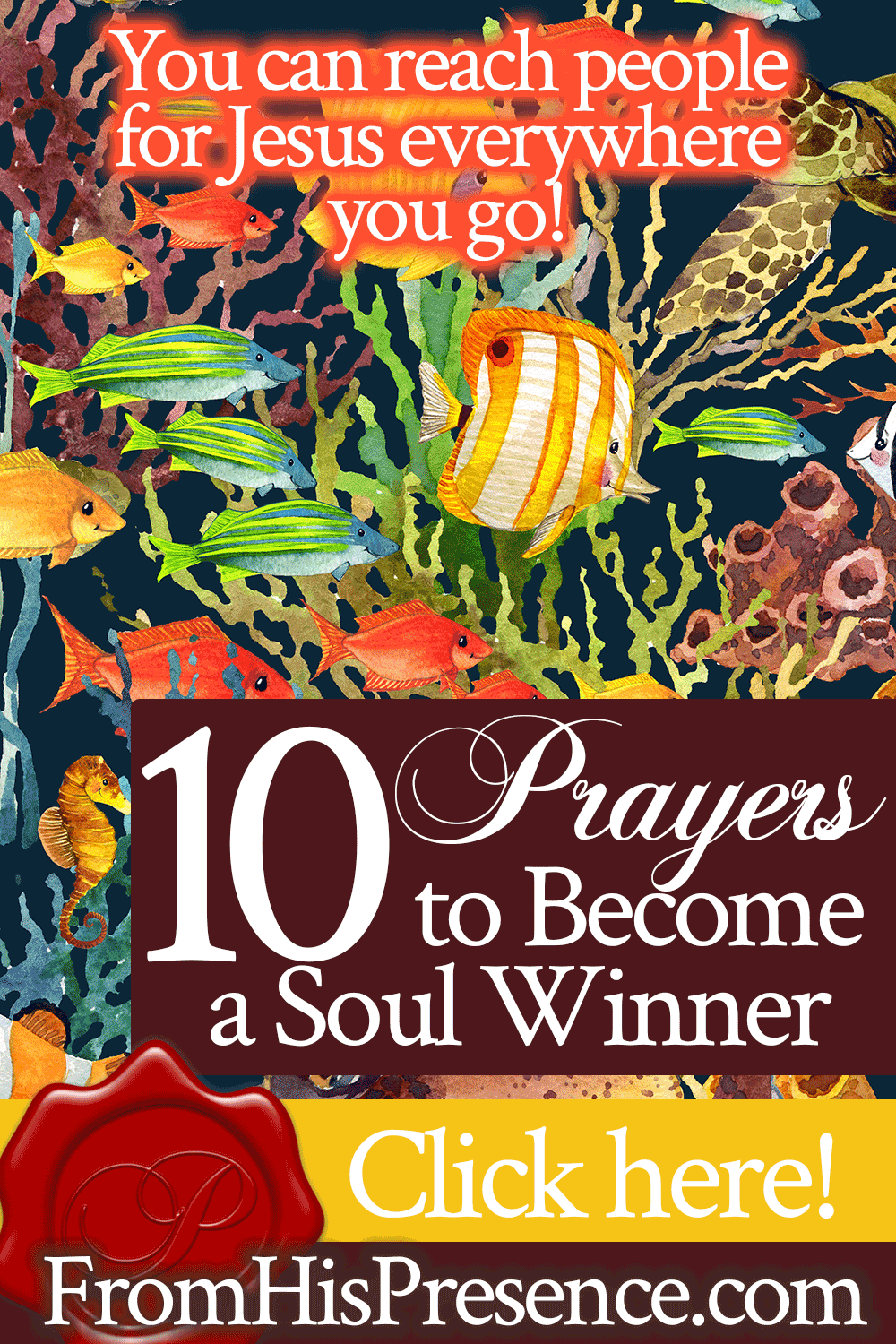 Do you want to become a soul winner? Whether you have a great passion for winning people to Christ, or even if you only want to win souls because you know it's the right thing to do, God will help you.
Today, I'd like to share 10 prayers to become a soul winner.
These prayers are all simple, one-line prayers. But when you pray them, the Lord will help you learn how to witness for Him. He'll also give you boldness, so that you don't feel shy or scared to talk about Jesus even with people you don't know.
Before we begin, let me first tell you that you'll find a free, printable bookmark infographic at the end of this article that you can print and keep with you. It will help you remember to pray all ten prayers often!
Are you ready? Here we go!
In no particular order, pray the following ten prayers to become a soul winner today and every day:
Prayer 1: "Lord, make me a fisher of men!"
In Matthew 4:18-19, Jesus was taking a walk by the Sea of Galilee at the beginning of His ministry. Of course, it was no coincidence; Father led Him there. And as He walked, He saw Simon Peter and Andrew his brother, and He called them to follow Him.
Here's what happened:
"And Jesus, walking by the Sea of Galilee, saw two brothers, Simon called Peter, and Andrew his brother, casting a net into the sea; for they were fishermen. Then He said to them, 'Follow Me, and I will make you fishers of men.' They immediately left their nets and followed Him" (Matthew 4:18-19 NKJV).
What does it mean to be a fisher of men?
When you fish for actual fish, you put your bait on a hook and dangle it down in the water. You don't know what's going to bite. Only Heaven knows what kind of fish Jesus is going to send to your hook that day. But, you fish and do your best–and trust God to provide.
In the same way, when you're winning souls, you put your "hook" and your "bait" in the "sea" and see what the Lord sends:
The "hook" is the Gospel; salvation itself.
The "bait" that gets people to grab onto salvation for themselves is the goodness of God. As it says in Romans 2:4: "Or do you despise the riches of His goodness, forbearance, and longsuffering, not knowing that the goodness of God leads you to repentance?" (NKJV).
In Scripture, particularly in the book of Revelation, the "sea" represents the masses of humanity around the world. Also, water itself represents God the Holy Spirit.
The "fish" are the people: people of every nation, every tribe, every tongue, and every kindred. God wants all of them to be His sons and daughters, for it is not God's will that any should perish–but that all should come to repentance.
As it says in 2 Peter 3:9:
"The Lord is not slack concerning His promise, as some count slackness, but is longsuffering toward us, not willing that any should perish but that all should come to repentance" (2 Peter 3:9 NKJV, emphasis mine).
So, when you attract people with the sweet smell of the goodness of God, they hook onto the Gospel and receive salvation itself.
And we are to do that with all the people around us, believing God to move by His Spirit across all masses of humanity to bring people to Christ in droves. And as we "fish" for people, we must expect to witness to all kinds of people, or "fish":
red fish and blue fish and striped fish and and spotted fish;
tall fish and skinny fish and fat fish;
fish without fins and fish without eyes;
professional fish and fish without a job at all;
educated fish and fish without any formal education at all;
disillusioned fish and discouraged fish, hopeless fish and down-and-out fish;
smart fish and not-so-smart fish and wise fish and unwise fish;
law-abiding fish and criminal-history fish and rich fish and poor fish … and every other kind of fish you can name.
All of them matter in God's sight. All people matter in God's sight. They are all created in the image of God; people for whom Christ died. Romans 2:11 states, "There is no partiality with God."
"Lord, make me a fisher of men." It's a simple prayer, but it will change your life.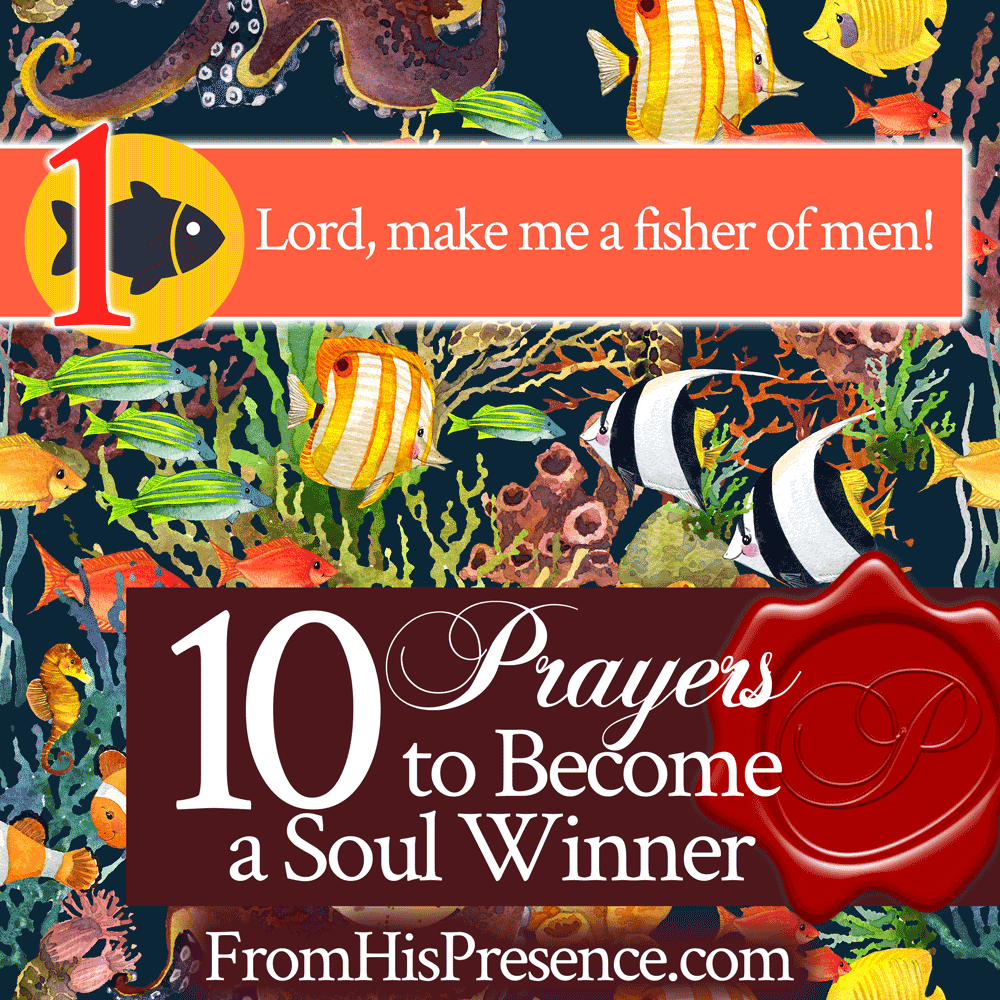 Prayer 2: "Give me boldness."
In Acts 4:29-31, the apostles and the first group of believers in Christ were being persecuted. Two of the apostles, Peter and John, had been arrested by the Jewish religious leaders and their guards. Peter and John were questioned and commanded not to speak in the name of Jesus.
However, they didn't agree. And when they were let go, still under the commands not to speak in this holy Name, they went back and gathered the church for a prayer meeting.
You can find their whole prayer in Acts 4:23-30, but the following is part of their prayer for boldness:
"Now, Lord, look on their threats, and grant to Your servants that with all boldness they may speak Your word, by stretching out Your hand to heal, and that signs and wonders may be done through the name of Your holy Servant Jesus" (Acts 4:29-30 NKJV).
Well, God listened. Acts 4:31 says this:
"And when they had prayed, the place where they were assembled together was shaken; and they were all filled with the Holy Spirit, and they spoke the word of God with boldness" (Acts 4:31 NKJV).
God gave His children boldness when they prayed for it. But are we still praying for the same things today?
Perhaps not. Perhaps, sometimes, our prayer subconsciously goes more like this:
"Lord, please don't let that person talk to me. I'm an introvert, and I don't want to be disturbed right now. I hate talking to people I don't know."
Or …
"I'm so busy, Lord. Why do these people have to bother me?"
Sound familiar?
Beloved, there is joy in sharing Jesus with someone who is hurting and broken.
And without Christ, ALL people are hurting and broken. They may not even realize it, but you have the solution to their pain. The Solution is Jesus Christ Himself.
So, instead of being afraid to witness about Him, why not see yourself as the Great Physician's assistant, ministering help and healing to all the weary, discouraged, downcast, and downtrodden people around you?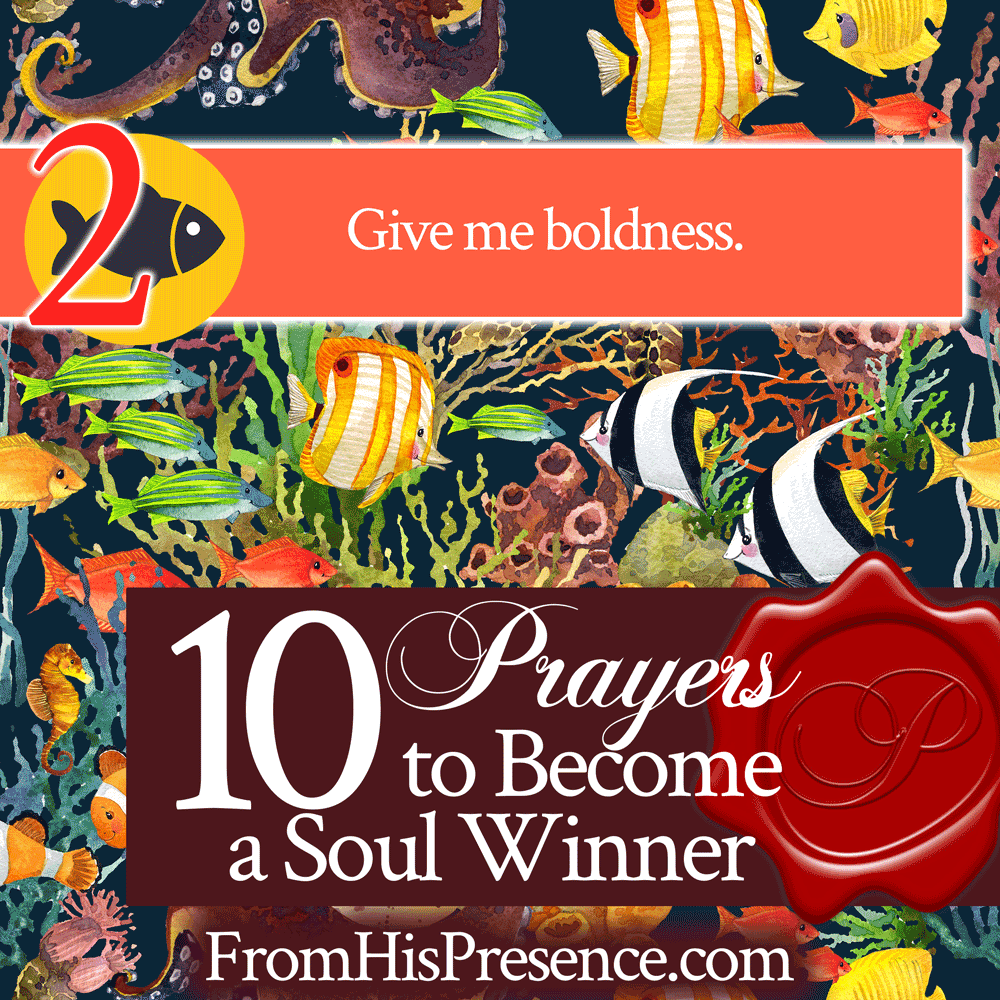 So ask the Lord for boldness today. Ask Him to help you speak boldly, both to people you do know and to people you don't know. He will hear and answer!
Prayer 3: "Help me to see with Your eyes."
Seeing people with the eyes of God helps you increase in compassion toward them. When you see people as distractions, hindrances, or annoyances, you don't care about their eternal security. However, when you look at a person with the eyes of God, you see:
Jesus, hanging on the cross, wracked with pain and weighed down with the sins of the world–and praying for THAT ONE;
The redemptive plans God has had for that person since before the foundation of the world;
Most of all, the LOVE God has for that person–the same love that drove Him to send His only begotten Son, Jesus, to the cross to die for you, for me, and for THAT person.
When you see people with your eyes, you only see what they are. (And sometimes not even that; sometimes you only see what they aren't, which is worse.) But when you see people with God's eyes, you see what they can be … what they are supposed to be … and what God desires them to be.
When you see people like that, you'll be wrecked with love both for the people around you AND for people in general.
Then, you'll be much more bold to speak the Word of God to them without fear.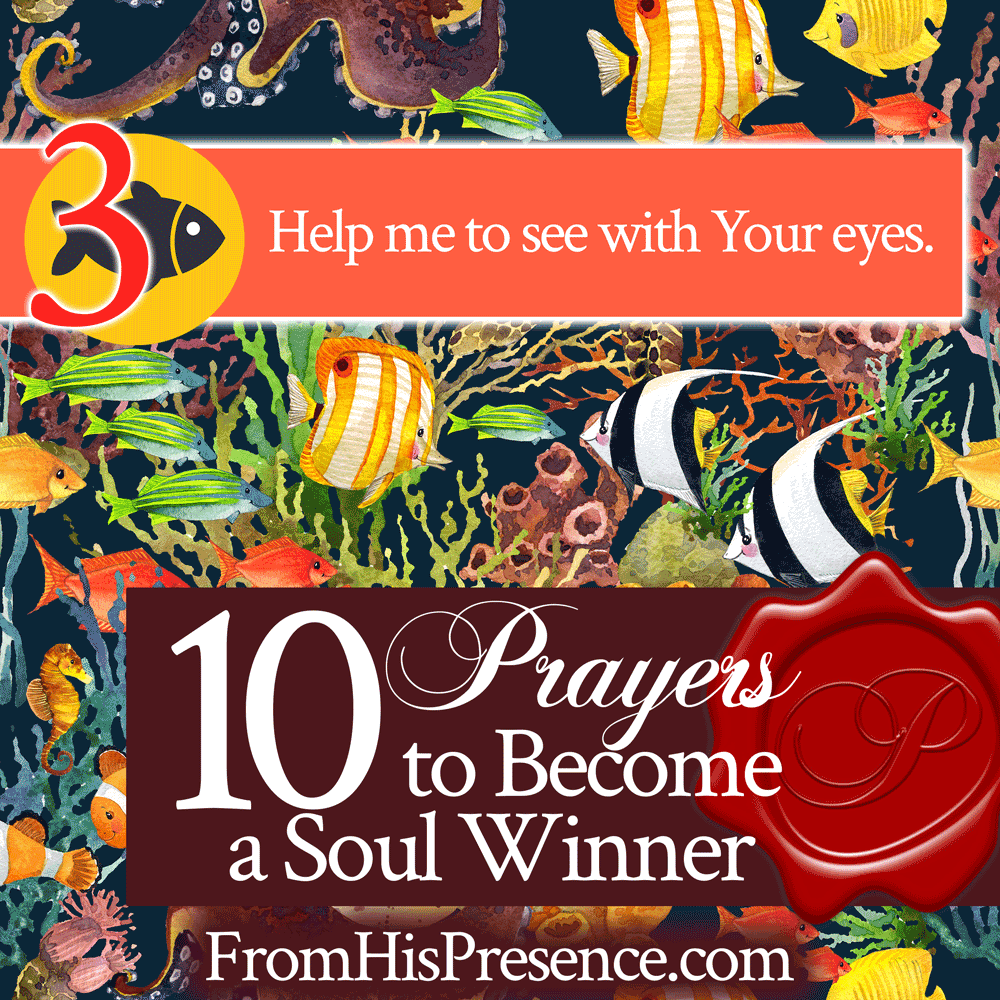 So ask God today to help you see people the way He sees them. As it says in Isaiah 45:11:
"Thus says the Lord, the Holy One of Israel, and his Maker: 'Ask Me of things to come concerning My sons; and concerning the work of My hands, you command Me" (Isaiah 45:11 NKJV).
God WANTS to share His love for others with you. He wants to share His plans for them with you. He wants you to be an intercessor for lost and hurting people around you, and He will help you see others with His eyes so that you can.
Prayer 4: "Help me listen to Your promptings."
When God wants you to speak to someone, Holy Spirit will prompt you in your spirit. You will feel an urging, a compelling, a sensation of "I should speak to them."
But beloved, if you ignore those inner promptings of God's Holy Spirit, you will miss out on an opportunity to witness for Jesus.
God takes it seriously when we ignore His promptings to warn others of their need for Him.
Look at what He said about physical watchmen on the wall in the book of Ezekiel:
"But if the watchman sees the sword coming and does not blow the trumpet, and the people are not warned, and the sword comes and takes any person from among them, he is taken away in his iniquity; but his blood I will require at the watchman's hand" (Ezekiel 33:6 NKJV).
I don't ever want someone else's blood to be required at my hand, do you? And yet we don't know the timing of other people's lives.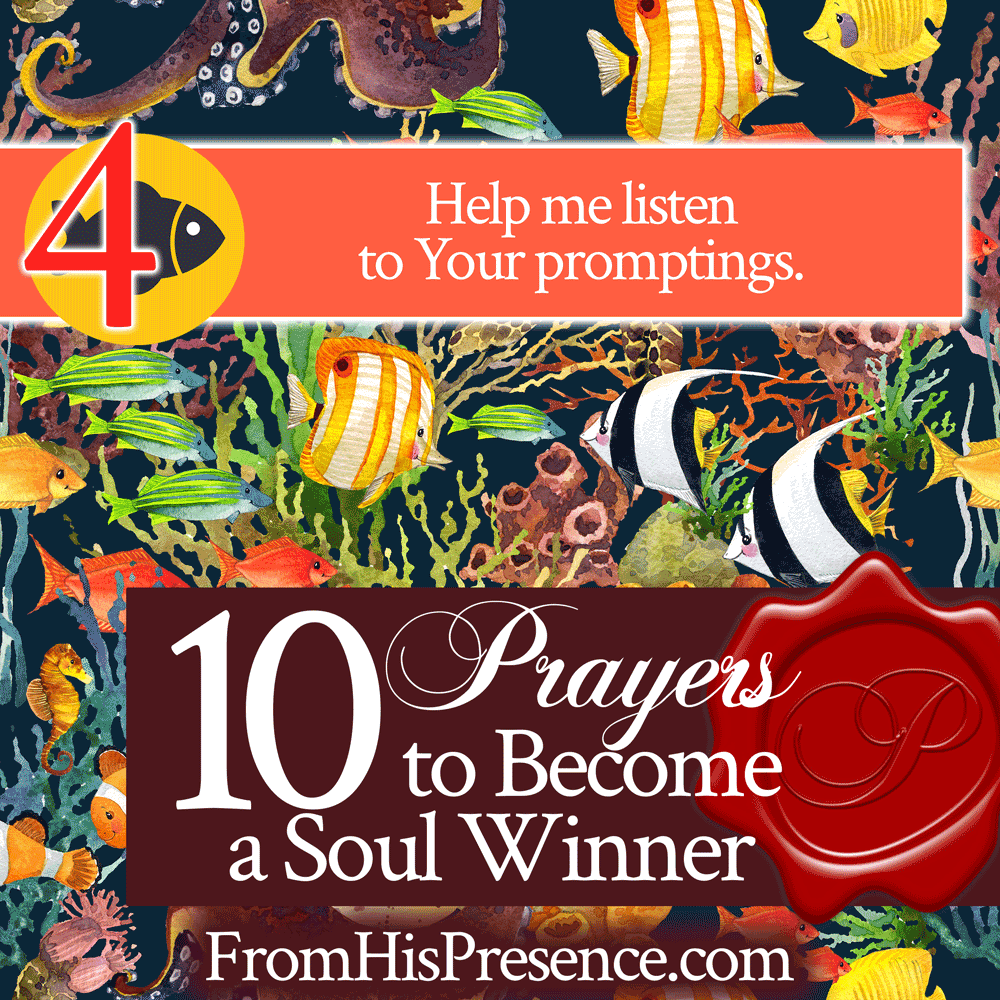 When Holy Spirit prompts you to speak to someone about Jesus at the grocery store, could it be that that person's time is short? Are they going to leave the grocery store, become involved in a terrible accident, and perish? Was it their last shot to hear about the Gospel when Holy Spirit prompted you?
This is so hard to think about. I don't like to think about it at all.
That is, my flesh doesn't like to think about it. And of course, it grieves my spirit that anyone could miss their last chance because of me.
Yet, this is reality. People die every day. Unexpected tragedies happen every day. As Christians, we believe God for protection according to Psalm 91, but that sinner God is pointing to in the grocery store has no such protection.
But beloved, tragedy doesn't have to happen when it comes to someone's eternal soul.
If you and I will listen to God the Holy Spirit when He prompts us to speak to the people around us, He will lead us and show us what to speak. He will help us share the Good News of Jesus Christ.
Will you listen to His promptings today?
Prayer 5: "Increase my awareness of eternity!"
Ecclesiastes 3:11 tells us that God has placed eternity in each of our hearts. This verse says:
"He has made everything beautiful in its time. Also He has put eternity in their hearts, except that no one can find out the work that God does from beginning to end" (Ecclesiastes 3:11 NKJV).
This verse means that we each have eternity and a connection to eternity–a yearning for eternity, and a deep awareness of eternity–in our hearts.
We each, deep down, know that we were made to live forever. But, will we live forever in Heaven? Or will we live forever burning in an eternal hell?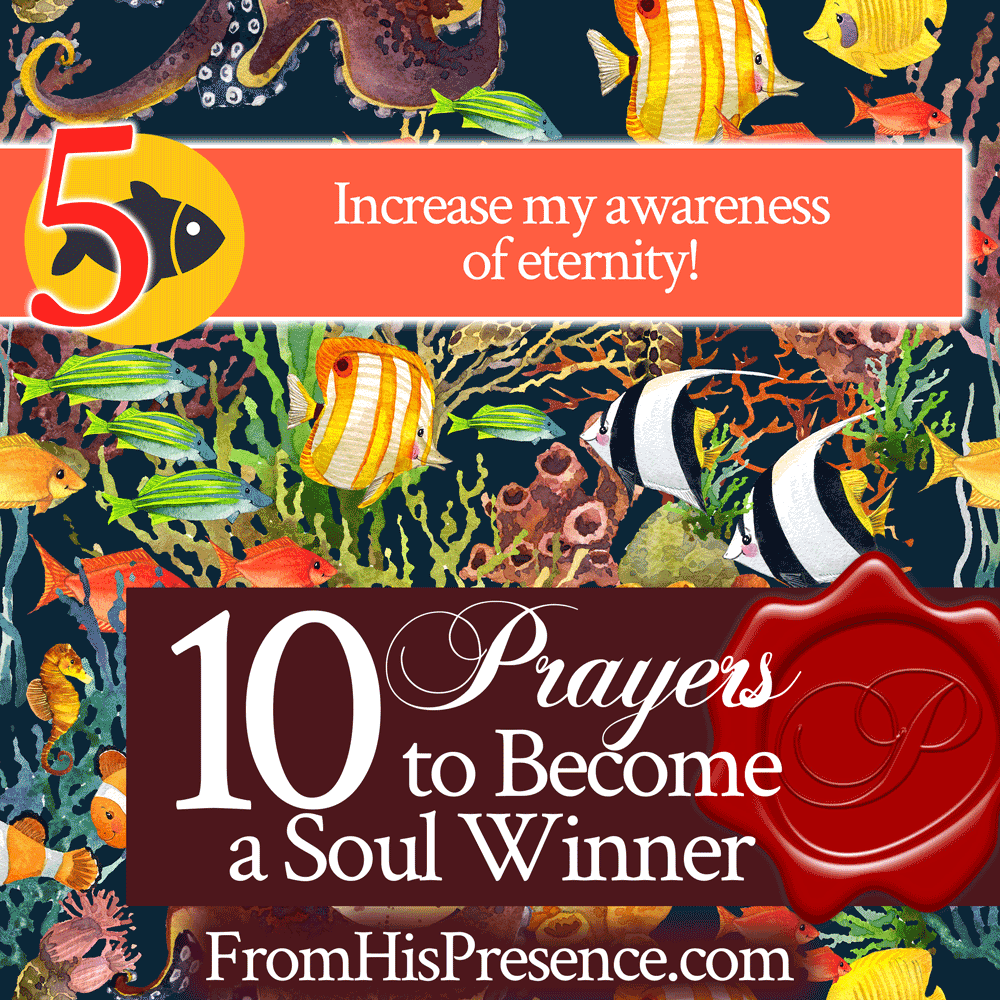 If we ask the Lord to increase our awareness of eternity, then I'm here to bet that we will each become obsessed with getting as many people as possible to accompany us to Heaven. And of course, the only way anyone can get to Heaven is through Jesus:
"Jesus said to him, 'I am the way, the truth, and the life. No one comes to the Father except through Me'" (John 14:6 NKJV).
So if we have an increased awareness of eternity, we will at the same time have a sharpened sense of how urgent it is to be sure that everyone around us will be spending eternity in the right place–with Christ. This will result in more boldness and passion for witnessing and winning souls.
Why not try it today? Ask the Lord to increase your awareness of eternity right now!
Prayer 6: "Help me to see the value in all people."
When you are out fishing for people, do you see all people as having value and worth in God's sight? Or do you show partiality to the popular fish, the rich fish, the business-owner fish, the millionaire fish, the clean fish, the nicely-dressed fish, the non-urine-soaked owner of a 3-bedroom, 2-bath home in the suburbs fish?
Are you willing to pour as much love and effort into the outcast fish, the poor fish, the fish who works in the sewers, the rural fish, the dirty fish, the out-of-style fish, or the urine-soaked wino who lives under the bridge or in a tent city at your town's homeless camp?
There are some people who will only pay attention to people if they look just like them, talk just like them, smell just like them, have as much money as they have, or whatever. Don't be one of those.
Instead …
Be a person who stops and blesses the prostitute or the wino with some breakfast, talking to them about the love of God and showing them that you care.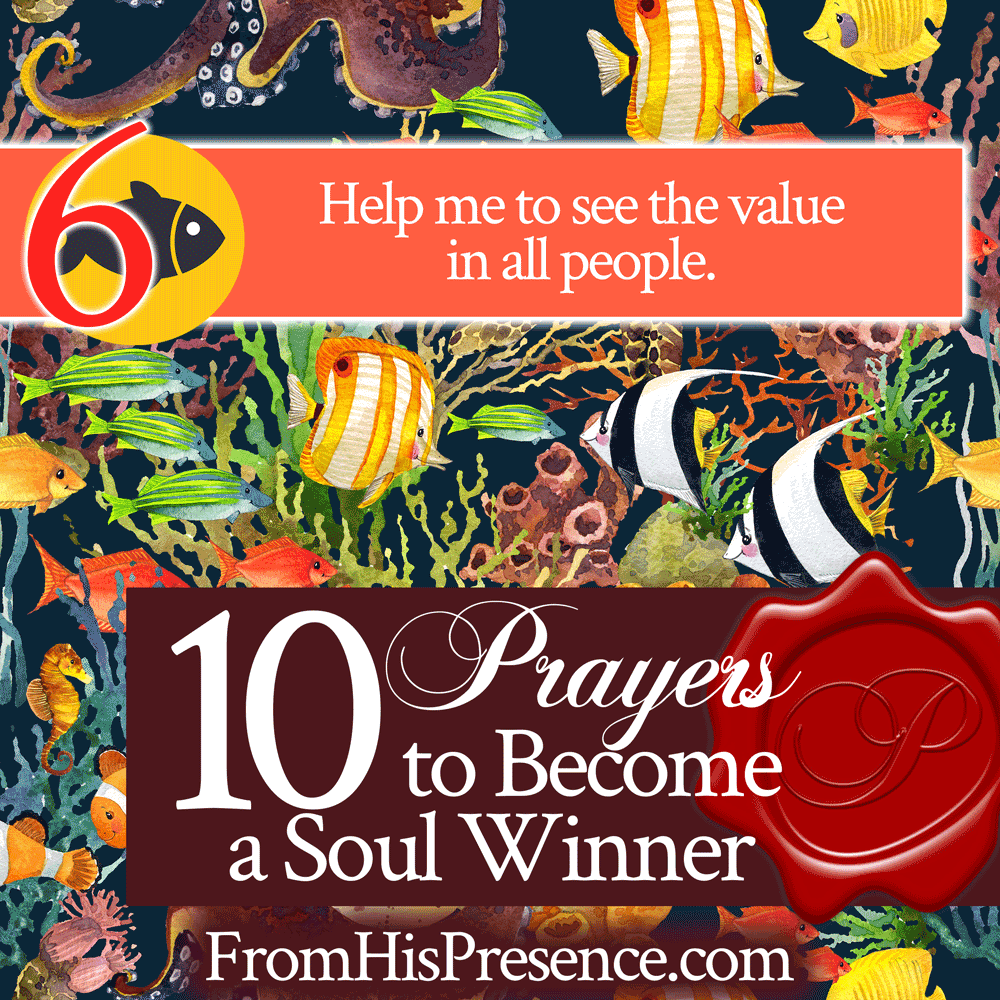 Ladies, be part of the ladies' group who takes pizza to the women working at the strip club in your town. Men, be one who carries donuts down to the tent city where people experiencing homelessness gather. Be one who hugs the ditch-digger, blesses the poor, and cares about the hurting around you …
… No matter what they look like, where they come from, what they did in the past, or what they are doing RIGHT NOW.
Remember, "There but for the grace of God, go I" (John Bradford, 1510-1555).
All people matter to God. Ask Him to help you see the value that He has placed in all people. It will totally change your perspective.
Prayer 7: "Wreck me for the cross."
Jesus suffered cruelly on the cross, and He did it for you and for me. Horrible things happened to Him, like:
He was beaten within an inch of His life;
His flesh ripped off His body;
He was mocked and scorned;
He was suffocated;
He was dehydrated;
He had nails pounded through His hands and feet; the list goes on.
He did all of this for you and for me.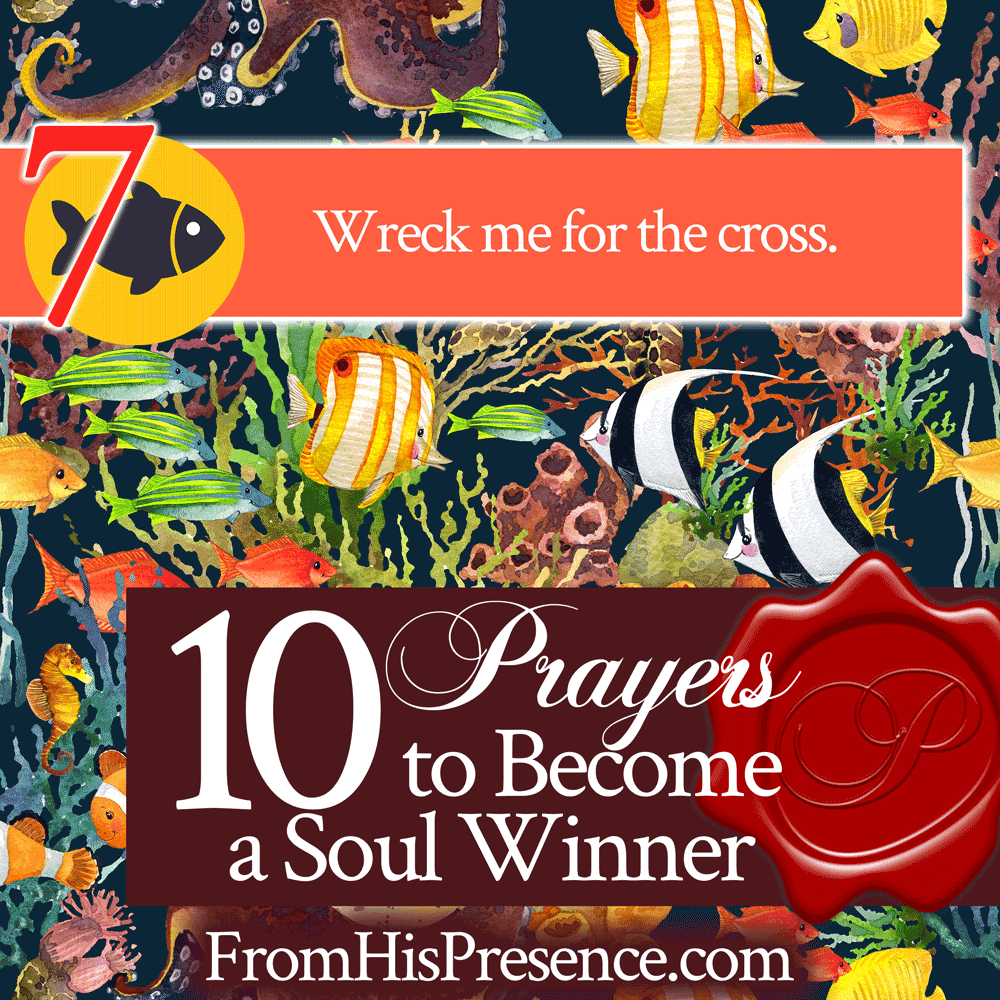 If you and I were to become so overawed, so overwhelmed, so entranced by Jesus and what He did for us at Calvary, we would be obsessed with telling everybody else.
So how can we become soul winners? Well, can "get wrecked" for the cross. This means, among other things:
We can study the crucifixion (also called the "passion") of Christ.
We can ponder and meditate on the Scripture passages about it.
We can imagine, in our mind's eye, what it could have been like to stand there and watch the event on that fateful day.
We can study all the prophecies about how Jesus would be killed, and then find the corresponding verses showing how those prophecies were fulfilled!
We can identify loads of Scriptures that tell us how Jesus' suffering purchased various things for us, like forgiveness of sins, eternal life, healing, cleansing from iniquity, comfort from sorrow, et cetera.
We can pray and thank Jesus daily for His suffering on our behalf, and for carrying our sins to Calvary's tree!
Want to learn more about what Jesus purchased for you with His precious blood?
In Crimson Flood: How to Plead the Crucifixion of Jesus in Legal Prayer, Jamie teaches you how to present the blood of Jesus to God as your evidence for why you should receive ALL of His manifest promises.
God answers some prayers faster, and more miraculously, than others. Learn how to pray through all aspects of Christ's passion in legal prayer, and watch God do great and mighty things on your behalf!
Beloved, you and I are the recipients of the greatest act of kindness and love that has ever been worked in the history of the earth.
That "greatest act of kindness and love" is the passion of the Christ–the crucifixion of Jesus. The good news is that He is no longer in the grave; on the third day, He got up–alive forevermore! Now He ever lives to make intercession for us, and He is seated at the right hand of God.
If you and I get wrecked for the cross, and get overwhelmed every day for what Christ did there, we won't be able to help but tell people about the goodness and Good News of God!
Prayer 8: "Give me wisdom!"
Every person has different open doors and blockages. In other words, every person is willing to talk about some things–but not about others. Every person also has different emotional and mental "trigger points," both for good and for bad.
If you are talking to someone about Jesus, or if you even want to, it will help you tremendously to ask the Lord for wisdom. God's wisdom will help your conversations about Christ in many ways:
He will show you how to open the conversation.
He will help you know how to respond to the person.
He will teach you in the very moment how to speak to a person using language they understand.
He will help you discern what a person may be thinking or feeling, using His supernatural gift of words of knowledge.
This list could go on and on. The bottom line is, God will instruct you and teach you in the way you should go. He will guide you with His eye upon you. (See Psalm 32:8.)
Enjoying this series? Get the book!
7 Prayers to Pray Over Your Character
If you want to be more like Jesus, get the book and pray these 7 prayers every week! You can use it as a rotating prayer plan. Memorize the key points of the prayers and cry out to the Lord daily! He will transform you as you pray, and you will draw ever closer to Jesus.
When you're talking with a lost person, this means He will lead and guide both your conversation and both of your reactions in order to draw them to Himself.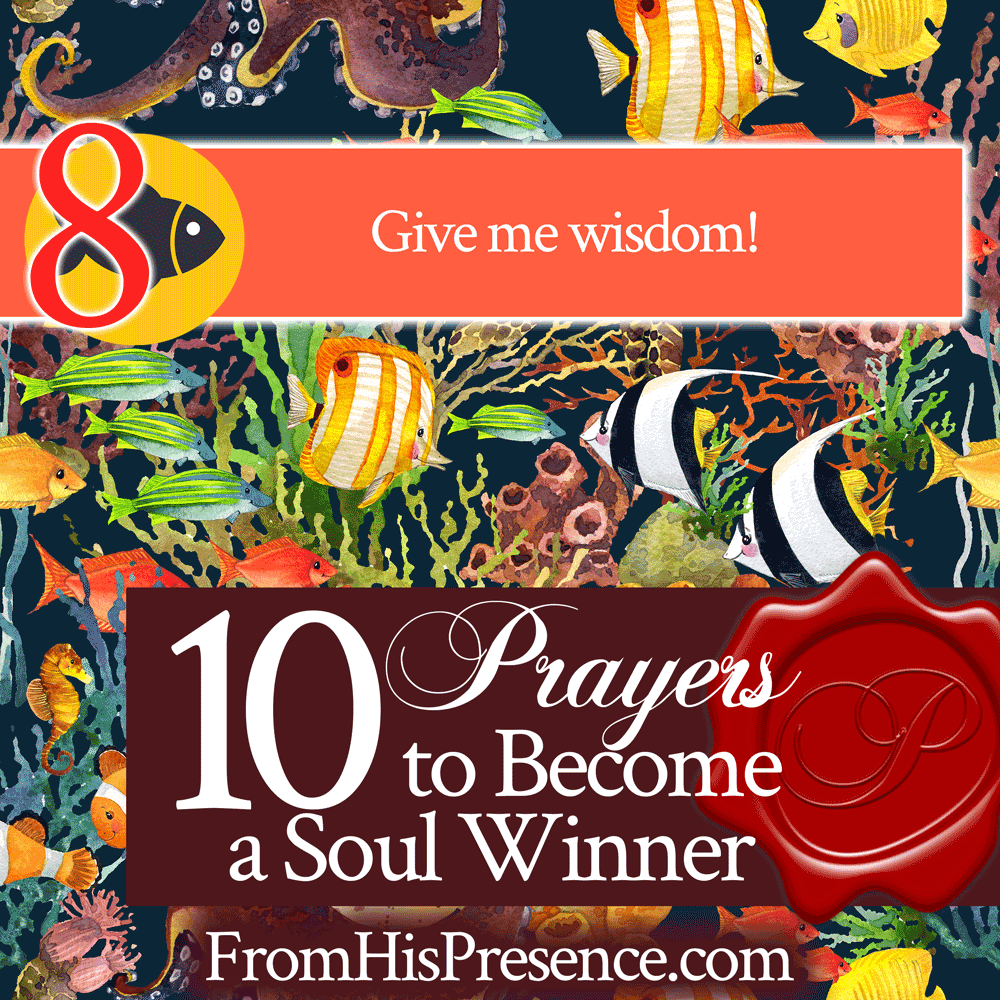 Ask God for wisdom, and then don't be afraid to step out and converse with someone.
Listen to His inner promptings and His still, small voice as He leads you throughout the conversation. He created the person to whom you are talking to. He ordained their life before the foundation of the world.
God knows exactly what you should say and when you should say it. Don't be afraid to follow Him!
Prayer 9: "Send me divine appointments!"
Psalm 31:14-15 says this:
"But as for me, I trust in You, O Lord; I say, 'You are my God.' My times are in Your hand; deliver me from the hand of my enemies, and from those who persecute me" (Psalm 31:14-15 NKJV).
Everything about the timing of your life–and even everything about the timing of your conversations and encounters with others–is in God's hands.
That is to say, He will set up everything with His perfect timing. He will not force you to actually obey Him when you get to the right moment; the obedience has to come from your own heart, with the help of Holy Spirit.
God still respects your free will, so you have the opportunity to either obey Him or sin against Him through disobedience when you get to the moment of His divine appointment.
But, God will send you divine appointments with others if you will ask Him to do so. He will go before you, behind you, above you, beneath you, and on all sides of you to set up the perfect circumstances for you to impact someone for Jesus today.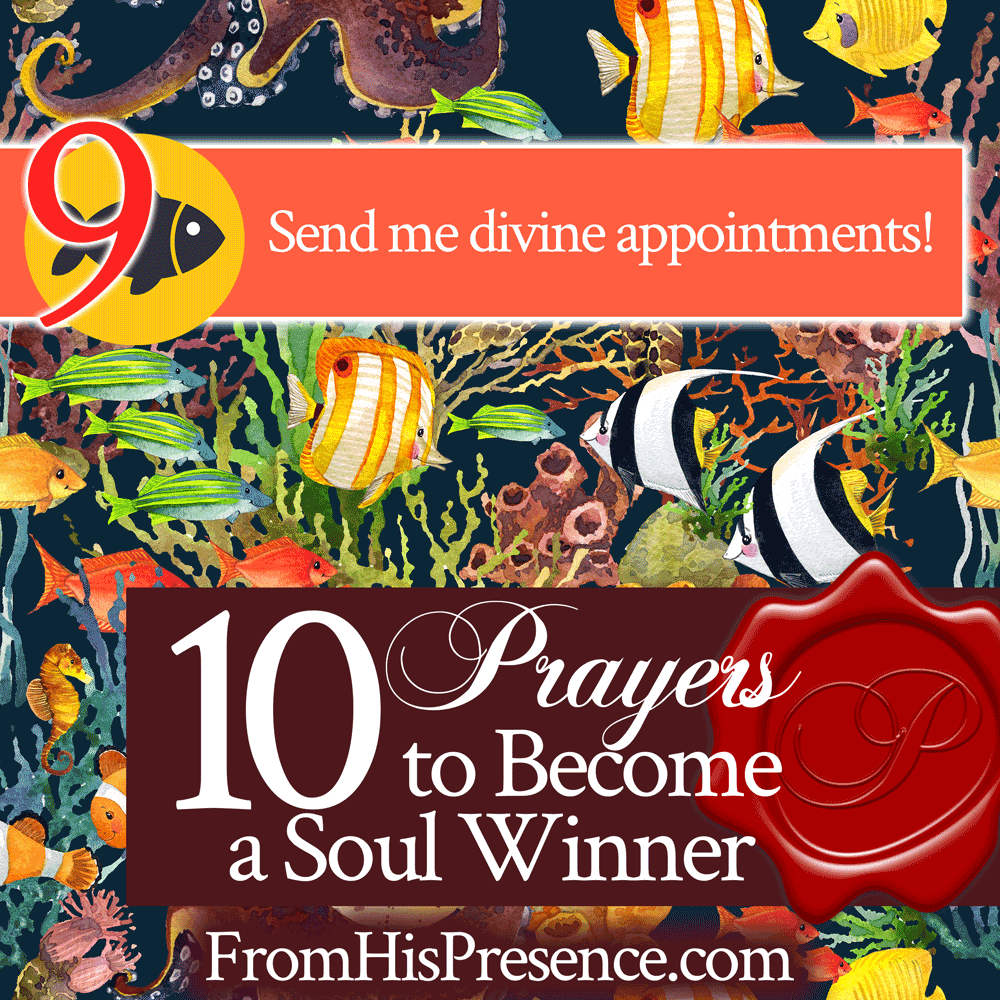 Psalm 119:133 reiterates this:
"Direct my steps by Your word, and let no iniquity have dominion over me" (Psalm 119:133 NKJV).
When God directs your steps, you will be at the right place, at the right time, with the right people, and with the right words in your mouth. Things still may not be easy, but you will find yourself right in the center of God's divine setups.
When a divine appointment happens, be bold!
Know that this is a divine appointment the Lord has made for you. He only has you here because He has gone before you and made a way for you–and for His message!
So share the Good News. Show His goodness, love, kindness, encouragement, and tender mercy to whomever He has led you to encounter that day. He will take the seed you sow and bring forth good fruit in His own good time–thirty-, sixty-, and one hundredfold.
Prayer 10: "Place Your words in my mouth!"
Related: Prayer #5 to Pray Over Your Character: Lord, Set a Watch On My Mouth
God will always tell us what to say when we ask Him to do so. For example, let's look at what He told Jeremiah the prophet when He called Jeremiah as a youth:
"Then the Lord put forth His hand and touched my mouth, and the Lord said to me: 'Behold, I have put My words in your mouth'" (Jeremiah 1:9 NKJV).
In Isaiah 51:15-16, God speaks directly to His people and says:
"But I am the Lord your God, Who divided the sea whose waves roared—the Lord of hosts is His name. And I have put My words in your mouth; I have covered you with the shadow of My hand, that I may plant the heavens, lay the foundations of the earth, and say to Zion, 'You are My people'" (Isaiah 51:15-16 NKJV).
Isaiah 59:21 contains another promise that applies to all of us who are in Christ Jesus, grafted into the covenant God made with Abraham and Abraham's children:
"'As for Me,' says the Lord, 'this is My covenant with them: My Spirit who is upon you, and My words which I have put in your mouth, shall not depart from your mouth, nor from the mouth of your descendants, nor from the mouth of your descendants' descendants,' says the Lord, 'from this time and forevermore'" (Isaiah 59:21 NKJV).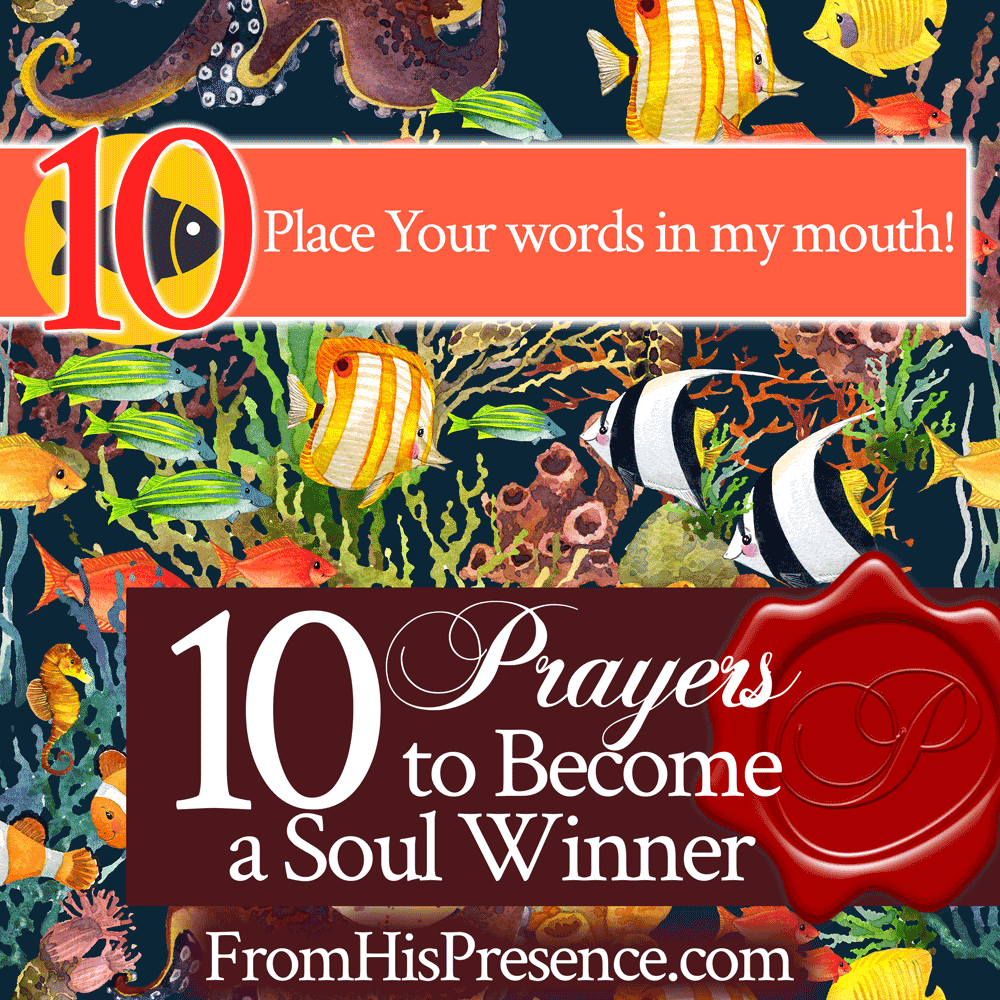 Even in Luke 12:11-12, Jesus talked about how God will tell you what to say when you need words.
He taught us this:
"Now when they bring you to the synagogues and magistrates and authorities, do not worry about how or what you should answer, or what you should say. For the Holy Spirit will teach you in that very hour what you ought to say" (Luke 12:11-12 NKJV).
Well, friend, if God will put words in your mouth when you're standing in front of the synagogues, magistrates, and authorities …
If He will tell you what to say in the very hour in which you should speak it …
If His Word which He has placed in your mouth will not depart from your mouth, from the mouths of your children, and from the mouths of your children's children forever …
Don't you think He will help you know exactly what to say to that sinner in front of you? Don't you think He will give you His heart for them, as well as the words you need to convey that heart? Don't you think that He will personally speak through you, keeping His promise that He will never leave you nor forsake you?
Of course He will!
As it says in Hebrews 13:5:
"Let your conduct be without covetousness; be content with such things as you have. For He Himself has said, 'I will never leave you nor forsake you'" (Hebrews 13:5 NKJV).
If you will ask the Lord to put His words in your mouth always, you will find yourself speaking with astounding wisdom from on high.
The benefit of that is never to glorify your own name or to bring yourself recognition. No; the benefit of speaking God's words is for His Kingdom to come and His will to be done on earth as it is in Heaven.
This is what Jesus told us we should pray (and, obviously, what we should desire):
"In this manner, therefore, pray:

'Our Father in heaven, hallowed be Your name.

Your kingdom come. Your will be done on earth as it is in heaven.

Give us this day our daily bread. And forgive us our debts, as we forgive our debtors. And do not lead us into temptation, but deliver us from the evil one.

For Yours is the kingdom and the power and the glory forever. Amen'" (Matthew 6:9-13 NKJV).
God will lead and guide you through every conversation, literally putting His own words in your mouth, if you will ask Him and believe Him to do so.
Beloved, do you want to become a soul winner? You can.
The Lord will help you if your heart is truly to witness for Him. Even if you only want to witness for Him because you know it's the right thing to do, He will help you beginning right where you are now.
Let's recap these ten prayers to become a soul winner:
"Lord, make me a fisher of men!"
"Give me boldness."
"Help me to see with Your eyes."
"Help me listen to Your promptings."
"Increase my awareness of eternity!"
"Help me to see the value in all people."
"Wreck me for the cross."
"Give me wisdom!"
"Send me divine appointments."
"Place Your words in my mouth."
And next, here is the free, printable bookmark so you can print off this infographic for yourself. Store it in your Bible; tape it on your mirror; hang it up in your cubicle or in the office break room. Keep it in front of you, so you can memorize these prayers and pray them often!
Also, pin it to Pinterest and help us reach more people with this encouraging message about soul winning! Here's the pinnable version, made just for Pinterest: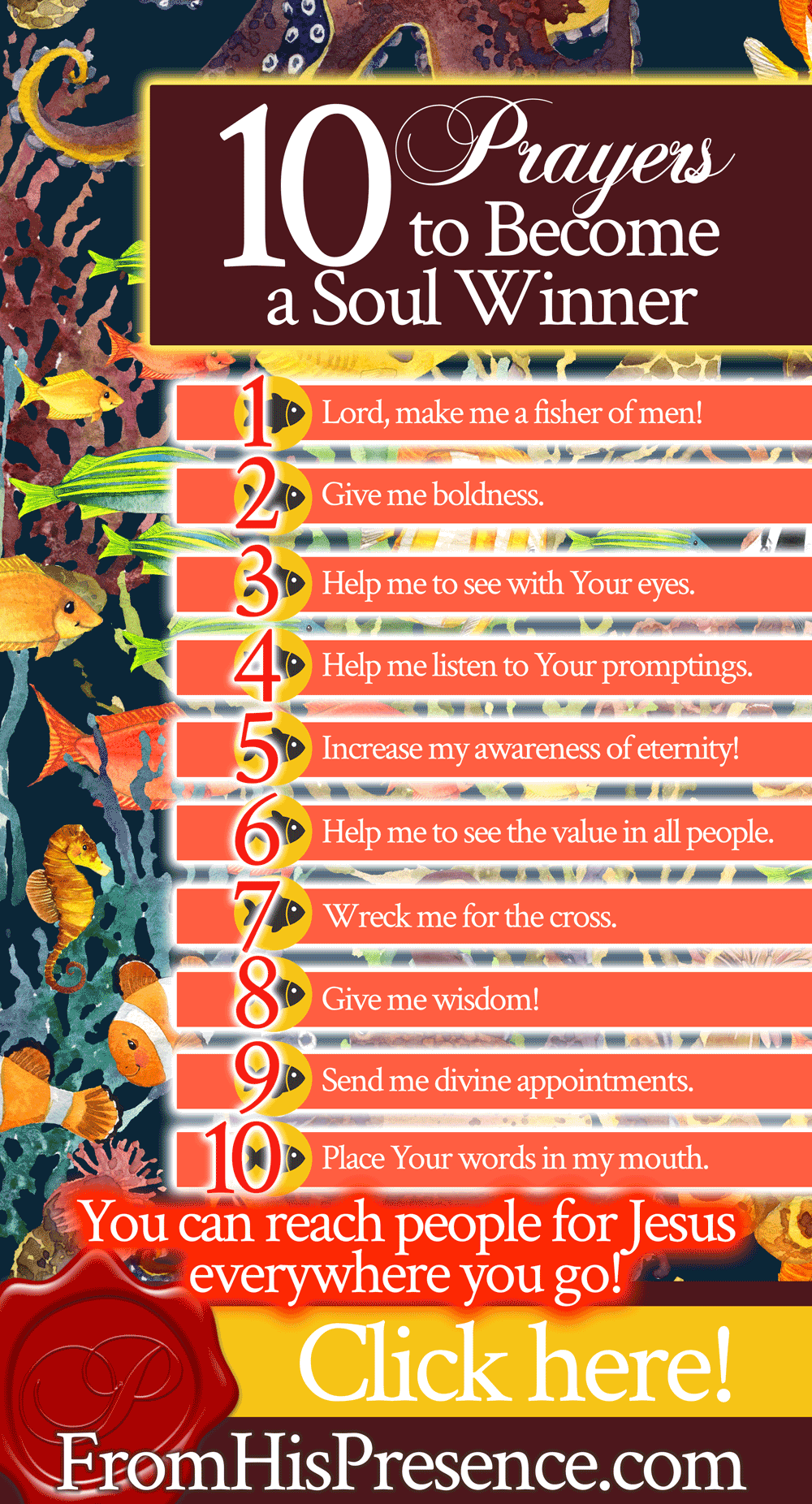 No matter who or where you are, you can become a soul winner right now.
You don't need a college degree, a pedigree, a bank balance, or the fivefold ministry calling of the evangelist. You can simply become an evangelist, winning souls for Jesus Christ, who laid down His life for you on Calvary's tree.
So start now! Pray these ten prayers to become a soul winner in faith. Then, go out and listen to the inner promptings of Holy Spirit as He leads you in sharing your faith.
Every person you impact for Him is "ground" into which you are sowing His Word. And if you will sow His Word, He will see to it that His Word will bear fruit.
As it says in 1 Corinthians 3:6-8:
"I planted, Apollos watered, but God gave the increase. So then neither he who plants is anything, nor he who waters, but God who gives the increase. Now he who plants and he who waters are one, and each one will receive his own reward according to his own labor" (1 Corinthians 3:6-8 NKJV).
All glory to His name!
Did you pray these prayers to become a soul winner today? If so, leave a comment below and tell us about your desire to be a witness for Jesus!