How To Plead The Suffering Of Jesus Over Broken Relationships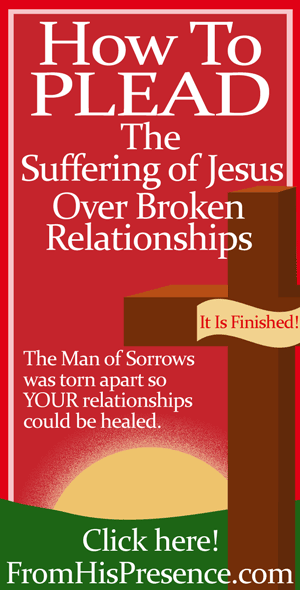 Do you have any broken relationships? If so, they can be healed… and all because of what Jesus suffered.
Two thousand years ago, Jesus Christ hung on a Roman cross.
Putting Jesus on the cross was not an arbitrary execution method. It was the method chosen by God to inflict the utmost suffering on Jesus, by which He could purchase complete and total wholeness for you and for me.
Including wholeness of relationships.
We live in a world of imperfect people. And too often, friends, family members, acquaintances, ministry partners, and even people that we don't know might say or do something that offends us. Then…
Anger and hurt creep in.
Unforgiveness and bitterness creep in.
And people that God intended to dwell in unity together become separated from each other by sin.
Yet we know that God desires us to live in unity with our brothers and sisters in Christ. Check out these Scriptures:
I do not pray for these alone, but also for those who will believe in Me through their word; that they all may be one, as You, Father, are in Me, and I in You; that they also may be one in Us, that the world may believe that You sent Me.

And the glory which You gave Me I have given them, that they may be one just as We are one: I in them, and You in Me; that they may be made perfect in one, and that the world may know that You have sent Me, and have loved them as You have loved Me" (John 17:20-23).

"Behold, how good and how pleasant it is for brethren to dwell together in unity! It is like the precious oil upon the head, running down on the beard, the beard of Aaron, running down on the edge of his garments. It is like the dew of Hermon, descending upon the mountains of Zion; for there the Lord commanded the blessing — life forevermore" (Psalm 133:1-4).

"Now I plead with you, brethren, by the name of our Lord Jesus Christ, that you all speak the same thing, and that there be no divisions among you, but that you be perfectly joined together in the same mind and in the same judgment" (1 Corinthians 1:10).

"Therefore if there is any consolation in Christ, if any comfort of love, if any fellowship of the Spirit, if any affection and mercy, fulfill my joy by being like-minded, having the same love, being of one accord, of one mind" (Philippians 2:1-2).
Our Father desires us to live in total, holy unity with one another.
We are to agree with Him first and foremost, in every area–His commands, Who He says He is, and what He says about us–and then, in that state of perfect unity with Him in Christ, we are also to live in unity and agreement with one another.
How beautiful our lives would be if we would actually do that!
But do we? So often, we do not. And pain sets in, for we miss the unity of the Spirit with our brothers and sisters, even if we don't know we do.
But your relationships can be healed today.
That family member you're estranged from? You can talk and love again. That church member you're mad at? You can forgive and be brought back together. It doesn't matter what has happened; I've got good news for you today. That good news is:
Jesus Christ paid the price on the cross for your broken relationships to be healed.
How do I know this?
Because Psalm 22–the Psalm of the cross–tells us this:
I am poured out like water, and all My bones are out of joint; My heart is like wax; it has melted within Me" (Psalm 22:14).
Did you get that? Do you see the key to unity in that verse?
Here's how Christ paid for our broken relationships to be mended:
All of Jesus' bones were out of joint. His bones were literally dislocated, and that dislocation paid the price for your relationships and mine to be healed.
You see, the cross was a Roman version of the medieval rack. Lancelot Andrewes, an English bishop and scholar who lived from 1555-1626, put it this way (quoted from Spurgeon's commentary on the Psalms):
The rack is devised as a most exquisite pain, even for terror. And the cross is a rack, whereon he was stretched till, saith the Psalm, "all his bones were out of joint." But even to stand, as he hung, three long hours together, holding up but the arms at length, I have heard it avowed of some that have felt it, to be a pain scarce credible."*
Spurgeon also quotes another 16th-century scholar, Fra. Thomas of Jesus, as follows:
We know that the greatest and most intolerable pain that the body can endure, is that arising from a bone out of its place, or dislocated joint. Now when the Lord was raised up upon the cross, and His sacred body hung in the air from the nails, all the joints began to give, so that the bones were parted the one from the other so visibly that, in very truth (as David had prophesied) they might tell all his bones, and thus, throughout His whole body, He endured acute torture."*
You can watch a part of this terrible scene depicted in The Passion Of The Christ here (and the dislocation scene starts at 1 minute in):
Jesus' body, like your body, was designed to be in unity with itself. Jesus' body was created to be closely knit together with no separation between the various parts. And yet His body was torn apart. His bones could not stand the strain, and He had to endure the agony of bodily separation.
Why are Jesus' dislocated bones the key to mending your broken relationships?
Remember that everything Jesus suffered paid the price for you and me to have wholeness in some area. Well, in this situation, Jesus' body represents the Church–His entire Body of believers across the ages and around the world.
Colossians 1:18 tells us:
And He is the head of the body, the church, who is the beginning, the firstborn from the dead, that in all things He may have the preeminence."
God knew that His people would operate in disunity sometimes.
Disunity set in way back in the Garden of Eden, so this was nothing new! It is, however, sin. It is horrible. It is painful and hurtful. And God wants better for us.
So He made Jesus pay the price. Jesus actually took the ripping apart of His Body–the Church–upon Himself in His physical body. And the dislocation of His joints paid the price for relationships within His Body, the Church, to be brought back together.
And since Jesus paid the price for relationships to be brought back together, YOUR broken relationships can be mended today.
Jesus' suffering in this area is the legal evidence you can present to God in prayer to ask Him to bring healing to your relationships. And if you will pray, He will answer. You may have to humble yourself. You may have to reach out. You will–(gasp!)–have to apologize if you've done something wrong. (You may have to apologize even if you haven't done anything wrong!)
But when Jesus paid the price for disunity to be healed, He paved the way for your friendships, family relationships, and every other relationship to be restored.
Are you ready to pray? Pray this with me:
Heavenly Father, I come before You in Jesus' name. Father, I love You. Thank You for sending Your Son Jesus to die for me and pay the price for my sin.

Lord Jesus, thank You for enduring this suffering on my behalf. I could never have paid the price myself, and You bought me back so I could be Yours, and part of the Father's family, and part of Your Body. Thank You.

Father God, I believe what Your Word says about the sacrifice of Jesus. I believe that Jesus' sacrifice is sufficient for everything I need. I believe that Jesus paid the price for everything in my life to be brought back into a state of wholeness.

Lord Jesus, according to Your Word, Your bones were ripped out of joint. You took all disunity upon Yourself. You suffered and died in a state of disunity so I could live in unity with the other members of Your Body. Father, I choose to agree with Your Word on this matter right now, and I receive what You have done for me.

So Father God, in Jesus' name, I present the sacrifice of Jesus to You. I plead the suffering and sacrifice and disjointedness of Jesus over my relationship with _____. You see that our relationship is broken. We are separated and dis-united, Father. But Jesus paid the complete price for this relationship to be healed.

So Heavenly Father, in the name of Jesus, I ask right now that You would bring me back together into unity and agreement, in Christ and in every godly way, with my brother/sister in Christ. Please heal this relationship.

Father, if I'm supposed to do something to help bring the healing about, then Father, please show me what to do. Give me a humble and broken heart so that I can say the right words to this person. 

If I need to apologize for anything at all, please break me with sorrow for the situation and show me how to apologize. Open the door for me to approach this person. Make a time for us to talk. Open his/her heart to receive my repentant heart and words, and I pray You would give them godly sorrow over our disunity too.

Father, in the name of Jesus, make _____ and I ONE in Christ again. Bring brotherly love and kindness into our relationship again. Let us each think not of ourselves and our own interests, but only about the interests of others. Let us prefer the other person above ourselves, and let us love and give ourselves for the other person.

Father, I plead the suffering and sacrifice and disjointedness of Jesus over this situation, and I say:

Unity from God, come forth in my relationship with ____ Jesus' name! Love of God, come forth in my relationship with ____ in Jesus' name! Restoration from God, come forth in my relationship with ____ in Jesus' name! Forgiveness from God, come forth in my relationship with ____ in Jesus' name!

Father, thank You. Thank You for hearing and answering my prayer. I believe that You will heal this relationship because Your Word says it should be healed, and because Jesus paid the price. Thank You, Father, and thank You, Lord Jesus. I love You, and I bless You for it.

In Jesus' name. Amen!
No matter what the source of your relationship is, it can be healed.
I don't know what you will want your relationship with the person to look like–and what they will want their relationship with you to look like–after the healing occurs; but no matter what, the disunity and strife in your life can be healed. Your relationships can be mended.
And it's all because Jesus Christ paid the price; it's all due to the suffering of Jesus.
Does this message encourage your heart today? If so, please leave a comment below! I'd love to hear your thoughts!
Note: Post #1 in this series contains a free infographic and bookmark about 10 things Jesus purchased for you with His suffering. I also released a new, downloadable MP3 teaching in post #1 that contains me teaching about all of these 10 things, line-by-line through Isaiah 53.

If you haven't gotten that MP3 teaching, you'll want it. It will really help you get a revelation about everything Jesus purchased for you… and those 10 points are different from the points I'm covering in the rest of this series. Click here to go directly to the MP3 teaching on my Gumroad store.
*As quoted in Charles Spurgeon's commentary on the Psalms, "The Treasury of David" from Hendrickson Publishers, Peabody, MA. Page 343.