Prayer for a Heart of Worship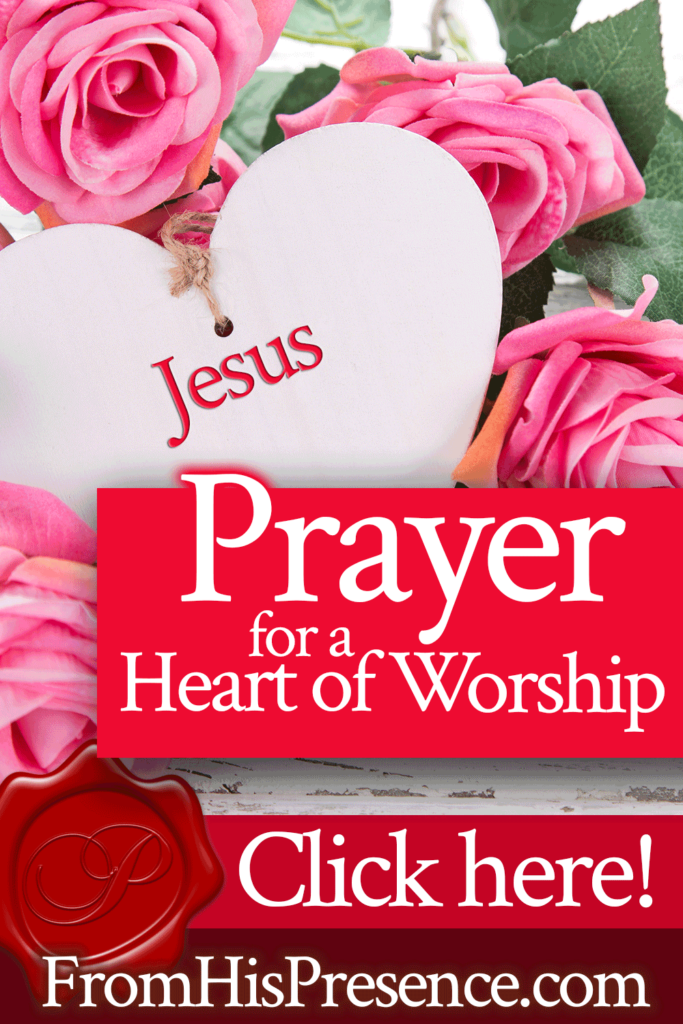 Do you long to become a passionate worshipper of Jesus? If so, pray with me today and ask the Lord to give you a heart of worship!
Lots of people talk about how King David in the Bible was a worshipper, and he was. But you know what? There's a worshipper in the Bible whom I admire even more–and whom I want to be like. Can you guess who it is?
It's Jesus!
Yes, that's right. The Bible says that Jesus was/is a worshipper! Even though He was God and still is God, Jesus has a heart of worship and He uses it to pour out His love and worship on the Father.
We read that Jesus worshipped God in Hebrews 2:11-12:
"For both He who sanctifies and those who are being sanctified are all of one, for which reason He is not ashamed to call them brethren, saying: 'I will declare Your name to My brethren; in the midst of the assembly I will sing praise to You'" (Hebrews 2:11-12).
Can you imagine what it must have been like to see Jesus sing praise to the Father in the midst of the assembly?
Seriously, friend. Imagine this scene with me:
Imagine Jesus standing in the middle of a crowded temple of worshippers.
Remind yourself that, even by looking at Jesus, you are looking at God Himself.
Focus in on Jesus and see Him close His eyes, lifting His face up to Father.
As He looks toward Heaven, imagine in your mind's eye that Jesus is letting all His thoughts and stressors fall away. Everything in His sphere of perception fades away. The voices in the temple quiet in His ears; His entire horizon is eclipsed only by His vision of the Father.
Then, imagine that Jesus opens His mouth and begins to sing.
Other people around Him may not even be focusing on worship right now, but Jesus opens His mouth and the most beautiful, heavenly melodies pour out.
Jesus isn't singing a song anyone knew; He is singing directly from His heart!
See the tears begin to flow as Jesus is mesmerized by His vision of the Father as He worships.
Imagine the people around Jesus begin to quiet and still, staring strangely at Jesus, puzzled yet mesmerized as they listen to the melody of His worshipping heart as He communes with the Father.
Imagine that a circle of empty space suddenly develops around Jesus, where the other people in the temple gather around Him to watch–breathless and silent so as not to disturb His worship.
And imagine the love in Father God's heart as He receives this outpouring of love from His Darling, His Only Begotten Son.
Can't you just picture the scene?
Oh beloved, don't you want to worship the Father like that? Don't you want to develop and receive the same heart of worship that Jesus has?
I know I do. Our Father God, Jesus, and Holy Spirit are so worthy of that kind of worship. They are so deserving of all of our love. I want to give them the worship they are so worthy of.
And in these trying times, let's face it: Only in the Father's presence are things made right. We need to worship God just as much as He deserves to receive our worship.
Dear friend, if you also want God to give you a heart of worship like Jesus has, pray this prayer for a heart of worship today:
"Dear Heavenly Father, I come before You in Jesus' name.
Abba Father, I love You so much. Thank You so much for hearing and answering all my prayers. Thank You that, in Christ, Your promises are "Yes" and "Amen," and thank You that You do not give Your Spirit by measure. You are ever ready and willing to fill and refill me with Your power, Your Spirit, Your boldness, and Your heart of love.
Holy Father, You are so good and Your mercy endures forever. I praise You for that today. Thank You, Abba. And Father, You deserve so much worship and adoration. You deserve the highest praise; the most passionate worship; and the utmost and highest devotion.
(Pray this next paragraph or two if you used to be a more passionate worshipper than you are now. Otherwise, you can also skip the next couple of paragraphs if they don't apply to you.)
Lord God, I remember when I used to worship You with my whole heart–in Spirit AND in truth.
I remember when not only did I obey You with all my heart, but I also spent hours caught up in worship of You. I remember lifting my hands to You constantly, blessing Your name, and doing nothing but gazing joyfully on Your face.
Somewhere along the way, though, Father, I have forgotten to keep doing that–and it seems like I have lost the patience, the heart, and the endurance for doing so. Oh Father, please forgive me. Forgive me for neglecting You and neglecting Your worship; for You are great, and worthy to be praised.
Oh Father, I want to worship You like You desire and deserve to be worshipped–whether again or for the first time.
You deserve all my best worship. You deserve not only my obedience, which is worship of You in truth, but also my heartfelt worship in Spirit. You deserve to have me gaze at You endlessly. You are worth looking at without looking away; without distractions; and without other priorities.
Father God, I come before You humbly today and I ask in Jesus' name:
Would You please give me a heart to worship You?
Would You give me a heart of worship, so I can worship You like Jesus worshipped You while He was on the earth during His ministry? Would You change my heart and help me to esteem You the way You deserve?
Father God, I long to be caught up in Your presence and in Your worship.
I want to gaze at You so closely that You eclipse my whole horizon. I want to shower You with the adoration of which You are so deserving. I desire earnestly to pour my love on You; to bow at Your feet and honor You with the most humble, purest, most heartfelt worship that anyone has ever offered You.
You can have my whole heart, Father. But please, give me a heart of worship, I pray, in Jesus' name:
Please wake me up–body, soul, and spirit–and urge and compel me to worship You.
When I begin to worship, help me enter into Your gates with thanksgiving, and into Your courts with praise.
Help me to be thankful and to say so; to lift up my highest praise into Your nostrils.
Please help me to ignore every distraction and every lesser thing, so that I might press into worshipping You with every bit of my heart, soul, body, mind, and spirit.
Help me to lift my hands to You and bless You with all my might.
Help me to set my eyes and keep them set on things above, where Christ is, seated at the right hand of God.
And Father, as I worship You, please help me to feel Your presence and affection.
I need You desperately, Lord. My heart cries out for You. My flesh fails me and I am fainting for Your manifest glory and presence. I need You desperately, and I am not ashamed to admit that I need the fullness of joy that comes in Your presence as well (Psalm 16).
So Father, as I enter in to worship You, please minister to my heart as only you can. Please help me sense Your presence and affection. Let me feel Your arms around me. Help me to receive Your comfort and all the rest of Holy Spirit's ministry. Let me be lost in the eternal, Father, as I encounter You and time fades away.
Father God, please forgive me for ever losing my heart of worship.
I am sorry that I let worship cease being a priority, Father. Please forgive me. I am so sorry that I have allowed distractions to set in, like looking at my phone, checking my watch, or watching other people around me.
Please forgive me for all the times I have slighted You. I repent of it, Father. Please forgive me and wash me clean. Cover me with the blood of Jesus, and fill me with Your Holy Spirit.
Father, Your Word says that Jesus sang to You in the sanctuary.
I want to do that too. Please help me to worship You like Jesus does. Grant me, I pray, a heart of worship like Jesus has. Let my heartfelt worship exceed even that of David, the man after Your own heart.
That's what You deserve, Abba Father. You deserve the highest and the best. Only You can satisfy, so I ask right now that You would help me return to worshipping You in Spirit and in truth–caught up in Your presence for hours at a time, giving You the love You are so worthy of.
You deserve that, Father. Thank You for helping me. Thank You for Your grace. It's in Jesus' marvelous and wonderful name I pray. Amen and amen."
Friend, are you a worshipper at heart? Do you want to become one if you are not already a worshipper? If you prayed this prayer for a heart of worship today, leave a comment below and reaffirm to the Lord your desire to worship Him as He deserves!