The ot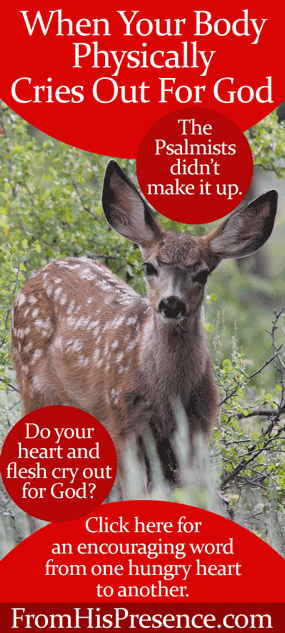 her day, I experienced a phenomena in God that I am not sure I have ever experienced before … but it's definitely one I want to experience again.
I had just left my office and was walking across my parking garage, as innocent as you please. (Read: Perfectly normal situation.) I had been listening to worship music all afternoon as I worked, just enjoying the Lord. But at that exact moment, I was simply walking to my car.
And all of a sudden, this HUGE longing for God hit me like a freight train.
When it did, I suddenly started crying out to God (silently) for more of Him … just to be closer. And unwillingly, without meaning to, I began to gasp for breath.
Literally, it felt like I was trying to breathe in more of God. It was almost like I was sobbing and crying—but I wasn't crying.
I was just desperate. Desperate for God. All of a sudden.
And I was reminded of these verses:
As the deer pants for the water brooks, so pants my soul for You, O God. My soul thirsts for God, for the living God. When shall I come and appear before God?" (Psalm 42:1-2).

and

"How lovely is Your tabernacle, O Lord of hosts! My soul longs, yes, even faints for the courts of the Lord; my heart and my flesh cry out for the living God" (Psalm 84:1-2).
Have you ever stopped to think about what it would be like to have your physical body cry out for God?
Related: 21 Days to the Manifest Presence of God (free series)
I wonder how the Psalmists felt that inspired them to say that their heart and flesh cried out for the living God?
I am not sure I had ever experienced this before, but I think I caught the tiniest glimpse of that kind of hunger that day.
What if we were all like that, all the time? What if we were so hungry for God that our heart and flesh literally cried out for Him all day, every day?
I want to desire God like that:
I want to be so hungry for God that my very fingernails, my hair, my skin, and my lungs are continually just crying out for God.
I want every fibre of my being to resonate with Jesus Christ.
I want every strand of my DNA to vibrate to the frequency of God's Word.
I want to be like that deer, panting for the water brooks. I want to be so hungry for God that my desire for Him surpasses my desire for everything else, at ANY moment in time.
I want to be so saturated with the Holy Spirit—so hidden in the secret place of the Most High–that my actual heart and flesh continually cry out for God.
Don't you?
So how do we get to the place where our very heart and flesh cry out for the living God?
God Himself gives us the answer in Jeremiah 29:13:
And you will seek Me and find Me, when you search for Me with all your heart."
How do we get to that incredible place of intimacy with God? Intimacy beyond our wildest dreams? Simple: we seek Him. We seek Him. We seek Him. And having found Him, we continue to seek Him.
It's a holy paradox—one that will never grow old for all eternity. A divinely-ordained game of hide-and-seek, in which the Object of our affections is hiding in plain sight.
I want to seek Him and love Him so much that my very heart and flesh cry out for the living God.
Don't you?
Do you want your very flesh to cry out for Jesus? Does this message resonate with you? If so, leave a comment below. I'd love to hear your thoughts!
Recommended resource: Read the short book Secret of the Stairs: Your Quest for Intimacy With Abba Father,
by Dr. Ron Phillips, for a life-changing revelation about getting so close to God that you are continually in the secret place of the Most High (as mentioned in Psalm 91:1). Learning to dwell in the secret place will change your life!
You'll get an email when new content is posted. You'll also receive my free, printable blessing cards and my ebook–The Presence Seeker's Creed–for free when you confirm!
The Amazon link above is my affiliate link. This means that, if you purchase a resource on Amazon using my affiliate link, Amazon will pay me a small commission (at no additional cost to you of course). Thank you in advance for helping me keep my cat fed and happy. And if you love reading legal mumbo-jumbo, you can check out my disclosure policy here.