How to Pray for Your Impossible Dream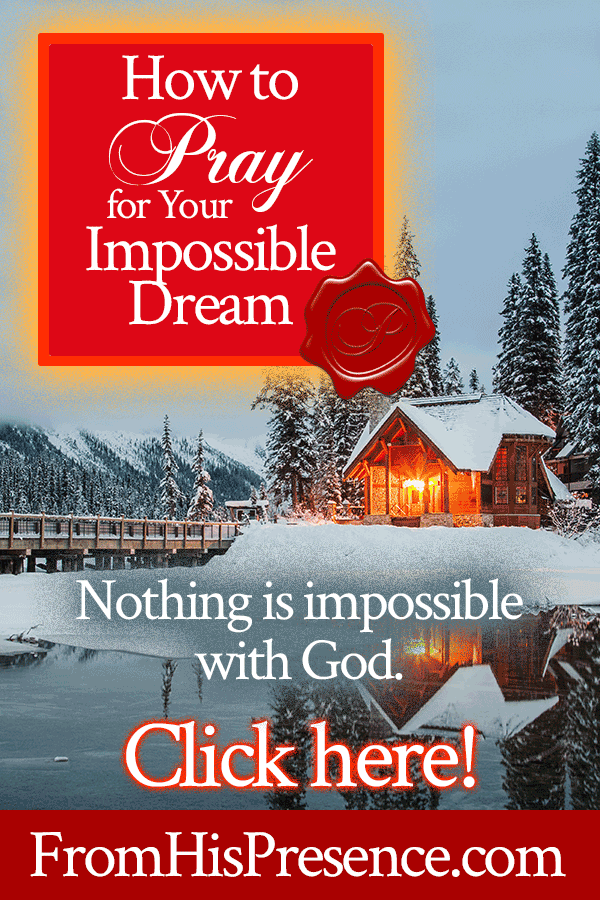 Beloveds, the Lord is shooting revelation and downloads into me so fast as I'm resting with Him today that I can't hardly keep up. And He has pressed me to release this word to you URGENTLY.
The Lord wants me to tell you one urgent way to pray when you have NOTHING except an impossible dream.
He gave me revelation about this several days ago as I was praying into the prophetic dream about You Need Sanctuary, Not Just Rest.
As I prayed about that dream, my vision for 2020 expanded. As I shared with you here, I was already praying a radical prayer experiment to reclaim sevenfold restoration of mountain land that was stolen from me when I was a child. That was already a good experiment for me, but the Lord enlarged my faith as I prayed …
… and He told me to believe for a log cabin / sanctuary / retreat center.
This has been my dream for many years.
For many, I have dreamed of living in a log cabin that doubles as a retreat center and sanctuary. It would be a place with many bedrooms, where scores of women and couples could come each year for workshops, retreats, equipping, healing, rejuvenation, and refreshing.
It would be a place where I could serve you–ordinary people–and ministry workers both … and a place near where I currently live, so I can continue using the fastest internet in the country (which is in my county) and also conveniently get to my church so I can serve and attend there easily.
Well, my husband and I have been working toward that by aggressively paying off our house. Our plan has been to pay off our house, then save for a few years, then eventually build. But the kind of log cabin retreat center that I have in mind is too expensive even for that–way beyond what we could personally save for, unless God intervenes.
Basically, when it comes to realizing this dream, I've got nothing.
But the Lord said something pretty amazing that I believe is going to encourage you today. He showed me that, when He created the earth, He did so out of NOTHING except His spoken word. In other words, everything you see around you was fashioned out of nothing.
We read this in Hebrews 11:1-3:
"Now faith is the substance of things hoped for, the evidence of things not seen. For by it the elders obtained a good testimony.

By faith we understand that the worlds were framed by the word of God, so that the things which are seen were not made of things which are visible" (Hebrews 11:1-3 NKJV).
Everything we see was formed from nothing. And the Lord showed me that, if I have nothing, then I have the building blocks for Him to make me anything I need.
This applies to you just the same way:
If you have nothing, then you have all the building blocks the Lord needs to create anything you want.
Wow.
Whoa.
Wow again.
Whoa. Freak-out time, for me anyway.
How does the process start?
Just like it started at creation: by speaking the Word of God over the situation, for the Word of God literally creates. God is the Creator, and He has divinely ordained that His Word should create. He simply can't help Himself; He always releases Who He Is (Creator) when He speaks.
So I was praying over this log cabin retreat center, and my faith began to rise.
I started looking at places, just to build my faith. If you would like to look at a few of the ones I've been drooling over, check out these three:
But here's the thing: again, I've got nothing toward this dream.
I don't do debt, so I would never take out a mortgage for something like this. And even if someone GAVE me or this ministry a house like this tomorrow, I'd have to have an endowment to even pay the taxes and insurance on it! Yep, that's a whole lot of "nothing" that I've got, right there.
But you know what? God didn't ask me to "have anything" toward this dream. He simply quickened my heart to believe for it …
… and showed me that my nothingness is exactly what He can work with.
One of my favorite ministers, Jesse Duplantis, is in a similar situation.
God told him to believe for an airplane that would fly around the world, so he could preach more. Brother Jesse told God that he didn't have the money for such a plane, and you know what God said?
God told him that He didn't ask him to pay for it; He asked Jesse to believe for it! It's been years, and he's still believing for it! I believe God will give him that plane one day, don't you?
And the Lord wants me to URGENTLY invite you to believe for YOUR impossible dream today, too.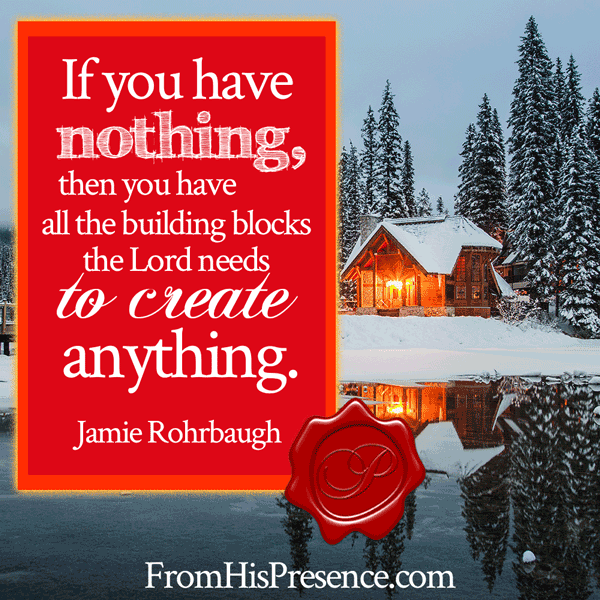 What are you believing for that seems impossible? Even more truthfully, what are you believing for that IS impossible? Outright, absolutely, no-nonsense IMPOSSIBLE?
What do you long for that there is no way on earth you could ever have?
What do you want to do that there is absolutely no way you could ever do?
What star do you want to reach for that there is absolutely no way you could ever reach?
When the Lord began cleaning my clock about this today, He put one song in my spirit:
A song to which I had never paid much attention. It's a famous song, but I have never sat down and listened to the lyrics until this day. The song is Impossible Dream, sung by (in my opinion) the greatest and most anointed singer of all time, Elvis Presley (who also missed out on the fullness of what God had for him, but that's another story). 🙂
Please take a moment and listen to this powerful song as Elvis sang it:
I believe that this song, Impossible Dream, is the song of the hour, the day, the year.
Listen to the lyrics closely, then listen again … and again … and again. Apply this song to yourself. It is SO prophetic. Why? Because …
You and I have an impossible dream. The reason our dreams are impossible is because we have NOTHING toward those dreams. But you know what?
Your nothing-ness is all God needs to start creating on your behalf.
What are you believing God for in your nothingness? Leave a comment below!