Pick a Radical Prayer Experiment!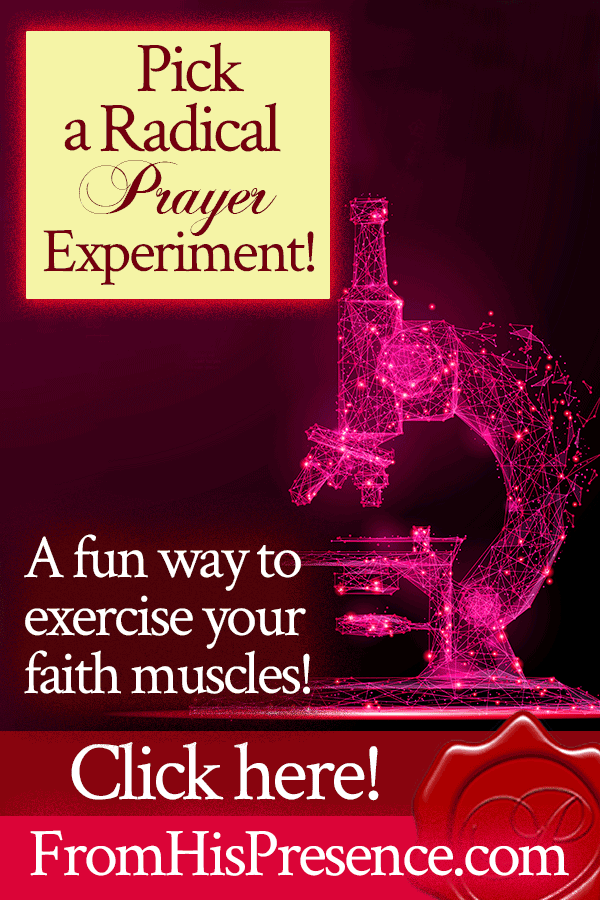 Are you ready for a radical surprise (or two or three) from the Lord in 2020? If so, then I feel led by the Lord to challenge you today to pick a radical prayer experiment for this year!
What is a radical prayer experiment?
A radical prayer experiment is an experiment in which you pick a promise from God's Word–or several promises that all pertain to the same thing–and you pray and believe God for BIG things, even if you don't have a felt need for those things. In other words, a radical prayer experiment is where you get out the promises of God and DECIDE, by faith, that you ARE going to receive them and will not be denied–simply because you believe God.
And then, you press in and watch God move.
A radical prayer experiment exercises your faith muscles.
That's why you don't have to be praying for something that is a felt need. You can, of course; but when you pray for something that is a felt need, your "feeler"–or emotions–get involved. And sometimes it then becomes your emotions that drive your prayers.
But when you pick a radical prayer experiment that isn't about a "felt" need, your CHOOSER gets involved. Your FAITH drives your prayers. Your determination to experience and receive everything God's Word says you can experience and receive drives your prayers.
And that, my friend, is how you build FAITH MUSCLES.
Major faith muscles.
This is the kind of prayer that resulted in my having a miracle baby after 11 years of marriage.
Before I got pregnant with my son, my husband and I had come to the place where we were just fine without a baby. We were enjoying our lives just fine. We had total freedom to do what we wanted to do, when we wanted to do it. We could go where we wanted to go with no cares or concerns. And honestly, we were happy that way.
But the reason I pressed into the promise of God for a baby was because I refused to accept anything less than EVERYTHING God promised. And God's Word promises that every woman who wants a baby can have one: a healthy, whole baby. We had been trying for years and years, and all sorts of doctors had told us it wasn't going to happen for us.
But I had one problem with that: God's Word says otherwise.
So I decided to do a radical faith experiment; a radical prayer experiment.
When my pastor prophesied over us that 2017 was "the year of everything," I decided that meant 2017 was truly the year of everything. And the only thing missing in our lives that God had promised us was a baby.
I knew the Word and knew His promises. There was no doubt in my mind that His Word promised us a baby. So, even though we didn't "feel" the need for a baby like we had in the past–having become so accustomed to living the "dual income, no kids" life–I decided that we WERE going to manifest the promises of God for a baby.
That's when I went to a craft store, bought magazines and stickers, brought them home, cut out pictures, and made a vision board that contained all the Bible promises we had received for a baby. I wrote the vision about exactly the kind of baby we wanted–his personality, his calling, his appearance, etc. I even wrote down that he would be born by December 31, 2017.
And just 2-3 short months later, I was pregnant … with a due date of December 29, 2017. 🙂
God is never late, but He's not always early either, praise the Lord!
Today, our son is a joy in our lives. He is amazing and wonderful, and he's a miracle … a miracle we would currently be living without if we hadn't decided that we WERE, by faith, going to manifest the promises of God.
What kind of radical prayer experiment could you do this year?
I'll tell you what mine is going to be. I'm going to manifest this promise:
"Yet when he is found, he must restore sevenfold; he may have to give up all the substance of his house" (Proverbs 6:31).
This Scripture talks about a thief, and what the thief must do when he is caught.
Well, when I was a child–probably less than 10 years old–someone in my family gave me an acre of mountain land here in the beautiful mountains of East Tennessee. I remember seeing the title deed and everything. Through the devices of the enemy, however (nothing to do with me), that land was stolen while I was still a child.
Last year, my family and I drove by that land, just to remind ourselves of what it looked like.
Honestly, I was hoping it would be ugly land so I wouldn't feel so bad about the land being stolen. But you know what? It wasn't ugly. It was GORGEOUS land, on the top of a mountain plateau, three creeks nearby and big hardwood timber all over it.
And I started mourning again.
Then I realized: I can pray in the restoration of that land.
I don't have a "felt need" for the land. I mean, I own a house and live in the house I own, and so I'm not lacking for housing or a place to live.
But you know what? There is a righteous indignation in me.
This righteous indignation says, "That land was mine, and it was stolen! It was meant to be my inheritance! An enemy has done this, and God promised He'd rebuke the devourer for my sake! THIS SITUATION DOES NOT LINE UP WITH GOD'S WORD!"
This righteous indignation in me sees this situation on earth and knows that this situation does NOT look like Heaven. It should look like Heaven, though … where we all have a home and land that were provided by God's grace and the blood of Jesus, which we didn't have to buy or pay for.
In other words, based on the Word of God, that land that was given to me should still be mine.
So I'm going to perform a radical prayer experiment and pray in the sevenfold restoration of that land.
You may ask some questions, and here are my answers:
Who is it that restores the land? The thief–the devil–must restore sevenfold.
Who do I speak to about it, then? I speak to God, asking Him to enforce His Word and force the enemy to give over the required restoration.
What specifically will I ask for? I will ask Father God to force the enemy to restore to me seven acres of mountaintop land, with road access, with utility access, with gorgeous timber and creeks, with flat space on it for building … because one acre like that is what the enemy stole from me.
How do I know God will force the enemy to restore the land? Because God's Word says the enemy MUST restore, even if it costs him all that he has.
How do I know God will force the enemy to restore NOW, rather than later? Because the Word says, "When [the thief] is found …" … so since I have discovered his thievery now, NOW is when the enemy must restore.
So even though I don't "need" land (although I do dream of land to build a timber-frame home on, at some point in my life), I DO need my life to look just like Heaven. I do need the Lord to execute everything in my life that He promised to do. And I DO require full manifestation of ALL His promises.
There's a new Sheriff in town, folks.
Many of us have been allowing doubt, the enemy's tricks, sicknesses, lack, and the status quo to rule our homes and lives. But you know what? We don't have to allow that anymore.
As soon as we decide that we refuse to allow the works of the enemy in our lives, and that we ARE going to experience the total manifestation of God's promises, then we are essentially electing a new Sheriff over our lives: the Word of God, Jesus Christ.
And as soon as we put the new Sheriff in charge and determine by faith that we will accept nothing less than His complete promises, everything changes.
I'm not going to put up with anything less than 100% of everything He promised me in His Word anymore. Are you?
So what do you need in your life?
What has God promised you that you haven't seen manifest yet? Could it be:
A home?
A spouse?
Land?
A raise at your job?
A new career or job?
A business?
A promotion?
Victory over an enemy stronghold in your life?
Whatever is in your life that doesn't look like Heaven yet, THIS IS YOUR YEAR to manifest Heaven.
It's simple, too. All you have to do is:
Find a promise in the Word that promises whatever it is you desire.
Start meeting His conditions that are attached to that promise. (In other words, obey God.) 🙂
Pray and claim the promise in prayer!
Keep reminding God of what He promised to do, and DON'T WAVER.
What radical prayer experiment will you choose? Leave a comment below!