God's Creativity (The One Time I Heard His Audible Voice)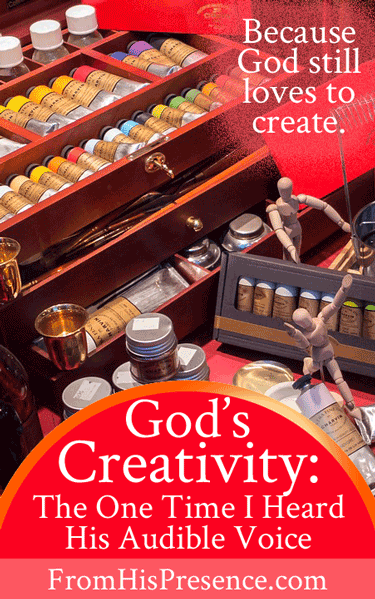 I have heard the audible voice of God only one time.
It was about 2 AM. I was in bed and had just woken up. I was just lying there quietly, and I heard God speak to me. It was His audible voice; I heard it with my physical ears. He spoke only one word:
"Jamie."
That was it. Only my name.
Then, in my spirit, I heard Him call me to get up and go into my office with Him, and do some scrapbooking.
Odd, huh? Scrapbooking, of all things!
Back then, scrapbooking was my primary creative outlet. I wasn't writing at the time, and I don't think I was involved in music either. However, I did love to scrapbook, and I had several different albums in the works. But I usually worked on them during daylight hours—not at 2 AM. 🙂
Nevertheless, I obeyed. I figured if God took the trouble to speak to me with an audible voice, I should probably obey!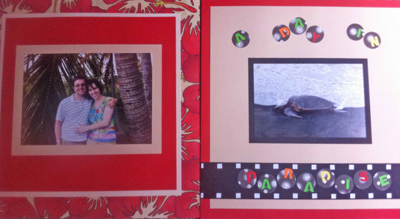 So I went into my office and began to make scrapbook pages. I felt supernaturally inspired, and the pages were coming together nicely.
Then the Lord into my spirit, as clear as a bell, something that rocked my world (and has been rocking it ever since).
He said:
"I still love to create."
When I heard that, I was FLOORED.
I know God is the Creator, but I had always thought of Him creating at the creation of the world. I had never thought that He might not have stopped creating—or never wanted to stop creating.
Then I realized that, since He has given dominion of the earth over to men, He needs us to cooperate with Him in order to create on the earth.
And suddenly I saw the beauty and longing of Papa's heart in this area:
God Himself woke me up and spoke to me with His audible voice because the cry of His heart was to create, and He needed someone to flow through in order to do it.
Whoa.
I was in tears. (I'm even tearing up as I write this.)
How often do we think of our Father as being a creative Being, whose heart still longs to express Himself through the creative, artistic works?
And an even more pressing question:
Do we allow the Holy Spirit to flow through us creatively?
Do we let Him create songs, paintings, scrapbook pages, home designs, landscape designs, flower arrangements, recipes, books, and blog posts through us?
Do we allow ourselves to be His outlet, His hands and feet on the earth?
Father God still loves to create.
He IS the Creator. It's His nature; it's who He is. He cannot be anything less than He is; He cannot be any different.
I never thought of it before that day. But, after you ponder on this awhile, you can see that He fashioned the world by His spoken word. He formed Adam and Eve with His own hands out of clay. The entire created world and all the people in it were one big art project.
Papa God still loves to create. The Holy Spirit, who dwells in you if you have made Christ the Lord of your life, loves to create… and since He lives inside you, that means He wants to create THROUGH you.
So will you ask God to create through you today?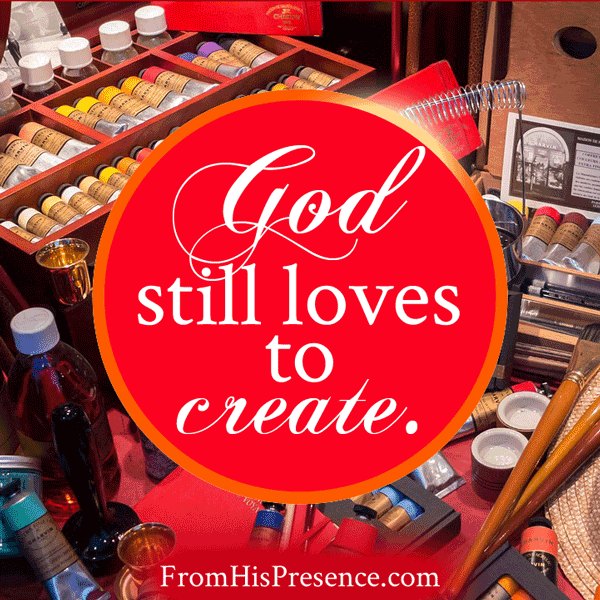 Next time you have to do anything creative—singing, cooking, writing, painting, scrapbooking, decorating—will you ask the Holy Spirit to create through you?
I remember the first time I asked God to write through me. I was writing an essay for an English class in college. I might not even have been saved yet; I'm not sure. But as soon as I asked the Lord to write through me, I began to feel Him doing so. There was such a "flow" that I literally heard the words in my spirit, and just wrote down what I heard. I sensed the inspiration and presence of the Lord so strongly.
That essay ended up being published in an anthology of work put out by a nationwide honor society every year. It was the first time I had anything published—and I believe it was only because the Lord wrote it through me.
Since that time, every time I have gone to do anything creative, I have asked the Lord to do the creative work through me.
He has always answered, and I've always been grateful. However, I always just thought He was doing it to help me out.
I never realized, until He spoke to me audibly that night, that He was doing it because His heart still yearns to create.
God still loves to create. It's who He is. Will you let Him create through you?
Have you ever felt God's presence and His divine flow when you were doing something creative? If so, how did that impact your work? Please leave your comments below.