Make This Goal: Develop 8 Sources of Income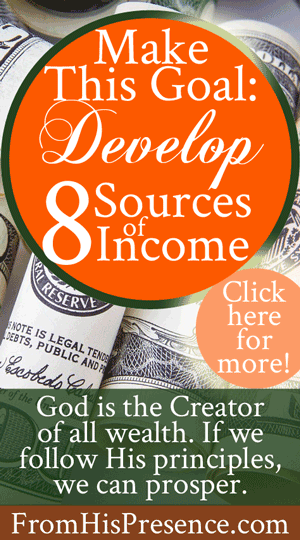 Do you hunger to experience the level of financial and material provision that God describes in the Bible? Would you love to be financially free, so that you never again have to suffer financially from the whims of people, the economy, or other factors out of your control?
So would I. And I believe I've found a Biblical secret–a nugget of wisdom–that we can all begin to implement today that will help us eventually reach that place.
The secret is in Ecclesiastes chapter 11, and I believe it's a key to financial prosperity. It has to do with developing multiple sources of income.
By the way … As I'm writing this, I just noticed the "chapter 11" significance. In the United States, "chapter 11" is another word for a type of legal action that declares a person bankrupt. Hmmm… Maybe God's Word is giving us the antidote to the devil's version of "chapter 11" right here! You'll see why below. Remember: the thief only comes to steal, kill, and destroy–but JESUS came that we might have LIFE, and have it abundantly! John 10:10. 🙂
So do you want to know one of God's secrets for living well, successfully, and prosperously? Let's look at the passage from Ecclesiastes:
Cast your bread upon the waters, for you will find it after many days.

Give a serving to seven, and also to eight, for you do not know what evil will be on the earth.

If the clouds are full of rain, they empty themselves upon the earth; and if a tree falls to the south or the north, in the place where the tree falls, there it shall lie.

He who observes the wind will not sow, and he who regards the clouds will not reap.

As you do not know what is the way of the wind, or how the bones grow in the womb of her who is with child, so you do not know the works of God who makes everything.

In the morning sow your seed, and in the evening do not withhold your hand; for you do not know which will prosper, either this or that, or whether both alike will be good" (Ecclesiastes 11:1-6, emphasis mine).
What does this passage tell us about personal finance and developing multiple sources of income?
Three things:
1. Every family needs to develop 8 different sources of income.
Yes, eight. (I get excited every time I think about this!)
God says in Ecclesiastes 11:2 that we should "Give a serving to seven, and also to eight." This phrase can also be translated "Divide a portion to seven," "Make a portion to seven," "Commit a portion to seven," etc. This verse, and the verse before it, are referring to investing your sustenance into moving, flowing places in order to bring you a return when you need it.
If you read further down the text–in Ecclesiastes 11:6, we can see clearly that this passage is about handling things that bring us harvest, income, and increase.
You could apply this principle to a lot of places. It's commonly taught by Christian financial advisors when they're talking about diversification of someone's investments.
However, I'm convinced it applies to income too. God says diversification is good; and that when we diversify, we should diversify to 8. This includes our investments AND our income sources.
AVAILABLE IN EBOOK OR PAPERBACK FORMAT!
Over Not Under: Financial Prosperity God's Way
Do you want God to empower you to get wealth, as He promised in Deuteronomy 8:18? Then this book is for you!
Over Not Under will help you gain deep insight about God's financial principles—and about how to activate His provision, blessing, and abundance in your life!
Can you imagine the level of freedom you would have with 8 sources of income?
Eight different ways you get paid every week or month? For example, maybe you're an office worker who:
Gets paid your regular office salary (source #1);
Has a spouse who also works (source #2);
Has an Etsy store that generates sales of your handcrafted products (source #3). (Like my friend Eva Conner, one of our Presence seekers. The Lord just told her to build out an Etsy store with her amazing cards, so she is. Check out what she's doing here on Etsy–I'm in awe of her GORGEOUS designs.)
Builds a website that brings in income through ad revenue (source #4);
Writes an e-book that you sell for additional income (source #5) (like my friend Pastor John Jaques has done with his awesome ebook about the Armor of God, which I highly recommend);
Occasionally teaches a continuing education workshop about something in which you're an expert (source #6);
Hosts yard sales a few times a year (source #7); and
Moved out of your house awhile back; and, instead of selling the house, you hired a property management company to rent it out for you at a profit (source #8).
Or, maybe for extra income, you:
Babysit.
Make cakes.
Raise livestock that multiplies, and you sell the offspring. (The world's oldest investment strategy. I wish I could do this, but my neighbors might not be as excited as I would be.) 😉
Sell cookies.
Mow lawns.
Build decks.
Preach on the side.
Do freelance web design.
Buy and sell antiques.
Do freelance editing or proofreading work.
Sell items on Amazon or eBay.
Help other people with interior design.
Coordinate weddings.
Do portrait photography.
You could do anything; it's whatever floats your boat. The point is …
If all of those sources of income brought you money every month, wouldn't you feel a lot more stable than you would feel with just a traditional job?
Is your head nodding up and down with a big "yes"? I know mine is. 🙂
Think about it: if you had 8 sources of income, and you lost your job, you wouldn't panic. You might be concerned, but I think you'd actually have more drive and motivation than ever before. You'd just pick one of your other 7 sources of income, and you'd get to work on that one.
Each source of income wouldn't even have to be huge. However, all of them combined can add up to a nice income–an income that is STABLE; an income which you create–not an income that leaves you at the mercies of other people's whims.
Oh, I'm preaching good, now. 😉
Okay. Moving on:
Recommended resource: Crystal Paine, who blogs on MoneySavingMom.com, wrote one of the best books I've ever read about bringing in extra income. It's called Money-Making Mom (affiliate link), and you can get it on Amazon here. (It would be perfectly fine for men to read too, by the way.) 😉
2. You can't let what could happen get in your way when you start diversifying your income.
In the passage above, Ecclesiastes 11:4 says, "He who observes the wind will not sow, and he who regards the clouds will not reap." Beloveds, there will always be negative possibilities. There will always be risks. There will even usually be naysayers and even haters who want you to be miserable just like they are.
But look at the positive possibilities! Look at the rewards! Look at the fulfillment! And look at the PROVEN success that entrepreneurs all over the world, since the beginning of time, have experienced!
Dear, precious readers, if you're going to be financially free, you just have to ignore the "maybes," "what ifs," and doomsday haters, and build out your sources of income anyway. That means:
Make your plan and write some goals. Write the vision!
Get started with just one of your income sources. Work on just one for awhile, and the other sources will follow in due course as you work.
Plan for a safety net if your business involves risk.
Just get started!
Hint: Sometimes this is easier if your family and/or friends actually don't know what you're doing at first. There's tremendous power in maintaining holy silence at the right times, instead of letting people always know what you're doing. Check out this post for more about that.
3. Things will occasionally happen, and sometimes you'll have failures. Don't sweat it; just try something else.
Thomas Edison, the inventor of the electric light bulb, famously said that he had not failed 10,000 times–but rather had identified 10,000 things that didn't work. Each time he found something that didn't work, he just moved on to the next option. (Read this inspiring article on Smithsonian Magazine for more.)
When you begin your journey of entrepreneurship, let that be your motto. If you find something that doesn't work, don't get upset. Just move on. 🙂
I've failed a bunch of times. I've failed at selling makeup (I gave everything away and never made any money), portrait photography, gardening, and more. It doesn't mean that those aren't perfectly legitimate businesses. It just means they didn't work for me.
What's right for you may not be right for someone else–but you may be a rock star at it. Doesn't matter. Just find what you're good at–what you love–and work on that. And keep doing that until you have 8 different sources of income coming in.
Beloved, you and I can be financially free. I believe it's time to start working on our freedom plans daily.
Think of several different sources of income you'd like to develop. Write down some specific goals and tasks, and get started on one today. Then keep it up, in tiny increments, day in and day out.
I believe you won't recognize where you are in even a year; you'll have come so far.
Does this word resonate with you? If so, please leave a comment below! I'd love to hear from you!