On the Mount of the Lord It Shall Be Provided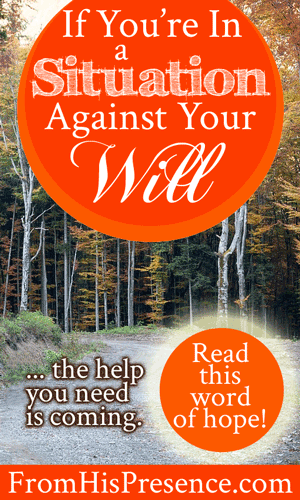 Many of God's people have experienced unexpected, sometimes unjust hardship in recent seasons. If that describes you, you may have seen difficulty come from any number of sources:
Perhaps a tragedy struck, and the life of a loved one was cut short.
Perhaps a financial situation beyond your control wreaked devastation in your life.
Perhaps a sin or violation was committed against you, and it dragged you to a place you did not wish to go–a place you never should have been forced to go.
If that's you, I want to encourage you today with the following dream the Lord gave me:
I dreamed that I was riding in a car. My mother was driving, and she drove me to a local university town, across the railroad tracks, and into a forested area at the foot of a mountain. The name of the mountain was White Oak Mountain. There was a dirt road there, which led to the top of the mountain.
The mountain road had been officially closed. Traffic barricades, police tape, and other barriers were positioned across the road at the foot of the hill to prevent vehicles from using the road. Nevertheless, my mother–against my wishes and despite my vehement protests–drove around the barricades and began to drive up the mountain.
As we rode, I insisted that my mother stop the car. She didn't listen, but I knew we should not be on that road. Not only was accessing the road against the law, but it was also unfit for traffic! The road had been severely damaged by storms. In some places, there were huge bumps; in others, we had to cross large ruts and washouts.
I tried repeatedly to get my mother to turn our vehicle around, but to no avail.
When we arrived at the top of the mountain, there was a picnic pavilion tucked under the trees. No one should have been there since the road was closed. Nevertheless, a woman was cooking under the pavilion. She had lots of cafeteria supplies and shelving units standing all around the pavilion. Eating utensils, groceries, and more were everywhere. It looked like she was preparing to feed an army!
I never saw this woman's face. However, as my mother and I walked into the pavilion, the woman handed me a sandwich to eat. I peeked inside the sandwich and was astounded to find a vegetarian burger. (I'm a lifelong vegetarian, and sometimes vegetarian food can be hard to come by at picnics.) Then I woke up.
What the dream means for every believer:
Many of you have been taken to a place you did not wish to go. You should never have had to go there at all; you've only been dragged into this place because a violation of spiritual law occurred, and you've recognized the injustice.
Throughout this journey, you've protested vehemently in prayer. You've assaulted the throne of grace, begging God to turn your situation around. However, the situation has continued on and on. Things have been hard. The road has been terribly bumpy, and your path has been hindered by storm after storm.
But the Lord wants you to know today that He sees the difficult road you've been on.
Even though it's been hard, and even though you never should have had to journey in this place, El Shaddai–the Many-Breasted One, the Holy Spirit Himself–has been in control of your life, work, and ministry the whole time.
Please know that, if your plight was triggered by sin or violation of God's Word, God did not cause that sin. He cannot tempt anyone to sin, and He cannot cause injustice. However, no matter who caused the situation that has happened in your life, God has allowed your trial because He is going to use it.
When God is ready to promote you, He always sends an enemy for you to conquer. We see this in the life of David and in many other stories throughout the pages of Scripture, and the situation you've been dealing with has been your enemy.
However, as your Nurturer and Provider, Abba Father is right now working this situation out for your good. He's taking you to a higher level; to a mountaintop which few people reach. He's using your situation to get you advanced training in His spiritual university.
Related: Study my series of dream and tattoo interpretations here to learn more about Biblical symbolism.
But brother, sister, be encouraged: your bumpy road DOES have an end.
Right now, the Holy Spirit is bringing you to the end of the bumpy road. He's bringing you into a place of rest and shelter in which He and His angels will minister to you. And at the top of this mountain–in the very place to which you never should have had to go–Father and His angels will bring you provision that is customized uniquely to your needs.
Beloved, your life and ministry are different from every other life and ministry on the planet. Only Father can bring you the provision that you need in order to carry out your purpose on earth. Such specialized provision defies the knowledge and ability of men. However, God knows exactly what you need, and His angels are cooking it up right now.
As it says in Genesis 22:13-14:
Then Abraham lifted his eyes and looked, and there behind him was a ram caught in a thicket by its horns. So Abraham went and took the ram, and offered it up for a burnt offering instead of his son.

And Abraham called the name of the place, The-Lord-Will-Provide; as it is said to this day, "In the Mount of the Lord it shall be provided."
And friend, I believe Abba Father wants you to know one more thing: you have been an oak of righteousness during this journey. You have walked this road in white.
The enemy would like to trick you into believing that this was your fault; that you deserved this; or that your own sin caused this. Don't believe him; the enemy is a liar. God's Word says that you are an oak of righteousness, the planting of the Lord, and He will be glorified in your life.
Isaiah 61:1-3:
The Spirit of the Lord God is upon Me, because the Lord has anointed Me to preach good tidings to the poor;

He has sent Me to heal the brokenhearted, to proclaim liberty to the captives, and the opening of the prison to those who are bound; to proclaim the acceptable year of the Lord, and the day of vengeance of our God;

to comfort all who mourn, to console those who mourn in Zion, to give them beauty for ashes, the oil of joy for mourning, the garment of praise for the spirit of heaviness;

that they may be called trees of righteousness, the planting of the Lord, that He may be glorified" (Isaiah 61:1-3).
Beloved, you've journeyed down a hard road.
If your situation was caused by sin or violation of God's Word, rest assured that Father didn't cause it. However, He has allowed it for a reason. Abba Father has been in control of your life, work, and ministry the whole time. And on the mount of the Lord–in this higher place where you were brought against your will–you will receive the specialized provision you need from the God Who Sees.
Does this word encourage your heart today? If so, please leave a comment below. I'd love to hear from you!