Do You Expect to Prosper?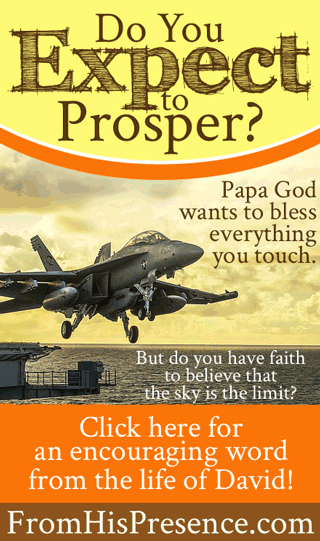 I'm in the middle of my quiet time this morning and I felt compelled to stop and ask you this question:
Do you expect to prosper?
You see, I'm studying the life of David from the book of 1 Samuel (preparing to teach my 21 Kisses workshop about the life of David in a few days). And 1 Samuel 18:14 really arrested my attention. It says:
And David had success in all his undertakings, for the Lord was with Him."
David had success in all His undertakings. ALL.
Because the Lord was with him.
Don't think he didn't know the Lord was with him. He knew. He depended on the Lord and knew Him intimately. You don't rush giants with nothing in your hand but a sling and a stone if you don't fully expect the Lord to be there to back you up!
Well, the Lord is with you too.
But I'm wondering if there could be a key difference that causes us to have different results sometimes than the results David had?
That key difference being: do you expect to prosper?
I EXPECT to prosper. I haven't always had this attitude, but I do now and I'm asking the Lord to purge me and expose any areas in which I don't yet expect to prosper.
Because, folks, the hand of the Lord is not shortened, that it cannot save. He is WELL ABLE to do everything for you and me that He did for David.
But Papa responds to faith. Do we have faith that He will prosper us? That He will come up behind us in everything we do as we follow Him, and bless it?
Related: 7 Signs of a Spirit of Poverty
Or do we only wish to prosper but expect to fail?
You could be anywhere on the spectrum. But wherever you are, I feel in the Spirit that it's time to increase our level of EXPECTATION.
Pray this with me:
"Father God, in Jesus' name, I thank You that You are no respecter of persons. What You did for David, You will do for me.

Therefore, since Your Spirit lives inside me too, and You are with me, I ask that You would make me successful in ALL my undertakings today. Rush upon me and through me, and literally do the work through me. Help me to do what You do and say what You say, and humble myself before You, receiving from You by grace, as You pour out on me and bless me.

Thank You, Papa. I give You all the praise. In Jesus' name I pray. Amen."
Will you change your expectations and start expecting to prosper–or to prosper in greater measure–today? If so, leave a comment below!