Why You MUST Have Focus and Kingdom Aggression Right Now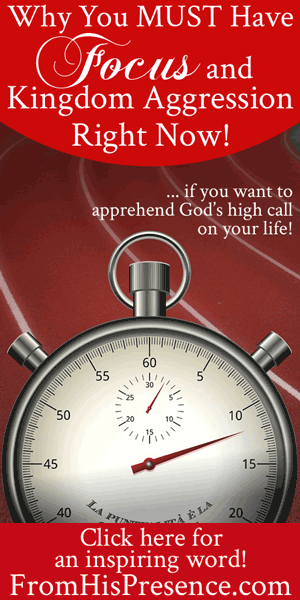 Focus and Kingdom aggression. Two words on my heart as I'm writing this.
The Holy Spirit has been sitting on me strongly about these things, and I believe they are two pivotal ingredients necessary for you and I to receive everything God has for us in this season.
Here's why focus and Kingdom aggression are necessary right now if you want God's destiny for your life:
Reason #1: Warfare, warfare, warfare.
I don't know about you, but I have noticed that when I have been sitting down to do the crucial things I am called to do–the ones that will be really pivotal in my life, like finishing my book proposal and sample chapters–everything becomes more urgent, more important, more interesting, and more fun than THE THING I'm called to do.
Everything.
I've been sitting down to write, and suddenly I'd rather clean the house, pet the cat, take a nap, make blog images, pin pins on Pinterest, text or talk on the phone, or do anything other than what God is telling me I MUST do.
Am I the only one here?
I'm telling you, that's warfare. That's the prince of the power of the air trying to send thoughts against us that derail us. The enemy doesn't want us to get started, let alone finish.
And in order to overcome this type of warfare, which can be pretty intense, I've had to:
A. Say no to extra church services when God has told me to stay home on a Saturday, instead of going to XYZ special meeting.
Yes, the enemy will even tempt you to go to church rather than fulfill God's purpose for your life. And I definitely think we should be in church when it's a regular service where your local church body assembles together. That's the commandment of God.
But all the extra stuff–no, I don't believe we always have to be there just because the doors are open.
This last weekend, we had a special conference at my church. I went twice and was radically touched. But on Saturday, the Lord told me outright to stay home and finish my book proposal. This message of this book must get out NOW.
Papa was clear, too. STAY HOME.
But you know what? In order to obey, I had to sort through the Biblical decision-making process. Was this God? Did I have peace about staying home? Does it line up with His Word? Was my husband in agreement?
The answer to all those questions was yes. My husband actually told me before I talked to him about it that he felt I needed to stay home and write. So after evaluating all the signs, I stayed home and spent about 7 hours working on that proposal and finishing my sample chapters. And I'm happy to say my book proposal is now in the hands of my editor for its final edits!
B. Put my phone DOWN and stop answering people's demands.
Ordinarily, my phone and I have a pretty tight relationship. But lately, because God's been telling me to FOCUS on writing, I've had to be aggressive about eliminating distractions. Because literally–I kid you not–EVERY time I've sat down to work on that book, multiple people would text, call, or send me a Facebook message, either wanting to talk or wanting help.
Love ya. Mean it. But I can't obey God and answer people both (not even well-meaning people), so I'm obeying God. I put my phone down, put it on silent, and left its pretty face alone.
And finished my book chapters instead. 🙂
C. Stay home and not schedule social engagements.
I love my friends. If you're my friend, I really do love you! But I've been staying home a lot lately and not seeing my friends so much because, well, I can't right now.
God's sitting on me to get these things done, and He's telling me to go home every day after work and stay home most mornings too. So, even though I love people, I love God more and I'm not going to disobey and grieve the Holy Spirit, by the grace of God.
Beloved, if you're going after the plan of God for your life, you're going to have to start saying 'no' to some good things too, so you can say 'yes' to the best things.
Don't stop going to church completely; that would be disobeying God. Don't give up the only time you have with your spouse. That would be getting your priorities mixed up.
But ask God what to do each day, and He'll show you. He might tell you to ignore your phone, stay home, or not watch that movie. I don't know; but we all have the same 24 hours in a day, and if you're going to apprehend the high call of God on  your life, you must make the most of your time, buying up every opportunity.
Ephesians 5:16 says:
See then that you walk circumspectly, not as fools but as wise, 16 redeeming the time, because the days are evil.
Reason #2: Jesus said that the violent take the Kingdom of Heaven by force.
Matthew 11:12 says:
And from the days of John the Baptist until now the kingdom of heaven suffers violence, and the violent take it by force."
If you want your life to look like Heaven–if you want "on earth as it is in Heaven" to become reality in your life–you've got to have a holy, Kingdom aggression and take it by force.
I'm not talking about stealing anything or murdering anybody, or any other kind of unholy violence or force. I'm not even talking about doing anything out of order, out of authority, or anything else unholy.
But I am talking about getting a holy aggression and single-minded focus on God and on what you are called to do, and going after God and your call with everything you've got.
I mean aggressively. With everything you've got.
That means, as we discussed in Monday's blog post about the Nazirite call to the forgotten generation, you steward your call well and take pro-active steps toward it.
This can be a tough thing sometimes to wrap your mind around, because too often in church culture, we have been sold the bill of goods that says "Sit down and shut up, and if God wants you, He'll call you." That's ok to sit down and shut up if you don't know you're called.
But if you do know you're called, it's terrible advice. You would never say that to someone in a secular career. "Sit down and shut up; if God wants to promote you, He will." That would be ridiculous. No; you tell people, "Train for the job you want. Prepare for the job you want. Do job shadows and offer to help in that department. Do everything you can to get ready for that job."
And to be perfectly honest, I think the corporate world sometimes has more of God's wisdom than Christians do–because Christians too often see through a filter of elitism or a poverty spirit which doesn't exist nearly as strongly in the corporate world (at least, not in my company).
So "Sit down and shut up" is terrible career advice, and it's terrible advice about your calling.
Jesus said that the violent take the Kingdom by force. The Kingdom of God is righteousness, peace, and joy in the Holy Spirit (Romans 14:17). And Jesus said that joy comes from asking for and receiving what you want.
John 16:24 says:
Until now you have asked nothing in My name. Ask, and you will receive, that your joy may be full."
Oh yeah. It's an oft-ignored Kingdom principle: more joy comes from more asking for AND RECEIVING whatever you want from God.
(And all the religious people and the people with a poverty spirit probably just got mad about that, but don't send me nasty emails. Take it up with God. It's His Word preached by His Son.)
By the way, I'm coming out with a blog post soon on 7 signs of a poverty spirit. I've already got the infographic for it designed and everything. If you have embraced a poverty spirit, trust me: YOU WANT TO GET RID OF IT. It's keeping you from being blessed because it's oppressing your faith and keeping you from experiencing Kingdom reality. The good news is that you can be totally free of it and have the Holy Spirit, and His thoughts, instead. Stay tuned. 🙂
So. The Kingdom is "on earth as it is in Heaven." And if you want your life to look like Heaven, you've got to have Kingdom aggression. You've got to go after God and His plan for your life violently–aggressively–like the apostle Paul did in Philippians 3:12-15:
Not that I have already attained, or am already perfected; but I press on, that I may lay hold of that for which Christ Jesus has also laid hold of me.

Brethren, I do not count myself to have apprehended; but one thing I do, forgetting those things which are behind and reaching forward to those things which are ahead, I press toward the goal for the prize of the upward call of God in Christ Jesus.

Therefore let us, as many as are mature, have this mind; and if in anything you think otherwise, God will reveal even this to you."
So, beloved. The Word of God says we should be aggressive about taking the Kingdom by force. In order to do that, we've got to have focus in this hour.
How badly do you want what God has for you?
Selah.