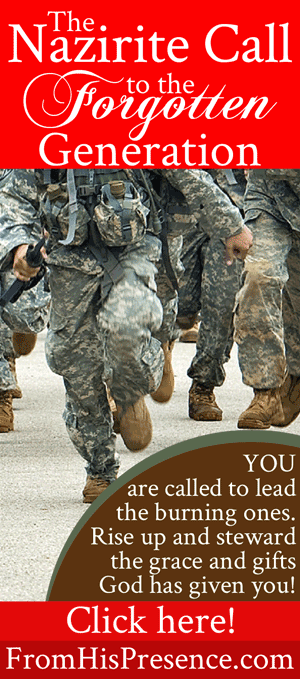 The Lord is issuing a clarion call to the forgotten generation–the generation of those in their 30s, 40s, and even some in their 50s who feel like they have been bypassed, overlooked, and superseded–to become Nazirites; to rise up and consecrate themselves to the Lord as leaders.
This call is going forth so that this generation may lead the generation of sold-out, burning ones who have risen behind them.
Many years ago, I heard the late prophet, Bob Jones, prophesy that this generation–those of us who are now in their 30s–would be the leaders to the generation to come.
But many of our generation have lost heart and lost hope. We have seen our fathers do the leading. We have seen our fathers do the work of the ministry, and we have been content to serve under their leadership–and those are good things in many respects.
However, there comes a time when the next generation must stand up, watch our fathers' backs, and carry on the work of the ministry. And many of our fathers find themselves in the autumn of their ministries, yet the leaders to the next generation have in many cases not yet arisen.
And too often, the absent leaders are absent because for too long, we have felt overlooked and forgotten by God.
We know His heart of love for us personally, but in many cases we have let our hopes fade–convinced that the dream of great things we once embraced must have been all in our imagination.
Many of this generation in their 30s and 40s (again, and some even in their 50s–the parents to the burning ones) have lost hope that the dream we felt was in God's heart for our lives–the dream of changing the world–could ever become reality. We have seen the torch appear to pass to the children and youth instead, and many in this generation have become disillusioned, thinking that we have no place in the Body.
But brothers and sisters in this generation, Abba Father does have a place for you in the Body, and your hour has come.
The time is now. Yahweh, the covenant-keeping God of dreams and visions, has not forgotten you. He is calling you to rise up. He is issuing a Nazirite call to all who will answer it.
This call is to let yourself be one of the spiritual long-haired ones–those who go before the nation to lead her troops in battle.
The length of your hair is not important, but the length, height, and breadth of your love for and consecration to God is important. O beloved, it is time to throw off the ashes of faded hopes and dead dreams. A generation has arisen who needs you.
The burning ones who have risen behind you, seemingly overnight–from children to those who are currently in their 20s–need leadership. And for that leadership, they are looking to you.
You may not realize this, but they are. They look to our fathers for parenting and nurturing. But for leadership, they are looking to you because:
Only you are both experienced enough, wise enough, and in-touch enough to relate to them rightly.
Only you can mobilize, organize, and feed their passions.
Only you have enough bent toward counter-culture to be able to conceive and implement the strategies that these burning ones are called to fulfill.
And only you are close enough to their time and situation to be able to understand them at the deepest level.
O generation of mine–especially if you are in your 30s or 40s right now–God is calling you. Rise up! Stand in the gap and be a bridge between the older fathers and the children.
You are not forgotten. The Kingdom of God is waiting for you to take your place. Years of wisdom and maturity have baked a passion for God into your DNA, but you have not yet seen the opportunity about which you used to dream. Now, however, the Kingdom is waiting.
But be aware: This rising up is about stewardship as much as it is promotion.
Promotion comes from God (Psalm 75), but stewardship comes from people. When God places a dream in your heart, it becomes YOUR responsibility to steward it well. And stewarding your call to leadership means you seek God and consecrate yourself to Him, presenting your desire to Him and following every leading of His Spirit as He motivates and carries you forward into the manifestation of your dream.
Promotion and opportunities come from Him … but rising up into your place in the Body will require action on your part.
It will require making the most of what you have. It will require faithfulness and diligence. And most of all, it will require a willingness to step out on a limb and take risks.
The risks you take will not be out of order or out of authority; God will never lead you to operate out of authority. You will, however, be required to take risks of a different nature. In order to walk in your calling:
You will have to own up to who you are.
You will have to admit that you are exactly who and what God created you to be.
You will have to acknowledge the gifts He has placed inside you and admit–to some extent, publicly–the dream that burns in your heart.
You will have to refuse to be less than you are.
You may think that taking risks of this nature will bring disfavor, shame, or embarrassment upon your head, but those imaginings are a trick from the accuser of our souls.
Father God never abandons His creations or His purposes for your life. He made you a particular way, with very specific gifts and dreams–and He is not ashamed of who He made you to be. Neither should you be ashamed.
Romans 12:3 says:
For I say, through the grace given to me, to everyone who is among you, not to think of himself more highly than he ought to think, but to think soberly, as God has dealt to each one a measure of faith" (NKJV).
That word "soberly" means, in modern vernacular, that we should think "realistically." From this passage, we know that we should not deny the gift and graces of God that He has placed on our lives. Instead, we should acknowledge in faith who He has made us to be.
We must never be arrogant, but we should also never insult the Holy Spirit by denying the deposits He has placed within us. In faith, we must think realistically about ourselves–not pretending to be more, but also not pretending to be less.
And as you honor the Holy Spirit's deposits inside you, you will be met with grace and favor from above.
Beloved, you may have been waiting on God to promote you, but it's time for you to rise up now and steward what He has given you.
You will need to be proactive. You will need to take the responsibility to lead, and lead diligently. All of this must flow out of your holy, burning heart for Jesus. But if you are ready to love Him, He is ready for you to step up and lead His people.
Let the Nazirites arise. Let this generation of leaders take their places in front of the army, mobilizing and organizing the burning ones who have arisen behind us so that the Gospel may be proclaimed.
Does this message resonate in your heart? Is the Holy Spirit speaking to you? If so, please leave a comment below and let's talk about what He's saying!
You'll get an email when new content is posted. I'll also send you exclusive prophetic words, teaching material, and more. You'll even receive my free, printable blessing cards and my ebook–The Presence Seeker's Creed–for free when you confirm!