Prayer #7: Ask God To Bring You The Reward Of Your Labor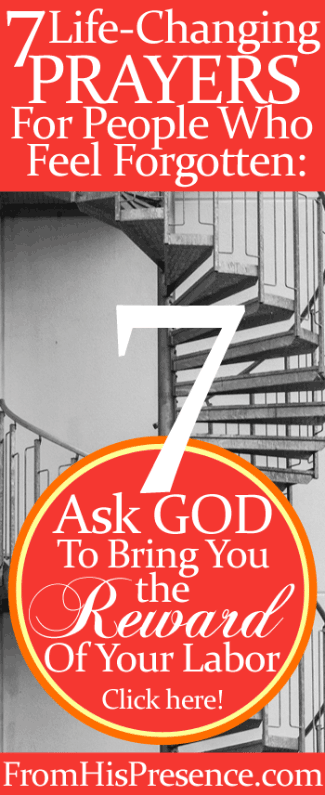 Are you tired of seeing the reward of your labor to go somebody else?
Are you tired of sowing and working, but watching someone else get the reward, promotion, honor, recognition, or influence that YOU deserve because you earned it?
I don't want to talk to you today about any kind of unholy entitlement mentality. None of us should walk around with our chests puffed out talking about what we "deserve."
However, God does have a holy reward system that, unfortunately, Christians are usually too doubtful, fearful, or falsely-humble to tap into.
Here's what happened to me:
When I felt so forgotten, the Holy Spirit led me to this promise. I prayed it out of sheer desperation. I had been sowing and sowing for so long, but it felt and looked like everybody else got the reward for what I was doing.
That is not a good feeling at all, and it shouldn't be. It's unjust, and God is into JUSTICE. Righteousness and justice are the foundations of His throne. We SHOULD desire to see justice in every area of our lives.
So I began to pray. And as wild as it may seem, all of a sudden, the rewards for YEARS of labor started coming to me all of a sudden.
I don't mean just some of my labor, either. I mean ALL of my labor. Even in situations in which I had previously seen my reward get stolen, God started bringing the rewards for those things back to me. And the rewards I got for those things were BETTER and BIGGER than the rewards that had been unjustly stolen by others. 🙂
Yep. Seeing your reward get stolen is for the birds. When you sow, you should reap a harvest. God has a holy reward system, and if you haven't tapped into it yet, it's time for you to do so today.
What is God's holy reward system?
Check out these Scriptures:
But without faith it is impossible to please Him, for he who comes to God must believe that He is, and that He is a rewarder of those who diligently seek Him" (Hebrews 11:6).

"For God is not unjust to forget your work and labor of love which you have shown toward His name, in that you have ministered to the saints, and do minister" (Hebrews 6:10).

"For the Scripture says, 'You shall not muzzle an ox while it treads out the grain,' and, 'The laborer is worthy of his wages'" (1 Timothy 5:18).
God has promised us abundant rewards for our labor. And yet, too often we work and work and work, but then see the enemy steal our reward.
Watching your harvest disappear can be a big contributor toward making someone feel forgotten.
But if you've been watching your reward go to somebody else, that can stop today.
How do I know?
Because Isaiah 62:8-9 contains God's promise to bring YOU–and nobody else–the reward of your labor.
This passage says:
The Lord has sworn by His right hand
And by the arm of His strength:
"Surely I will no longer give your grain
As food for your enemies;
And the sons of the foreigner shall not drink your new wine,
For which you have labored.

But those who have gathered it shall eat it,
And praise the Lord;
Those who have brought it together shall drink it in My holy courts."
Did you catch that? SURELY the Lord will no longer give your grain as food for your enemies! Instead, God promises that YOU will receive the harvest from the labor you have sown.
This is consistent with other similar promises God has made in Scripture.
He has promised that, in the end-time outpouring of the Holy Spirit, He will restore the years that the locusts have eaten:
So I will restore to you the years that the swarming locust has eaten,
The crawling locust,
The consuming locust,
And the chewing locust,
My great army which I sent among you.

You shall eat in plenty and be satisfied,
And praise the name of the Lord your God,
Who has dealt wondrously with you;
And My people shall never be put to shame" (Joel 2:25-26).
He actually promises you double-portion restoration in Isaiah 61:7:
Instead of your shame you shall have double honor,
And instead of confusion they shall rejoice in their portion.
Therefore in their land they shall possess double;
Everlasting joy shall be theirs."
And if you tithe, God has promised specifically that He will bless you powerfully and rebuke the devourer off of your harvest:
'Bring all the tithes into the storehouse,
That there may be food in My house,
And try Me now in this,'
Says the Lord of hosts,
'If I will not open for you the windows of heaven
And pour out for you such blessing
That there will not be room enough to receive it.

And I will rebuke the devourer for your sakes,
So that he will not destroy the fruit of your ground,
Nor shall the vine fail to bear fruit for you in the field,'
Says the Lord of hosts;
'And all nations will call you blessed,
For you will be a delightful land,'
Says the Lord of hosts" (Malachi 3:10-12).
The Word of God is clear. So are you ready to stop seeing your reward go to others?
If so, it's time to pray proactively. Claim God's promises about your harvest and reward, and He will answer.
Pray this with me:
Heavenly Father, I come before You in Jesus' name. Father, thank You that You love me and will take care of me always. Thank You for having a good plan for my life. I know You are in control of my life, and You will perfect all things that concern me.

Heavenly Father, for too long I've been seeing my rewards get stolen. Father, Your Word says that this is not right.

You love righteousness and justice, and You said that the workman is worthy of his hire. You said You WILL reward me when I seek You. You said You're not unjust to forget my work and labor of love. And (if you tithe) You said that You will rebuke the devourer for my sake so that my harvest would not be destroyed.

So Heavenly Father, in Jesus' name, I lift Your promises up to You. I ask that from this day forward:

that You would no longer give my grain as food for my enemies.
I pray that the sons of the foreigner would not drink my new wine for which I have labored.
I pray that I who have gathered this harvest would eat it and praise You for it; and
I pray that I who have brought it together would drink it in Your courts.

Father, I claim Your promise that You will reward me when I diligently seek You. I have diligently sought You, so I'm asking You for the full reward of my labor.

If any of my reward has been stolen, bring it back to me DOUBLE. Bring me the justice and honor You have promised, Father, and bless me indeed.

Thank You, Father. Help me to notice the answers to my prayer, and to thank You for it. I give You all the praise, and I bless You and love You.

In Jesus' name. Amen!
Are you ready for God to bring you the reward of your labor? Does this message encourage your heart? If so, please leave a comment below. I want to hear what you think!
Related:
Image courtesy of Sten Dueland on Flickr via Creative Commons license. Image has been cropped and graphics added.