7 Life-Changing Prayers For People Who Feel Forgotten: Prayer #1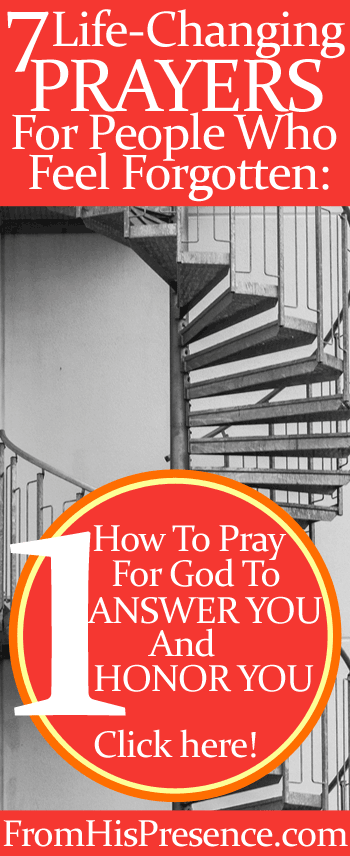 So you feel forgotten – by God or by people – and you're ready for change. I'm glad, because the 7 prayers we're about to discuss over the next few blog posts will radically change your life. Forever.
First, you need to understand that when you are praying for a specific thing that God promises in the Bible, it's important to claim a promise to go with it.
What do I mean when I say "to claim" a promise?
"Claiming" a promise means finding a Bible verse in which God promises to do the specific thing for you that you want Him to do. Then you just remind God of that promise in your prayers.
It's not that God has forgotten His Word, and He never forgets His promises to you. But when you find a specific verse in which God said, "I WILL do XYZ thing for you," and you can point to that verse and lift it up to God, it builds your faith. And according to James 1:6-7, we won't get anything from God without faith. Without faith, it is impossible to please God (Hebrews 11:6).
Claiming your promise in prayer might look different for every person, depending on where you are with God and how you're feeling from day to day.
Sometimes I have plenty of faith when I just say, "Father, Your Word says…" and remind Him of what He said, then pray for that thing.
But other times, my faith hasn't been so hot, and just reminding God didn't bring me assurance. In those times, I've:
Laid my head on my Bible, open to that verse, and cried as I prayed, until I finally felt faith arise in my heart, and I knew I had the thing I was praying for. Somehow, doing that felt like it got that promise into my heart easier.
I've lifted my Bible up in the air and looked to Heaven and pointed to that promise until I felt, myself, that I had breakthrough.
I've written it down and kept it in my pocket, so I could meditate on it all day whenever I felt that paper in my pocket. Meditate on Scripture long enough, and your faith will rise.
And you know what? None of those things are wrong. In fact, they're all absolutely right, and if I did them all the time, I'd probably have more faith.
So I'd encourage you to do what it takes to get your promise in your heart until you have faith to believe that you have what you've asked God for:
Sing that promise back to God.
Lay your head on your Bible and cry if you have to.
Pray it.
Paint pictures of it.
Make pancakes with that promise written in the batter.
Make a cake and write the promise in the icing and eat it. 🙂
I don't care; do what it takes to get that thing in your spirit. God will always honor His Word, and He will always keep His promises. But we need to approach Him in faith.
Ok?
So without further ado, here's the first Biblical promise to claim to start seeing change in your life if you feel forgotten:
He shall call upon Me, and I will answer him;
I will be with him in trouble;
I will deliver him and honor him (Psalm 91:15).
This promise is a big, HUGE deal.
When I first started praying about feeling forgotten, this is one of the first promises I claimed. The Holy Spirit made this promise jump into my heart one night. At first, it didn't make sense to me why God said He would honor me. Then, however, God gave me the best mental picture–read all about WHY God wants to honor you here–and showed me that He DOES want to clothe me in honor.
So I asked Him to do so. And you know what?
The very next day, miracles started happening in my life in the form of HONOR and PROGRESS.
I had an article accepted for publication for the first time; I had never been published before. There was no rejection letter; it was instant acceptance. I was stunned, because I had just prayed for God to begin honoring me the night before.
Then, before the day was even over, my pastor publicly honored me for having that article published too. I was so blessed by that, because my pastors mean the world to me. And the honor God brought me was literally double honor, as God promised in Isaiah 61:7:
Instead of your shame you shall have double honor,
And instead of confusion they shall rejoice in their portion.
Therefore in their land they shall possess double;
Everlasting joy shall be theirs.
So I kept on praying for God to answer me, be with me in trouble, deliver me, and honor me. And you know what God has done?
He has kept on honoring me. It's been unreal.
Are you wondering what it looks like for God to honor you? Here are some examples:
You unexpectedly receive a bonus at work, and you are not even sure you did anything to deserve it.
Your boss mentions how awesome you are to HIS/HER boss, thus making you look good.
Your pastor publicly mentions you and affirms your gifts, work, or service.
Your teacher calls you out in class and says nice things to you you to the other students.
The keynote speaker doesn't show up, and you get to speak at an event unexpectedly.
Your leader entrusts you with greater opportunity and responsibility (that you actually want). 😉
These are only a few examples, but things like this have been happening to me ever since I started claiming Psalm 91:15 in prayer. I'm not kidding. God took me from a place where I felt totally forgotten, to a place where things like the above are happening day in and day out. It's been wild.
And He will do the same thing for you.
You may have already noticed some of these things happening to you. But if you haven't–and even if you have, but you want more–there's no time like the present to start praying. God loves to honor His kids, so that means He will honor YOU–just as soon as you ask.
Are you ready? If so, pray this prayer with me:
Heavenly Father, in Jesus' name, I want to say THANK YOU for Your Word. I love it, and I love You, and I know You love me even more than I love You.

Father, I don't always feel like I deserve honor, but Your Word says that You want to honor me. It's just who You are, and You've made me Your child. And Father, I want everything You have for me.

So Father, I'm claiming Your promise in Psalm 91:15. I'm calling upon You in the name of Jesus. And Father, I'm asking You to answer me. I'm asking You to be with me in trouble. Lord, I've been feeling so forgotten. I've been down and discouraged.

But discouragement is not Your will, so I'm coming to you in faith, believing that You will answer me. You've promised to be with me in trouble, so I thank You that You ARE with me right now. And Father, according to Your Word, I'm claiming Your promise that You will deliver me AND HONOR ME.

Father, I may not know how to receive honor, but I thank You for it in advance. Please help me to notice the honor You give, every single time You honor me. Help me to understand that it comes from You, and I pray You'd help me receive it with grace and dignity.

Father, please help me to cherish the honor you give, and to walk worthy of Your divine calling, in obedience to Your Word, so that I can carry Your honor well.

Thank You for hearing my prayer. Thank You for answering me. Thank You for being with me in trouble, delivering me, and honoring me. You are so good, and I love You and bless You.

In Jesus' name. Amen!
After you pray this prayer, keep Psalm 91:15 in your heart. Keep praying it back to God, every day. And just WATCH and see what He does. Be on the lookout for honor, because He WILL honor you.
(And if it were me, I'd write down in my journal what God did when He does honor you. Writing down God's blessings honors the Holy Spirit, and it will keep the blessings flowing in your life.)
Are you ready for some honor in your life? Does this message encourage your heart? If so, please leave a comment below. I want to hear what you think!
Image courtesy of Sten Dueland on Flickr via Creative Commons license. Image has been cropped and graphics added.