Prayer #3: Believe (And Remind God) That Promotion Comes From Him Alone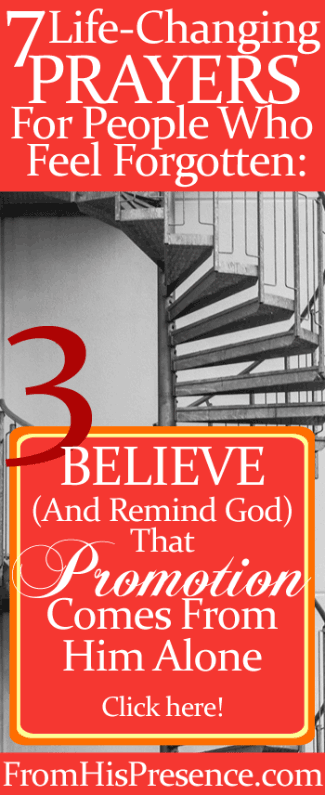 I'm going to share with you today one Scriptural truth that changed my life forever when I got hold of it.
It's one of the most liberating, chain-breaking, joy-filled revelations I've ever gotten.
This revelation set me free from expectations of other people.
It set me free from despairing that I would ever reach my destiny. It set me free from disappointment. It set me free from worrying that I had missed my opportunity.
Let's talk first about the Scriptural truth, and then I'll share my ugly story below. 😉
The Scriptural truth God showed me that changed my life is this:
Promotion comes from God alone.
Now, I realize that saying "promotion comes from God alone" might sound trite at first. But let's look at it more closely, because it's not trite at all. And if you will get this in your spirit today, it's going to set you free like it did me.
Check out this passage from Psalm 75:
For exaltation comes neither from the east
Nor from the west nor from the south.
But God is the Judge:
He puts down one,
And exalts another" (Psalm 75:6-7).
Sometimes we Christians fall into a trap of thinking that other people should be helping us toward our destiny. We think people should see our gifts and open doors for us. We think people should see the call of God on our lives as clearly as we do.
And if they don't, we get disappointed. If we're not careful, that disappointment can turn into unforgiveness. Unforgiveness can turn into bitterness, and then our soul becomes poisoned… and God can't move us forward in that state.
It's a cycle–a very bad cycle. And once you get on this cycle, it can be hard to get off of it.
But you can get off of this negative cycle. Here's how:
All it takes is a Scriptural understanding that promotion comes from God alone.
See, God alone knows the hearts of men and women, boys and girls. He alone knows YOUR heart. And He alone knows the fullness of His plans for you. He knows when, how, what, how much, who, and so on. He knows all the answers to all the questions.
Additionally, He alone is the Door-Opener. Revelation 3:7 tells us:
'And to the angel of the church in Philadelphia write, 'These things says He who is holy, He who is true, "He who has the key of David, He who opens and no one shuts, and shuts and no one opens":…"
God has the keys to all the doors. He alone opens doors that no one can shut. He also shuts doors that no one can open.
So not only does God know what's best for you, but He alone opens the doors to His best for you.
GOD opens doors. Not people. Not your bank account. Not your family connections. Not your business network. Only GOD opens doors for you and shuts other doors.
This goes along with other Scripture verses about promotion:
Therefore humble yourselves under the mighty hand of God, that He may exalt you in due time…" (1 Peter 5:6).

"Humble yourselves in the sight of the Lord, and He will lift you up" (James 4:10).

"But without faith it is impossible to please Him, for he who comes to God must believe that He is, and that He is a rewarder of those who diligently seek Him" (Hebrews 11:6).
And when the Lord opens our eyes to this truth, then suddenly:
You no longer feel like your destiny is impossible because you don't have the money.
You no longer feel hopeless because you aren't connected to the right people (by family tie, business relationship, or otherwise).
You no longer feel forgotten if your leader hasn't given you the opportunity you desire yet.
All of a sudden, when you start to understand where promotion comes from, then you're no longer concerned about your leaders' actions, your bank balance, or your family relationships. Those things no longer matter… because you see that God alone stands in authority over your destiny.
I used to struggle with this pretty badly.
I was hopelessly discouraged for several reasons:
It seemed like all our money was flying out the window every month (due to the 2008 American real estate market crash). So I couldn't invest in my destiny financially.
I didn't know people in authority and I had no family connections, so I knew my destiny wasn't going to happen through other people.
I didn't have any credentials or letters behind my name, so I knew my destiny wouldn't happen because of any external qualifications.
And since I didn't understand that promotion comes from God, that left … nothing. I had no other options.
So I began to believe my destiny simply wouldn't happen. I embraced self-pity, got discouraged, then depressed, and eventually suicidal.
Blech. Yuck, yuck, yuck. Please don't go there yourself. It's not a pretty place to be.
God eventually set me free from all that by teaching me that man does not live by bread alone, but by every word that proceeds from the mouth of God (Deuteronomy 8:3). It was an important lesson.
But after that, He taught me that He alone is responsible for my promotion. He is responsible for your promotion too.
And because promotion comes from God alone, He doesn't need anybody else's permission, or any favorable circumstances, to promote you.
God can pull things out of His proverbial hat for you anytime He wants to:
He can give you your next opportunity.
He can move you into a new level of responsibility or influence.
He can open doors for you that no man can shut, and He can shut doors that no man can open.
He doesn't need you to have a specific bank account balance. He doesn't need you to be related to the right people. He doesn't need a degree behind your name.
Your promotion is completely up to God. Of course, you do have to obey His Word and be seeking Him first. As we talked about in the first post in this series, He's not going to promote you if promotion has become your idol.
But God will open doors for you, and He will. All you have to do is ask.
He'll never give you something that you're not ready for (keeping in mind that "ready" in HIS mind is not the same as "ready" in your mind). He won't give you anything that would hurt you, or would cause you to self-destruct. But He will give you the right thing at the right time. The right door at the right moment. The right opportunity at the right place with the right people.
And He doesn't need anybody else's permission to do it.
Will He use people? Yes. God honors the leaders that He Himself has placed over you. But someone who didn't know your name yesterday can call you tomorrow with the opportunity you've been longing for–all because God told him (or her) to do it.
Your promotion is between you and God alone, and God will bring you into it when you are ready. It doesn't depend on the right people liking you, or having a certain bank account balance, or having a specific genealogy.
It's simply all about God. God alone lifts one up and presses another down.
Promotion comes from God alone, and if you can get this in your heart today, it will set you free.
So pray this with me:
Heavenly Father, I come before You in Jesus' name. Father, I thank You for loving me and adopting me. You have made me Your child in Christ Jesus, and I'm so grateful.

But Father, I confess that I have not fully relied on You. I have not looked to You to perfect everything that concerns me. Instead, I have looked to other people for my promotion. I have depended on my outward circumstances to make my destiny happen. And when it hasn't worked, I have gotten disappointed and bitter.

Oh Father, please forgive me. Right now, I choose to forgive (insert names here) for (insert specific things, such as "for not promoting me or seeing my gifts.") I choose to leave it, let it go, and give up all resentment. I release them now from my expectations, and I ask You to bless them and cover them with the blood of Jesus.

And Father, please forgive ME for my bitterness, disappointment, and unforgiveness. I repent right now of these sins. I'm sorry, Lord, Please wash me in the blood of Jesus. Fill me with the Holy Spirit where those things were.

And Father, about promotion …

Lord, Your Word says that promotion comes from You alone. That means that You alone get to decide when and how I am promoted. I believe this, Lord, and I'm not going to look to idols for my promotion anymore.

So Father, I thank You that You are the One who will move me into the next part of my destiny when I'm ready. Father, please open doors for me that no one can shut. Shut doors for me that no one can open. The decision depends on You alone, Lord, so I rest in You, knowing that You are good and You will always do what's best for me.

Thank You, Father, for perfecting all things that concern me. Thank You for taking care of me. Thank You for growing me and shepherding me. I love You, Lord, and I choose to trust You right now. And as I abide in You, Lord Jesus, I ask You to help me keep my eyes on You and give me rest.

Thank You, Father. In Jesus' name. Amen."
Promotion comes from God alone. And when we remind Him of that fact and choose to trust Him in it–humbling ourselves under HIS mighty hand–He will exalt us in due time.
Does this message encourage your heart? If so, please leave a comment below. I want to hear what you think … and thank you!
Related:
Image courtesy of Sten Dueland on Flickr via Creative Commons license. Image has been cropped and graphics added.