9 Power Gifts of the Spirit: Miracles that Bear Witness for Jesus

Miracles. When you think of miracles, what do you see in your mind's eye?
Arms and legs growing back that had previously been amputated?
Eyeballs suddenly appearing in eye sockets that had been empty a moment before?
Water turned into wine?
The dead raised to life again?
If you said yes to any of the above, you would be correct. All of these and more fall into God's repertoire of miracles. I want to see these kinds of miracles happening in my life. Don't you?
In today's blog post, I want to build your faith for miracles like the ones mentioned above and more.
And faith for miracles, my friend, is easy when you find out why God works miracles in the first place.
Here's why God works miracles:
Mark 16:14-20 tells us exactly how and why God works miracles. This passage says:
Later He appeared to the eleven as they sat at the table; and He rebuked their unbelief and hardness of heart, because they did not believe those who had seen Him after He had risen.

And He said to them, 'Go into all the world and preach the gospel to every creature. He who believes and is baptized will be saved; but he who does not believe will be condemned.

And these signs will follow those who believe: In My name they will cast out demons; they will speak with new tongues; they will take up serpents; and if they drink anything deadly, it will by no means hurt them; they will lay hands on the sick, and they will recover.'

So then, after the Lord had spoken to them, He was received up into heaven, and sat down at the right hand of God.

And they went out and preached everywhere, the Lord working with them and confirming the word through the accompanying signs. Amen" (Mark 16:14-20, emphasis mine).
The secret to how and why God works miracles is contained in that very last line:
"And they went out and preached everywhere, the Lord working with them and confirming the word through the accompanying signs."
Did you get that? We see it again in Acts 2:43, which says:
Then fear came upon every soul, and many wonders and signs were done through the apostles" …
… And again in Acts 19:8-12, which describes the activities of the apostle Paul:
And he went into the synagogue and spoke boldly for three months, reasoning and persuading concerning the things of the kingdom of God.

But when some were hardened and did not believe, but spoke evil of the Way before the multitude, he departed from them and withdrew the disciples, reasoning daily in the school of Tyrannus. And this continued for two years, so that all who dwelt in Asia heard the word of the Lord Jesus, both Jews and Greeks.

Now God worked unusual miracles by the hands of Paul, so that even handkerchiefs or aprons were brought from his body to the sick, and the diseases left them and the evil spirits went out of them."
And we see it again in Matthew 10:7-8, in which Jesus said:
And as you go, preach, saying, 'The kingdom of heaven is at hand.' Heal the sick, cleanse the lepers, raise the dead, cast out demons. Freely you have received, freely give."
Friends, this is the be-all and end-all secret to miracles: the Lord works miracles to accompany the preaching of His Word.
When Jesus commissioned the disciples, He told them to go preach the Gospel of the Kingdom. (Read the best illustration I've ever heard for what the Kingdom is, here.) And He specifically gave them power to work miracles to accompany their preaching.
And in Mark 16, we read that the Lord worked with them to confirm the word with accompanying signs. Those signs were specifically done by God to affirm and confirm the Gospel of the Kingdom that the disciples were preaching.
Oh beloveds.
Miracles have not ended. The power gifts of the Spirit have not ceased. We have simply stopped preaching.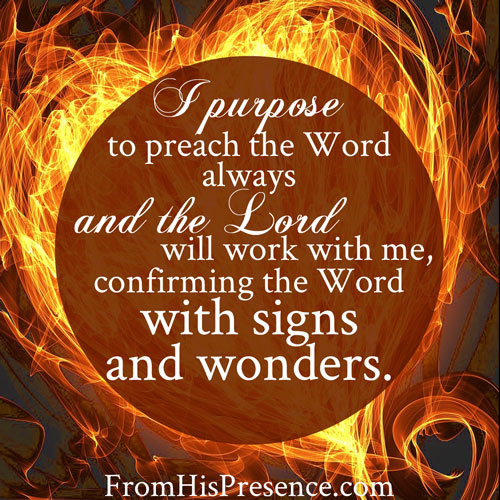 As I'm typing this, I'm preaching myself under conviction. Why? Because the Scriptures above show us that there is a prerequisite to seeing miracles. In order to see miracles, we must preach the Word. We must give the Lord something to confirm.
We have to tell the world the Gospel of the Kingdom:
The message of righteousness, peace, and joy in the Holy Spirit.
The message of Christ, who is our Wisdom, Sanctification, and Redemption.
The message of POWER–God's power extended in grace and mercy to a lost and dying world.
The message that there is a God in Heaven who made you, desires you earnestly, and wants to be your Daddy. Will you come to Him?
Will you let Him forgive you, wash you clean, and give you a fresh start?
Dear, precious friends. We must preach the Word in order to see miracles.
So how can you see miracles happen on a daily basis?
Jesus summed it up for us nicely in four little words: "As you go, preach."
As you go, preach. That means:
When your coworker cries on your shoulder, preach. Tell them about the undying love and peace available to them in Father God.
When your lost friend tells you they feel like they have no hope, tell them about the hope they can find in Jesus Christ.
When the harried, discouraged mother-of-four at the grocery store starts to put her groceries back because she can't afford them, pay for her groceries and tell her Jesus loves her.
As you go, preach.
That doesn't mean be obnoxious. Being obnoxious turns people off. It closes their ears. But preach the way Jesus did:
Preach the Gospel of the Kingdom: righteousness, peace, joy, and POWER in the Holy Spirit.
Tell people that their life can be "on earth as it is in Heaven."
Preach a message of love, mercy, salvation, humility, and service.
Preach everywhere you go. Use words if necessary–but no matter what you do, preach. And beloveds, as you preach, Scripture is clear that the Lord will work with you, accompanying the Word with signs and wonders.
What will you do to preach the Word today, so you can see miracles?
Read all posts in this series about the power gifts!