HUGE News About My Book! Plus God's Work in September
Dear Presence seekers,
I have huge news to share with you today! I'm so excited; I've been looking forward to sending you this month's update for weeks! I also want to share with you some things God did in September that YOU made possible–and some amazing things that I'm working on for you in October!
First, check out these amazing things from September:
With your help, I was able to:
Release 17 blog posts for you;
Send out 6 extra encouraging/prophetic words exclusively to my Presence Seekers University email community;
Mobilize people to a 21-day corporate fast in which dozens of people from all over the world participated (thank you for jumping in if you were part of that fast!);
Release 1 new Facebook video, praying for God and His angels of recovery and repossession to bring back things that have been stolen from you;
Teach 3 Spanish classes, teaching 18 missionaries and future missionaries how to minister in Spanish (this will be an ongoing class I'll be teaching every week for the next 8 months);
Lead 2 Bible studies at my church;
Lead 1 prophetic class at my church;
Lead 4 prayer meetings at my church;
Help my pastor write a prayer calendar to get our whole church praying in a concentrated prayer effort;
Mentor a group of 50+ Gospel writers in how to get their message out using websites;
Help a pastor friend edit and launch his first e-book;
Complete 16 individual mentoring sessions; and
Serve 5 times as an altar counselor at my church.
My husband and I were also able to take a few days and retreat to a park in the wilderness to celebrate our 10th wedding anniversary + my birthday.
And with all this work, together–because of your social media shares–we reached people …
… wait for it … 🙂
54,800 times in the month of September using this blog alone!
That's right. 54,800 pageviews in September. That's not counting all the in-person ministry that your support has allowed me to do. This blog alone. THANK YOU, LORD JESUS!!!!!!
Now, for the amazing news about my book:
For many months, it has been one of my written goals to have a book agent by my 36th birthday. I've written this goal out in my journal over and over again, because after all, Habakkuk 2:2-3 says:
Then the Lord answered me and said:

'Write the vision and make it plain on tablets, that he may run who reads it. For the vision is yet for an appointed time; but at the end it will speak, and it will not lie. Though it tarries, wait for it; because it will surely come, it will not tarry.'"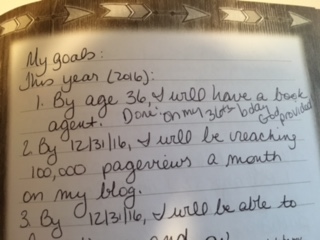 And my birthday was September 9.
So. In July and August, I finished my book proposal and sample chapters and sent the whole thing out to several literary agents with whom I was interested in working. Then the waiting game began.
But get this. God is never late, and He's the funniest, most loving, most AMAZING Person in existence–
On the afternoon of my birthday, yes indeed, September 9, I received a call from the agent I wanted the most, Karen Hardin over at Priority PR, and she said she wanted to represent my book!
Can you believe it? 🙂 🙂 🙂 I'm so excited!
Karen gave me a list of things I need to do to make the book more marketable–revisions, other websites for which I need to apply to write, etc. So I'm working on those things. But … that's my huge news. Isn't that just like God? And on my birthday!
If you haven't heard me talk about my book, it's about finding and becoming spiritual fathers and mothers. Here's a tiny YouTube video that describes it.
This is my heart and one of my 3 life messages:
Also, more very cool news from September:
Over 9 months ago, I applied to the US Trademark Office for a registered trademark on the From His Presence® brand. Aaaaaaand… in September, it was approved! You'll now be seeing me add the ® symbol to every place where you see From His Presence®.
Why is this important?
Because it protects this domain and blog name from being stolen by someone else. It's wisdom in the business world to protect your intellectual property, and my trademark attorney wasn't sure if it would go through or not. But it did! Some of you were praying for that–so THANK YOU!
What's coming up in October?
First, as I mentioned Monday, I'm really feeling a heavy burden to pray for you, my readers, and your specific needs.
I've received your prayer requests (add yours as a short comment at the end of Monday's blog post if you didn't already). And I've begun praying through them, one at a time, praying for you and your needs by name. I'm claiming God's Scriptural promises over each need. (Please send me your testimonies as God answers!)
In those prayer requests, I'm seeing some major themes for which I believe I need to write out Scriptural prayers for you–model prayers that you can use to claim God's promises over specific things, such as:
the need for a job;
desire to find a spouse;
the salvation of lost loved ones; etc.
I've received a number of comments over the years asking me to release my model prayers in e-book format. And I really feel like the time for that is now, because I suddenly see all these other prayers that I need to write.
So.
I've already begun. Hopefully by the end of October, I'll have a prayer book available to you. It may even be a prayer notebook that you can print and keep. And I plan to annotate each prayer with the Scripture references that support each phrase.
That will be a lot of work, because in those prayers, nearly every phrase is from a specific Bible verse. But it will be amazing; and, I believe, extremely helpful when you don't have words to say.
Praying God's Word always works. 🙂
Also, in October, I've got the last 2 posts lined up in the series on the 9 power gifts of the Spirit. The one about miracles is slated for Friday.
I also plan to finish the second audio recording of Harvestology, and also to write in regular blog posts about:
how to cleanse your house;
the five-fold blessing of the tithe;
how to do regular Bible journaling the easy way; and
how to do creative art Bible journaling the easy way (both kinds of journaling will transform your study time in unique ways).
So that's it, beloveds. I'm so excited about what God is doing, and what He has in store!
Please continue to pray for me. If you would like to pray specifically, here are my specific needs:
Please pray that Holy Spirit will use every post on this blog, social media, etc to minister to people.
It's my goal to leave my corporate job and dedicate myself to full-time ministry by December 31, 2016. In order for that to happen, I need 396 more financial partners at $8 per month, or their equivalent. Please pray for God to send the partners who will help me in this Gospel work.
It's my goal to exceed 60,000 pageviews on this blog in October, and we're actually on track to exceed that number (with 65,000 being a stretch goal). God can do this. Please pray for this.
I have applied to write for several specific websites. Please pray for favor for my articles at those places.
Please pray that the Lord will also lead me to other new places who will publish my work so I can reach more people.
I have built out my speaking page, with information about my popular preaching and teaching topics. Please pray for open doors, so that I may preach the Gospel.
Please pray that I would be effective in my work at shepherding and intercession at my local church.
There's more, but those are the big things. Thank you for praying for me. And if you are able to help me by partnering in this Gospel work financially, click here to visit my Gumroad store, where you can make a one-time donation, sign up for a monthly partnership, or purchase products. 🙂
Thank you so much!
Much love in Christ,
Jamie