My Story: How I Received the Baptism In the Holy Spirit

Do you want powerful encounters with God daily and every moment of your life? If so, then you need the mighty baptism in the Holy Spirit.
Today, I want to share my testimony about the baptism in the Holy Spirit with you to show you what God wants to do for you as well.
Related: If you'd like a copy of my book, Getting to Know the Sevenfold Holy Spirit: A 12-Day Devotional Guide, you can get the ebook here or the paperback version here.
In 2003, I had a radical encounter with God. In a stadium filled with 5,000 people, Jesus filled me with the baptism in the Holy Spirit and fire, and He changed my life forever.
Here's the backstory:
I grew up in a very conservative religious tradition. Gifts of the Holy Spirit and demonstrations of His power were not accepted. Demonstrations of worship, such as clapping and raising one's hands during worship, were also not accepted.
I had lots of training in what the Bible said—not all of it correct—but no relationship with Jesus. I gave my heart to Jesus for real in 2001, for that was the first time that I actually made Jesus my personal Boss—the Lord of my life. And from that moment on, I began to change.
WALK IN YOUR SUPERNATURAL IDENTITY
9 Power Gifts of the Spirit EBOOK!
Do you want to walk on earth as Jesus did, manifesting miracles and living in the supernatural? If so, then this ebook is for you!
After I gave my heart to Jesus, I sought God with all my heart.
I was a baby in Christ, so I had a long way to go, and I was a very messed-up individual.
But I began to seek God, to read my Bible (even though it was in very small increments at first–like one or two verses at a time), and to pray (also in small increments at first). But the important thing was that I did seek Him.
Each morning and many nights, I would open my Bible, read a portion of Scripture, and pray into it for a minute or two. I would also ask Him for help with my day and whatever was on my heart at that moment.
During that process, I began to pray that God would baptize me in the Holy Spirit and fire.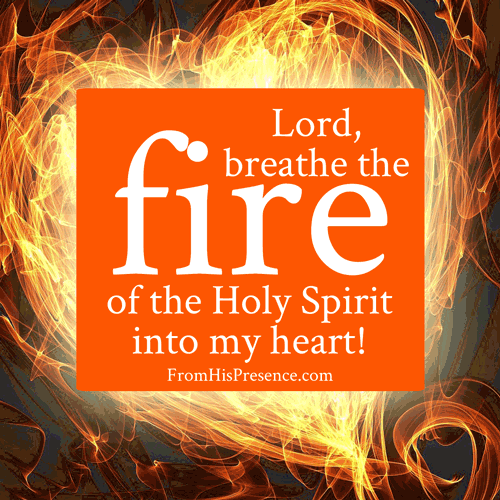 I got this prayer out of John the Baptist's sermon in Matthew 3. I didn't know what it meant, but I didn't know that I didn't know what it meant.
So I would ask Father God to baptize me in the Holy Spirit and fire as I was praying over my day. Then I would pause a minute and wait until I sensed a the presence of the Lord.
As soon as I felt His presence, I thought that was Him baptizing me in the Holy Spirit and fire, so I would get up and go about my day, prayer answered.
I had no idea what I was in for.
So in spring 2003, I happened to have a few days off work and no particular plans with which to fill those days.
I also had a gorgeous 1981 black Corvette that was just beauty on the road. And I had a few—very few, but still a few—extra dollars in my pocket. (The Corvette is the one the Lord used to save me; you can read that story here in A Black Corvette, Receiving God's Love, and Loving Others if you want to.)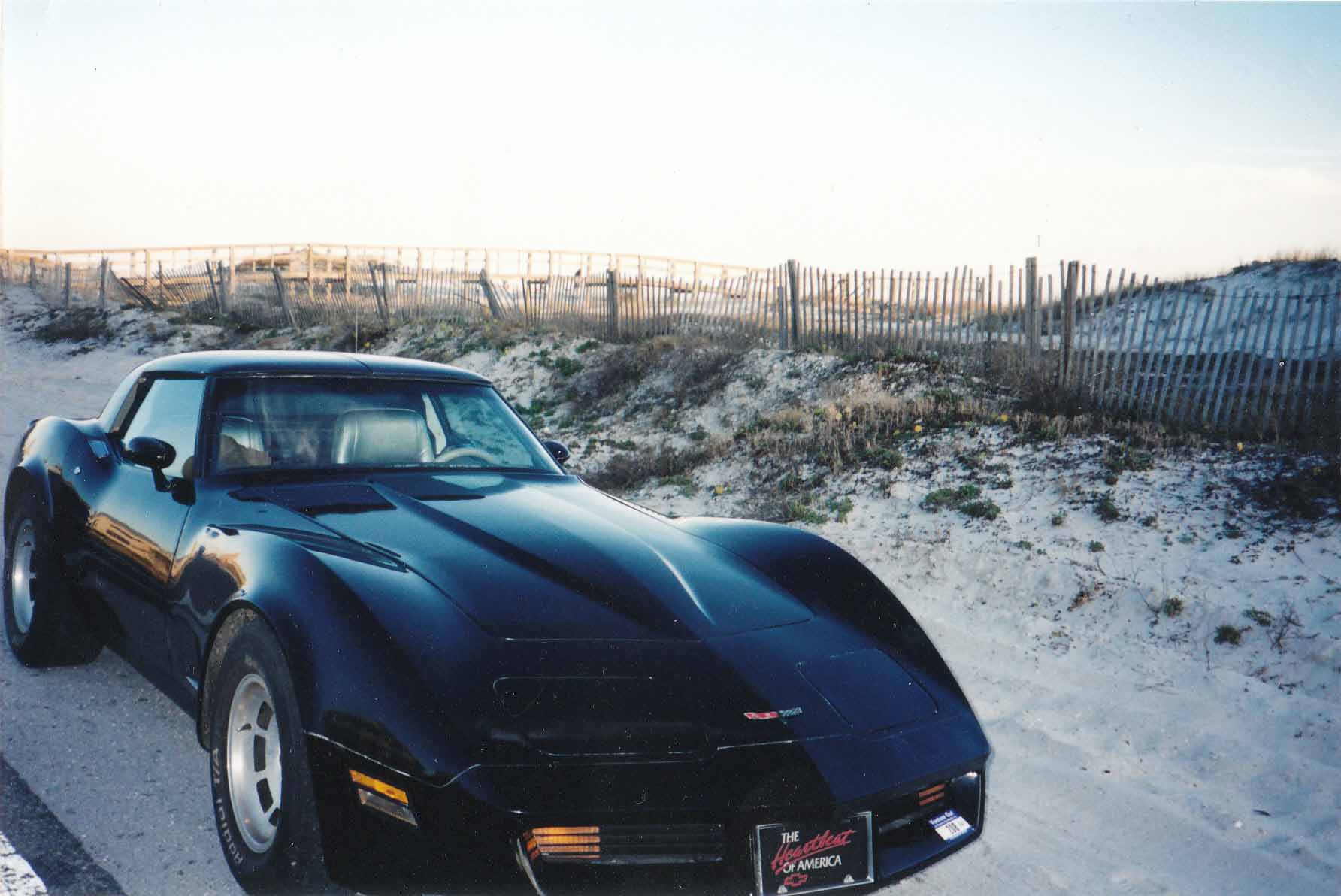 So anyway. Let me stop drooling over my car, which I miss dreadfully to this day (someday maybe Papa will give me another one), and get back to the story.
Just before my vacation days arrived, I was watching TV in my home.
My roommate, who was part of the same strict religious tradition I was, liked to watch Joyce Meyer (who was not at all part of our religious tradition!). I liked Joyce's teaching too, because I always felt so positive and happy after I listened to her.
So I was watching Joyce Meyer preach, and a little blurb popped up at the bottom of the screen saying that she was going to have a conference in Pensacola, Florida, the very same weekend that I was off work.
The Holy Spirit was setting me up.
Want to go deeper?
Listen to Jamie's podcast about the power of the Holy Spirit:

If this podcast blesses you, subscribe to Take Your Territory with Jamie Rohrbaugh on iTunes or Spotify!
Feeling like I wanted to go somewhere, and since I had the gorgeous Corvette to drive, I decided to take a road trip to Pensacola (from Chattanooga, Tennessee, where I live).
I made a hotel reservation—a Motel 6, which was all I could afford. I couldn't afford to eat at restaurants, so I packed a cooler with a can of hot dogs and some cereal and milk, sat it in the passenger seat of the Corvette, and off I drove.
In the middle of LA (Lower Alabama), my car broke down. I was stopped beside the road, had to be towed, and spent a few hours at a Chevy garage. It was warfare, nothing else. My car had burned through an engine cable. They replaced it, and after a few hours, I was able to continue on my way.
I arrived in Pensacola not knowing anything about what I was in for, but I knew that I was hungry for God.
I prayed and asked Papa to help me receive everything He had for me that weekend. And then I went into the stadium.
The conference was being held at a hockey arena, and it was full. There were thousands of people there. The worship started and it was great. I was so blessed by the whole thing. But then I realized:
Joyce Meyer speaks in tongues.
I had had no idea.
She doesn't speak in tongues on TV, because she doesn't want to alienate people who aren't open to that yet. But she does, in fact, speak in tongues. And I was shocked.
I didn't know what tongues were, but I had always been told that speaking in tongues was from the devil. And if I had known that she did that, I would never have gone to that conference.
Again, the Holy Spirit was setting me up.
Since I was already there, I decided to overlook the tongues issue and focus on the Lord.
The conference continued and I loved every minute of it. The worship was amazing. The preaching was powerful. Then Sunday morning arrived, and Joyce Meyer got up and said that she always ministers the baptism in the Holy Spirit on Sunday mornings.
Eeeeeeek!
I was hesitant, but I listened. She preached about it and taught out of the Bible what Holy Spirit baptism looked like in the book of Acts and other places. She made wonderful points and completely destroyed all the false theology I had in my head about it. I still felt unsure, but my heart was burning inside me as I listened.
Then she asked everyone in the stadium who wanted to receive the baptism of the Holy Spirit to stand up.
I was scared, but I was hungry and I wanted everything that God had for me. So I and a whole bunch of other people stood up. And Joyce Meyer prayed for us from the platform.
Nobody laid hands on us. She just prayed. And then she said she was going to breathe out like Jesus did and say, "Receive the Holy Spirit!" and that Jesus would baptize us in the Holy Spirit and fire.
And when she did, HE did, and my life was changed forever.
I was standing up with hands uplifted to the Lord. I suddenly felt His presence stronger than I ever had before. My knees began to shake and I just started crying like a baby and trembling all over.
And I felt LOVE. I felt the love of God–really felt it–more than I ever had in my life.
I felt that I was Papa's beloved for perhaps the first time ever that I can remember. Wave after wave of liquid love just seemed to wash over me. I cried and cried and cried.
And out of the deepest part of my belly, from a place down below my stomach but higher than my legs that doesn't physically exist except I know I felt it there—from a place that maybe must just be known as my spirit—came great wracking sobs that could only be expressed in syllables of a language I didn't know.
Those syllables came out of my mouth in a torrent.
There were only like two different syllables but they expressed my complete heart to God. I was just so overwhelmed by His love. And the words I didn't know, that were not English, just came out of my gut from the deepest, innermost place of my being, and directly to Him.
I knew I was speaking directly to Him; I felt the connection with Jesus and Papa God. And I would have done anything and gone anywhere for Him. It was all about Jesus, Jesus, Jesus.
I stood there like that for a long time.
Hands uplifted, crying like a baby, knees violently knocking, trembling all over, and responding to God with these one or two syllables of this new language that people call "a prayer language" that He had given me.
Worship went on all around me, but I was oblivious. The Holy Spirit was touching me, and that was all that mattered. HE was all that mattered. I felt His love, and I felt His Presence, and all I wanted was more of Him.
After what seemed like a very long time, the meeting wound down.
Joyce Meyer's volunteers handed out some teaching material for free to people who had just received the Holy Spirit baptism. I accepted the tape they gave and collapsed in my seat.
I just rested there for a few minutes, completely undone… then I got in the car and began to drive back home. I listened to the free teaching tape the volunteers had handed out, and I felt the Holy Spirit so strongly in the car.
I continued to pray using the prayer language the Lord had given me in the car, even though it was only a few syllables.
I wasn't even completely positive that I wasn't making them up. (Although looking back, I know now that I definitely wasn't making them up.) And I felt so full of God, and closer to Him than ever before.
That's the story about how I received the baptism of the Holy Spirit. There's a lot more to the subsequent story about how I began to grow and how the Lord fully released my prayer language, but those stories are for other blog posts.
Today, my question for you is, have you received the baptism in the Holy Spirit and fire? Have you had a radical, life-changing encounter with the Holy Spirit? And if not, do you want one?
If so, read my post here about What Is the Baptism in the Holy Spirit (and How To Receive It). Jesus wants to baptize you in His Spirit and fire right now, today; and He will if you ask Him!
Do you feel the Holy Spirit stirring in your heart as you read my story? Do you want this experience of Holy Spirit baptism? If so, please leave a comment below. I'd love to hear from you!
Read all the posts about the power gifts in this series!
WALK IN YOUR SUPERNATURAL IDENTITY
9 Power Gifts of the Spirit EBOOK!
Do you want to walk on earth as Jesus did, manifesting miracles and living in the supernatural? If so, then this ebook is for you!