A Black Corvette, Receiving God's Love, and Loving Others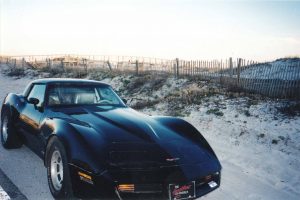 I used to be full of hate.
I really did. There were very few people I could love. Mostly, I just hated everybody.
I was like that all my life before I got saved. People always told me that God loved me; "Smile! God loves you!" they would say. But it becomes almost cliché. I didn't feel like He loved me. I always used to tell my friends that I was God's celestial joke. I felt like He made me just to dump on me, in a bad way. I felt like He was sitting in Heaven making sure that my life was as horrible as it could be, and making sure that things would never go right for me.
And since all I had inside myself was angst, hatred, self-hatred, despair, and hopelessness, that was all I could release on other people.
True story.
How sad, right?
Then God started to draw me. He gave me a black Corvette one day in response to my desperate cry for Him to show me that He loved me. (I don't advocate using black Corvettes as a measuring stick for how much God loves you, but that is how He finally reached my heart with His love. To each his own.) It was the first time I had EVER felt God's love.
Having God show up in my life in such a tangible, demonstrable way opened my heart. I still wasn't capable of receiving much love, but I asked God to help me receive His love for me, to help me love myself the way He loved me, and to help me love others.
Slowly but surely, He answered. He started helping me receive His love bit by bit. It took several years to really get secure in Papa's love, but now I know that I know that I know that I know that God loves me. Nothing can ever separate me from His love. And now I love other people like crazy. My heart beats for them. It's overwhelming; I love them so much.
From hatred to love. All because Papa chose to love me first.
What about you?
Do you struggle with loving yourself and loving others?
If so, I'm convinced from my own experience that the problem is NOT that you need to try harder. The problem is that you need to receive God's love in your own heart. If you don't feel like He loves you–if you don't walk in that reality every day–how can you love others? How can you love yourself?
Love comes from God; God IS love. First John 4:8 tells us:
"He who does not love does not know God, for God is love."
So loving people is actually a manifestation of God, and the capacity to love is a gift from God Himself. It's a reflection of God's heart.
And it all starts with knowing and receiving how much God loves YOU.
He adores you. He created you, on purpose. He wants you. He longs for you and He to be best friends. His heart beats for you. You are the apple of His eye. He wants to catch you up and twirl you around like a tiny little kid, because you ARE His tiny little kid. Oh, precious reader, I long for you to know how much God loves you.
And if you are reading this and longing to receive this kind of love, God Himself is drawing you.
So how do you receive His love?
Start by asking Him for help. Ask Him to help you receive His love for you, love yourself the way He does, love Him back, and love others.
It's not going to be an instant fix. Healing takes time. Changing your mindset takes time.
But if you will ask Him for help today, He will start helping you today. He loves you.
Do you feel like God loves you? If not, won't you ask Him to help you receive His love today?
Related posts: