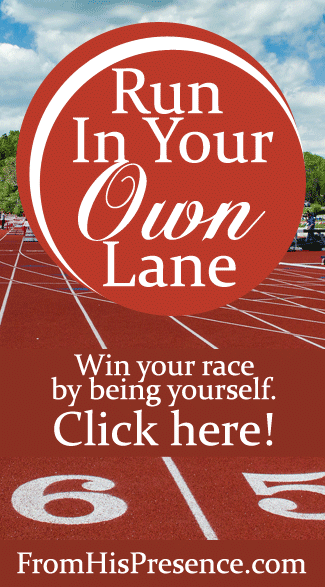 Have you ever caught yourself comparing yourself to others?
No, probably not. I have, though, so I thought I'd share my experience with you today. That way, if you ever DO catch yourself comparing yourself to others… in the future, you know… you might benefit from my mistakes. 😉
(And hmmm… it just occurred to me… I've shared about so many of my own mistakes on this blog… I sure hope this is helping you! Good thing I'm not embarrassed.)
So here's my story about comparing myself to others:
I used to be horrible about comparing myself to others. It started when I was a little kid. I would look at my sister and I saw two ways I wanted to be just like her:
the way she folded her hands under her chin, so cute, when we prayed over dinner;
and I can't remember the other one.
But for years I looked at these two things and thought I'd never be able to be as awesome as my sister. My goodness, the way she could fold her hands at prayer. 😉
Then all throughout my high school, college, and young adult years, I would catch myself always comparing myself to others:
The way they dressed;
how popular they were;
how nice they were;
how "perfect" a family they had;
what kind of a "boy magnet" they were;
how they could cook;
the cars they drove;
the house they lived in… the list could go on and on.
But after I met Jesus, when I was 21 years old, and I turned my life over to Him, the Lord started working in my heart about many things, including this one. I also started listening to a lot of Joyce Meyer's teaching, and that helped too. Papa started showing me that I'm NOT those people, and He didn't call me to be those people. He called me to be myself.
Then my spiritual dad began teaching on not comparing yourself to others. He gave us this advice: "Run in your own lane."
This is awesome advice, and it really helped me kick that comparison problem to the curb.
Think about it. As Christ-followers, we have a race to run here on earth. We will be running that race for the rest of our lives. But we each have our own lane! God has an individual plan for you and for me. His plan for you is different from His plan for me.
I would make a terrible you, and you would make a terrible me! I am myself, and you are yourself! We are unique individuals.
There are people I really admire and look up to:
I love the way my friend Theresa and also my amazing pastor's wife dress. They look gorgeous and put-together at ALL TIMES. (How do they do that???)
I love listening to Bishop T.D. Jakes preach. That man could preach about macaroni and cheese, and it would be anointed.
My friend Dawn is a natural-born evangelist. She could walk up to anybody and ask them if they know Jesus (and she does). It's unreal.
But I can't run in their lanes.
I can't be Theresa. I can't be my pastor's wife. I can't be Bishop T.D. Jakes. I can't be Dawn.
But, I CAN be the best Jamie Rohrbaugh you've ever seen in your life! And I will be!
How? By running in my own lane. By pursuing the gifts, skills, callings, people, and tasks God has assigned to me.
You can't be someone else either. However… you can be the best you that there's ever been if you will run in your OWN lane!
Jeremiah 29:11 says:
For I know the thoughts that I think toward you, says the Lord, thoughts of peace and not of evil, to give you a future and a hope."
God thinks thoughts about YOU. Not just generic thoughts about people in general. God has plans for YOU.
God's plans for you are unique, different, and special. Nobody else could ever fulfill them. Your destiny is yours, and yours alone.
You can't be someone else; you would make a terrible "them." But you can be an awesome you!
So run in your own lane. Run the race God has for you. Be the best you you can be.
Do you need to stop comparing yourself to others, and start running in your own lane? If so, please share your thoughts below in the comments. Thanks!
Image courtesy of Bob Mical on Flickr via Creative Commons license.