Response to Reader Question: Is It Too Strange For God to Serve Us?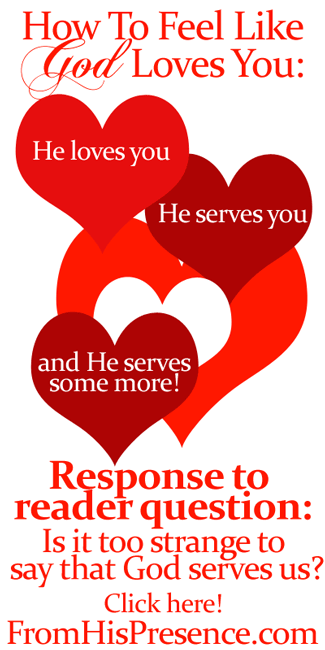 One of my friends and readers read my blog post about God's acts of service to us, and asked me this question:
"I have a real problem talking about God "serving" me. I'm uncomfortable with this…feeling like it puts God under me somehow. Could you elaborate your thoughts on this?"
This is one of the greatest questions I've ever heard. 
It such a great question because it not only shows the human dilemma, but its answer will show us the goodness of God.
To answer this question, there are four things I need to set forth first as the background for my answer. (And the answer–the heart of the matter-is at the end of this post).
Here are the four background points you need to know:
1. God is in need of nothing, and is subject to no one.
Proof: Isaiah 66:1-2, which says:
Thus says the Lord: "Heaven is My throne, and earth is My footstool. Where is the house that you will build Me? And where is the place of My rest? 

For all those things My hand has made, and all those things exist," says the Lord. "But on this one will I look: On him who is poor and of a contrite spirit, and who trembles at My word."
2. God is fully confident in who He is.
God is not having an identity crisis. Isaiah 46:9-11 says:
Remember the former things of old, for I am God, and there is no other; I am God, and there is none like Me, declaring the end from the beginning, and from ancient times things that are not yet done, saying, 'My counsel shall stand, and I will do all My pleasure,' calling a bird of prey from the east, the man who executes My counsel, from a far country. 

Indeed I have spoken it; I will also bring it to pass. I have purposed it; I will also do it."
3. God is so confident in who He is that He doesn't mind reaching down to our level.
That's why Jesus humbled Himself and became a fully-human man. Philippians 2:5-8 says:
Let this mind be in you which was also in Christ Jesus, who, being in the form of God, did not consider it robbery to be equal with God, but made Himself of no reputation, taking the form of a bondservant, and coming in the likeness of men. 

And being found in appearance as a man, He humbled Himself and became obedient to the point of death, even the death of the cross."
4. God's reaching down to our level doesn't change His status as God in the least little bit.
Philippians 2:9-11 continues the quote from #3:
Therefore God also has highly exalted Him and given Him the name which is above every name, that at the name of Jesus every knee should bow, of those in heaven, and of those on earth, and of those under the earth, and that every tongue should confess that Jesus Christ is Lord, to the glory of God the Father."
I'm not going to go through the list of HOW God serves us again, because I did that in the last blog post, and I don't think that's really the heart of the matter. (If it would help to see more examples of how God serves us, read through Isaiah 53.)
The heart of the matter is understanding that God can serve us without it somehow insulting Him or diminishing His status as God.
Here's how:
God can serve us because it's not possible for Him to be diminished. He is wholly perfect. He is complete in Himself. He is self-sufficient. He is God, all by Himself. He's not having an identity crisis.
And He is good. Goodness is part of God's nature. It's who He is. He is wholly good, just like He is wholly righteous. It's not possible for God to be anything but good.
He is so good that He, of His own accord and because it pleases Him to do it, decides to reach out to you and me and love us.
God's love for you is the manifestation of His goodness to you. And His acts of service are one way He expresses His love.
You and I don't deserve to be loved or served. We can't earn His love or His service, because we just plain don't deserve it. (Isaiah 64:6 says, "But we are all like an unclean thing, and all our righteousnesses are like filthy rags; we all fade as a leaf, and our iniquities, like the wind, have taken us away.")
But here's the clincher: We don't have to deserve God's acts of service. He serves us because He wants to, and He has legal permission to do it because Jesus made it all possible.
When you accept Jesus Christ as your personal Savior, then God literally adopts you as His child. First John 3:1-2 says:
Behold what manner of love the Father has bestowed on us, that we should be called children of God! Therefore the world does not know us, because it did not know Him. 

Beloved, now we are children of God; and it has not yet been revealed what we shall be, but we know that when He is revealed, we shall be like Him, for we shall see Him as He is."
Can you imagine having a beloved child that you don't like to do things for? No way! You'd never stop helping or taking care of your child. You love him or her too much!
Your service to your child doesn't change the fact that he or she is still a child. They are not your equal in any way. But because they are yours…
because they carry your DNA;
because you love their smile, and their face, and the funny things they say;
and because you love EVERYTHING else about them;
and because you want to take care of them always …
…you reach out to them and serve them. You do it because you love them. You can't imagine it any other way.
Neither can God.
First John 4:10 says:
In this is love: not that we loved God, but that He loved us and sent His Son to be the propitiation (the atoning sacrifice) for our sins" (AMP).
Hallelujah.
That's why God can serve you and me. That's why He DOES serve us. It's all because He loves us.
What acts of service has your Daddy God done for you lately? Leave a comment and share your thoughts!
Read the rest of the posts in this series:
The link above to The Five Love Languages: The Secret to Love that Lasts (see my review here) by Gary Chapman  is my Amazon affiliate link. Read my affiliate disclosure here.