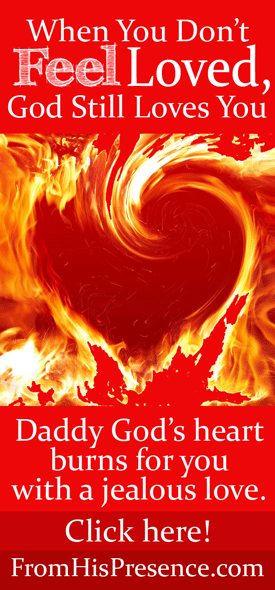 Has there ever been a time when you have not felt like anyone loved you? Has there been a time when you have not felt like even God loves you?
So many people have been telling me lately that they don't feel like God loves them. This is a major problem, because "knowing" in your head that God loves you doesn't change your life.
So what DOES change your life?
It's a deep, gut-level, heart-changing revelation that GOD loves YOU that will change your life. It's walking every day knowing intimately that you are Daddy God's beloved darling that changes your life.
If you don't feel like Papa's beloved darling, then I believe that lack of really sensing and intimately knowing His love is probably the cause of  many different symptoms in your life.
So how do you fix the problem? How do you break off that feeling of rejection and start to really FEEL like God loves you?
It starts with washing your mind with truth.
See, God is the God of all hope (Romans 15:13). So everything that is from God is going to be full of hope too. But when you don't feel like God loves you, your "love tank" is not glistening with hope. If you don't feel like God loves you, then you probably feel discouraged, alone, rejected, ugly, and hopeless.
But you are not any of those things. You just feel like it.
So how do you change your feelings?
You wash your mind with truth. Here's how:
1. Go to Papa God and just tell Him: "Papa, I don't feel like You love me. Why don't I feel Your love? Will You reveal whatever needs to be revealed in me so I can start feeling Your love?"
He might show you any number of things. Perhaps you weren't loved in your younger years, so you have no frame of reference for being truly loved. If that's the case, Papa can show you that those people who didn't love you or treated you wrongly were very much in the wrong, and He can help you forgive and release those people so you can just receive love from Papa God instead. Sometimes we're better off not expecting certain people to love us (at least, that is how it has been for me), and getting our love straight from Papa.
Many times, not feeling loved has to do with bad experiences in which we think the way people treated us is the way Papa treats us. But that's just not the case. Papa is perfect love. He adores you. You're His favorite, and He wants you to know it.
2.  Start to meditate on Bible verses that are full of the truth of God's love.
Take one verse at a time, and read it again and again. Mull it over in your mind. Chew on it. Ask the Holy Spirit to open it up to you and help you understand it.
Bill Johnson, pastor of Bethel Church in Redding, California, says that any area of your life that is not glistening with hope is an area in which you're not receiving truth. This principle is so important here … because when you don't feel loved, it's because you're not receiving truth in your "love tank."
The truth is that God loves you so much that He sent His Son to die for you. While you were still lost in sin, Jesus died for you. So wash your mind with the truth of God's Word. Ask the Holy Spirit to help you receive His love. God's Word–His truth, ministered to your heart by the Holy Spirit–will heal you.
3. Read my post series on How To Feel Like God Loves You. Learn how to recognize God's sweet words to you, the things He does for you, the time He spends with you (which is every moment you're alive), the gifts He gives you, and the way He touches you as expressions of His love.
God expresses His love to you in the same ways that you express your love to others. (You're made in the image of God, after all! It's only natural that you and Papa would have the same ways to express yourselves. You're a chip of the old Block of Father God. :))
These things are only a start, but they are a start! If you don't feel loved, there is hope! God is your Hope, and He loves you like crazy. His heart beats for you. So would you start receiving His love with these three steps today?
Does this message encourage your heart today? If so, please leave a comment below! I'd love to hear from you!
Related posts:
You'll get an email when new content is posted. You'll also receive my free, printable blessing cards and my ebook–The Presence Seeker's Creed–for free when you confirm!
This post is linked up at: