Prophetic Word for February: God's Legislative Answers Are Here!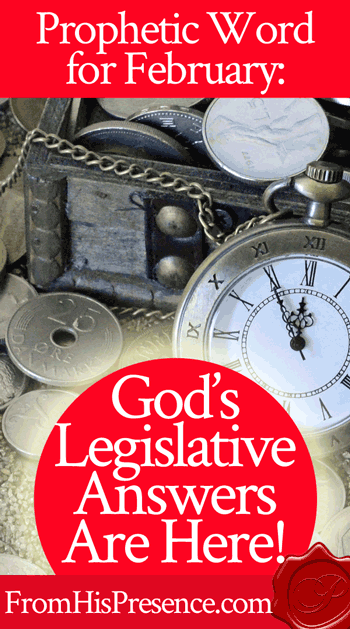 The Lord has been talking to me about February 2017, and I wanted to share with you the four prophetic words for this month that He has given me.
1. Father has been hearing your big prayers, and His legislative answers are here.
His ear is tuned to your big asks, and not one of them has fallen to the ground. Night after night, day after day you have poured forth the petition of your heart to His throne. Like the unjust widow of Luke 18:1-8, you have been persistent.
In February, Father will reward your persistence. He will begin making His legislative judgments on your behalf.
He has long delayed His judgments, as He prefers to pour out mercy. Even now, He will not release judgment upon His own people. However, He will make legislative judgments against this world's systems and against the entrapments the enemy has sent against you to hinder and delay your progress.
I heard clearly in my spirit: "The ruler of this world is judged." This is from John 16:7-11, which says:
Nevertheless I tell you the truth. It is to your advantage that I go away; for if I do not go away, the Helper will not come to you; but if I depart, I will send Him to you.


And when He has come, He will convict the world of sin, and of righteousness, and of judgment: of sin, because they do not believe in Me; of righteousness, because I go to My Father and you see Me no more; of judgment, because the ruler of this world is judged."
This month, Father will begin to make legislative pronouncements that will decide cases that have been waiting before Him. You will see decisive action on your behalf coming from the throne of grace and mercy in February.
2. Father's legislative judgments on your behalf will bring swift favor to you.
I hear that phrase clearly outlined in my spirit: "swift favor." Father has decided the matter, and is putting an end to your shame. As it says in Isaiah 61:7:
Instead of your shame you shall have double honor, and instead of confusion they shall rejoice in their portion. Therefore in their land they shall possess double; everlasting joy shall be theirs."
This month, a double portion of honor shall be yours, and you will begin to feel that the torment you have endured was worth it in order to obtain the blessings that will arrive.
3. I also heard the Lord say with a resounding voice, "It is the year of the Helper!"
Of course, Holy Spirit is always our Helper. His help is always available. However, beginning in February, you will begin to see holy help at a level you have never previously seen. Believe Holy Spirit for His help in faith, the same way you believe Him to reveal and glorify Jesus.
Remember that Holy Spirit's tasks are ALL equally important to Him, for they are all equal facets of His nature. Therefore, the same way you have received the truth that Holy Spirit is our Teacher …
… the same way you receive the truth that Holy Spirit is the one who reveals and glorifies Jesus on the earth …
… the same way you believe Holy Spirit transmits Jesus' inheritance to us …
BELIEVE, speak, declare, and pray into the fact that Holy Spirit is your very present Help in trouble! Get to know Him as your Helper, and call on Him for His help!
As you do this, you will see Holy Spirit answer your call for help in magnificent ways. His help will take care of you, provide for you, bring glory to Jesus, and He will flaunt His goodness–that same goodness that brings men to repentance–over all the earth.
He will do this through you if you will submit to His work of grace in helping you. According to your faith be it unto you!
4. Buy the field! Buy the field! Buy the field!
Holy Spirit spoke to me urgently about Matthew 13:44, which says:
Again, the kingdom of heaven is like treasure hidden in a field, which a man found and hid; and for joy over it he goes and sells all that he has and buys that field."
Some of us have found the treasure, but have not yet bought the field. In February, the Lord told me explicitly–urgently, as an nonnegotiable command–that each individual MUST buy the field.
In Jesus' parable, the Kingdom of Heaven–which is righteousness, peace, and joy in the Holy Spirit (Romans 14:17), as well as power (1 Corinthians 4:20)–was located in the field. And what was the field? Jesus' description of fields most often referred to the harvest. As it says in Matthew 9:35-38:
Then Jesus went about all the cities and villages, teaching in their synagogues, preaching the gospel of the kingdom, and healing every sickness and every disease among the people. But when He saw the multitudes, He was moved with compassion for them, because they were weary and scattered, like sheep having no shepherd.

Then He said to His disciples, 'The harvest truly is plentiful, but the laborers are few. Therefore pray the Lord of the harvest to send out laborers into His harvest.'"
Every believer in Christ has his or her own field. Every son and daughter is called to serve the King uniquely, with his or her own gifts, talents, calling, testimony, and opportunities. However, no matter which part of the harvest field you are called to, you know that treasure is there.
In February, it's time to go all in and buy that field.
Be forewarned that you may not always have a permanent window of opportunity to buy the field. A real estate transaction in the natural has a limited period of time in which both parties must bring the deal to completion. If the transaction is not completed, the deal falls through and the purchaser loses his or her "earnest money." ("Earnest money" is the cash down payment which the purchaser submits to the owner when a contract is signed.)
Right now, a deal is on the table for you to buy the field of your harvest. You have the chance to buy the field in which the Kingdom is hidden. You can purchase the Kingdom treasure if you do it now.
But you MUST act. You must buy the field the Father is offering to you. His gifts and His call may be irrevocable, but opportunity is not.
Opportunity always comes with a specific window of time, and one must act decisively during that window of time in order to take advantage of that opportunity.
In February, it's time to buy the field. Do whatever it takes. Do everything it takes. Go all in, and don't hesitate. Obey whatever God is telling you to do with haste. Abandon every lesser possession in order to purchase the field He has shown you. Only then will you be able to take possession of the greatest treasure.
This month, you will see more supernatural help and greater answers to prayer than you imagined. Watch what God does with thanksgiving. Obey His urgent instructions with a holy hurry, and stand in awe as the Helper meets your faith and moves on your behalf!
Does this word speak to your heart? If so, please leave a comment below. I'd love to hear if God is confirming something to you!
Recommended resource: If you haven't listened to my 21 Kisses: The Sure Mercies of David for Your Life teaching set yet, please. It's a prophetic study of how God dumps mercy on His people. At this point, based on all the Lord has been saying to me and others in the prophetic community, I consider an urgent message.

So please, please, please, I implore you for your own sake: run don't walk to get 21 Kisses today (it's instantly-downloadable on my Gumroad store), and learn these 21+ manifestations of MERCY so you will have faith for them in your own life.)