The Deliverance Files: Removing Shame, Restoring Honor (Part 1)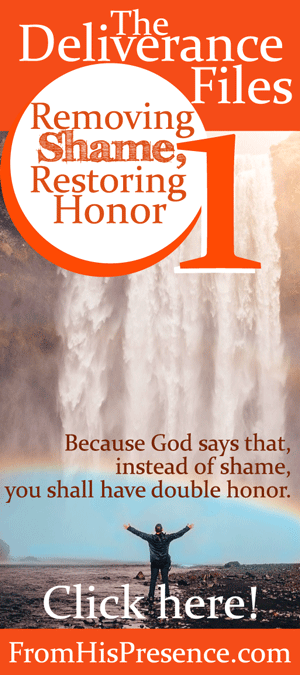 This is part 1 of the first deliverance file, about removing shame and restoring honor. You can read part 2 of this File here.
The girl sitting beside me cried and cried. She was devastated by the way people had treated her–the way other Christians had treated her. They made her feel "less-than" because her gift wasn't the same as theirs.
But you know what? Twenty minutes later, she was free. The light came back in her eyes; she got her smile back, and she was able to hold her head high again, knowing how precious she is–and that she is a fully-functioning, precious daughter in the Body of Christ.
Another time, I looked into a brother's eyes. You could see the pain behind his mask. When he was a tiny child in the first or second grade, other children mocked him at school and on the sports field. He had always remembered it, and it made him feel totally inferior.
But an hour later, he was a different person. As we prayed through the situation together, he found peace. He said he felt something heavy leave him, and he sat up straight again and held his head up.
What do these two situations have in common?
Both people had been shamed … but God delivered them from shame and restored them to honor. Double honor.
And, being set free, they got their confidence back.
A lot of people struggle with shame.
My husband and I used to work in our former church's deliverance ministry, helping people receive inner healing for their emotional wounds from Jesus Christ. One of the biggest things I've noticed in working in deliverance is the prevalence of shame.
The enemy loves to cover people with shame. And he'll use anyone or anything he can to shame you. But you know what?
Shame is never from God, and if you suffer from shame, God wants to deliver you. He LOVES removing shame.
I've seen the enemy attack people with shame in or from all sorts of situations. For example:
Maybe you've been bullied or ostracized. People made fun of you, and you still feel the sting of shame.
Maybe you've done something embarrassing and immature around other Christians, simply because you didn't know any better … but now you remember it and don't want to be around other Christians because you feel ashamed of what you did.
Maybe someone sinned against you through no fault of your own (like a spouse cheating on you). And even though you didn't do anything wrong, you feel shame because the thing they did made you look/feel "less than."
But you know what, beloved? Whether you feel shame from something like that, or whether you feel shame for a completely different reason, that shame is still not from God … and your Daddy God can still set you free from shame today.
How? He will break the shame off you with the truth of His Word, and He will restore honor to you.
If you're dealing with this on your own, you can go to God with Scriptures that confirm that you don't have to carry shame. For example:
Indeed, let no one who waits on You be ashamed; let those be ashamed who deal treacherously without cause" (Psalm 25:3).

and:

"Kings shall be your foster fathers, and their queens your nursing mothers; they shall bow down to you with their faces to the earth, and lick up the dust of your feet.
Then you will know that I am the Lord, for they shall not be ashamed who wait for Me" (Isaiah 49:23).

and, my personal favorite:

"Instead of your shame you shall have double honor, and instead of confusion they shall rejoice in their portion. Therefore in their land they shall possess double; everlasting joy shall be theirs" (Isaiah 61:7).
Honor is the opposite of shame. When you get rid of shame, you replace it with honor. And as soon as you do, you can FEEL the difference.
Recommended resource: Listen to my line-by-line teaching through Isaiah 53 to learn how Jesus paid the price to deliver us from, well, everything, and give us abundant, eternal life instead. Purchase this instantly-downloadable MP3 on Gumroad for only $4!
So how DO you get rid of shame–whether it's shame on yourself or shame on someone else?
The process has several parts:
Make a list of all the people who have shamed you.
Receive the ministry of the Holy Spirit to heal your heart for each of those situations. (I'm going to talk more about how in the next post in this series.)
Forgive the person who hurt and shamed you. (We'll talk more about that later as well.)
Confess and repent for any bitterness and unforgiveness in your own heart toward each person. Ask God to forgive you for YOUR sin in holding onto bitterness and unforgiveness.
Pray for the person who hurt you, and ask God to forgive them and draw them to Himself.
This is a process. It's something you have to do on purpose, making sure not to miss any steps. But as you do these things, you will find that the shame and hurt of each situation you pray through will fall away. You will feel the difference, and the freedom you find will change the way you think and the way you live your daily life.
I know … because God set me free the same way He will set YOU free.
I had to walk through this process by myself to receive inner healing from the Holy Spirit in several very hurtful things that people did to me when I was young. Mean things that people said to me, years of being bullied, and lots of other hurtful things I went through gave me a constant ache in my heart by the time I was a teenager.
It got worse and worse … until one day, the Holy Spirit brought me a copy of T.D. Jakes' book, Woman Thou Art Loosed! Healing the Wounds of the Past
(affiliate link). When I read that book, the Lord showed me what to do to get free. I followed His instructions and sure enough, He delivered me from all those things and healed the anguish in my soul.
Bishop T.D. Jakes has a mighty ministry to all Christians, but his words for women in his book Woman Thou Art Loosed! is life-changing. Grab your copy on Amazon and the Lord will use the truths contained therein powerfully in your life, as He did in mine!

Also, check out Aubrey Sampson's awesome new book, Overcomer: Breaking Down the Walls of Shame and Rebuilding Your Soul! It's all about healing from shame through the Jesus Christ, Who bore our shame on Calvary's cross. It's based on her own personal experience, and you'll love her transparency and encouraging words. This book will bless and help you … guaranteed!
Fast forward many years later, and now I am blessed to have been able to walk other people through this process over and over.
And you know what? It works every time.
Deliverance is a beautiful thing–because it's founded on God's Word. Jesus Christ paid the price for you and me to be free, and all we have to do is follow the steps outlined in His Word to walk in that freedom.
In my next blog post later this week, I'm going to share more about how to receive the ministry of the Holy Spirit and how to forgive. But in the meantime …
If you want to get free from shame, here's your homework:
Make a list of all the people who have shamed you.
Simple, but important. Don't leave anybody out, ok?
Do you feel like this message is for you today? If so, please leave a comment below. I'd love to hear from you!
Read part 2 of this first Deliverance File, about removing shame and restoring honor, here.
The Amazon links above are my affiliate links. This means that, if you click on my links to purchase a resource on Amazon, Amazon will pay me a small commission (at no additional cost to you of course). Thank you in advance. If you love to read legal mumbo-jumbo, you can delight yourself in my disclosure policy here.