An Encouraging Word For Parents With Struggling Kids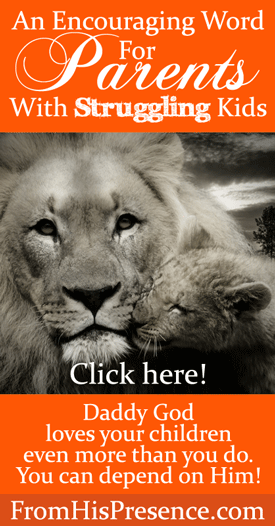 Dear mommies and daddies with struggling kids,
You love your children more than words can say. But they're struggling, and you can't fix them … and you're hurting. Not hurting so much for yourself, but you hurt for them … because you love them.
Your tears stain your pillow at night. You wake up in the middle of the night praying for them. You fast and intercede for their breakthrough.
You wonder when, and how, and why, and why not yet.
But precious brother or sister, I felt like I was supposed to tell you today:
Daddy God HEARS your prayers. And His Word will NOT return to Him void.
Isaiah 55:10-11 says:
For as the rain comes down, and the snow from heaven,
And do not return there,
But water the earth,
And make it bring forth and bud,
That it may give seed to the sower
And bread to the eater,

So shall My word be that goes forth from My mouth;
It shall not return to Me void,
But it shall accomplish what I please,
And it shall prosper in the thing for which I sent it."
You've been praying God's promises in agreement with His Word. You've prayed:
For your children to be holy;
For them to make good choices;
For them to know how much God loves them;
For them to walk in everything God has for them.
You have prayed. You have depended on God, for only He can help. And today the Word of God says to you:
Thus says the Lord: 'Keep justice, and do righteousness, for My salvation is about to come, and My righteousness to be revealed.'"
Keep at it, precious friend. Keep praying. God always keeps His promises. His Word will NOT return to Him void:
Beloved, God is working in your children right now–this very moment. And you're about to see the fruit of that.
You're about to see the result of the work He has been doing all this time. You're about to see the good thing He has been forming in your children all along during the times you saw little-to-no fruit on the outside. You're about to see the work of the precious Holy Spirit–work that HE, and only He, can do.
God's salvation is about to come, and God's righteousness is going to be revealed IN YOUR CHILDREN.
So keep justice. Do righteousness. Keep believing. Keep standing on God's Word …
… because Daddy God loves your children so much more than you ever could, and He will never give up on them. Never!
And because we have a Daddy God like that, our mommy-hearts and daddy-hearts can rest in His peace.
It is finished, beloved. Even if you don't see it yet, GOD sees it; and He is more than confident in His ability to reveal His righteousness in your children.
So keep justice. Do righteousness. His salvation is about to come, and His righteousness to be revealed. You can trust Him. You can rest in Him … and let Him do what only He can do.
If this message was for you today, please leave a comment below. I'd love to hear from you.