Dear Beauty With The Orphan Heart …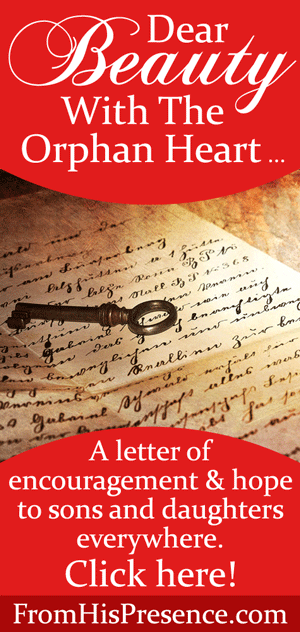 Dear beauty,
Yes, you. The one reading this blog, who just glanced around like I might be talking to someone else.
I know you don't feel beautiful, but you are. So yes, love, you. I saw you reading just now, and you reminded me of myself. I wonder if we could sit down together, eat some ice cream, and maybe you would let me tell you a secret?
I want to talk with you about, well, you.
You see, when I walked by you, I saw a certain look in your eyes. Oh, other people won't notice anything wrong; don't worry. You are beautiful; your clothes are perfect; and your eyes are gorgeous. But I saw something deep and haunting in the wells of your soul.
It's aloneness.
And I understand.
I used to feel alone. I felt separated and alienated, whether there were people around me or not.
I felt unloved and unwanted. I used to say, jokingly yet oh-so-truthfully, that I thought God made me to be His celestial joke; as someone for Him to dump on. That's truly how I felt. I was alone in the world, and fatherless. Spiritually speaking, I was an orphan.
Oh, it's not that I didn't have a family; there are people on this earth who are related to me. But somehow—you'll understand this—you can have a family, yet not feel part of a family. You can be loved, yet feel unloved. You can exist, yet never truly live.
And I felt alone all the time.
I felt unloved, unwanted, and uncared-for. I was terribly bullied by other kids growing up, and I didn't have much of a support system. I felt like no one believed in me or saw anything valuable or special in me.
Nevertheless, I yearned to belong somewhere and to someone! I longed for someone to think I was special. Oh, how I yearned for someone to take me under their wing, love me, protect me, believe in me, and teach me.
But I didn't feel like anyone cared. I felt alone in the world … an orphan.
Related: Healing the Orphan Heart: Your Name Is Carved On God's Tree
Beautiful one, that's what I saw in you as I walked by just now. I saw the haunting look in your eyes that tells me you also know the pain of an orphan heart.
There could be any number of reasons you feel like an orphan. Maybe you never had a daddy, or never knew your mother. Or, maybe you did—but perhaps your family never poured into you or protected you. Maybe you were bullied at school or abused by a family member, and the special thing in your heart called trust got broken.
So you've been alone ever since.
Precious love, may I lift your chin so I can look into your eyes? There, that's better. I see your tears, beloved. But beautiful one, hear me when I tell you this:
You are special. You are precious and worthwhile and valuable. And you have a Daddy God in heaven who adores you.
I know you feel alone, but you are not alone. I know that many people have let you down. Your family hasn't been there for you like they should. People who should have supported you failed to believe in you. No one has bothered to stand by your side through thick and thin.
But there's a Bible verse that says, "Although my father and my mother have forsaken me, yet the Lord will take me up [adopt me as His child]" (Psalm 27:10 AMP). And, precious sister, this verse is for you.
Because you have a Daddy God who loves you.
He loves you so much that He gave up everything He had in exchange for you, including His only Son. He loves you so much that He thinks of you always; showers you with gifts every single day; and spends all His time with you.
Somehow, your Daddy God knew you and every single day of your life before you ever even existed on the earth. And one day years ago, He threw you on the womb of your mother so that you could fulfill the assignment on your life at just such a time as this.
Your Daddy God has a beautiful destiny for you, dear one. You have a hope and a future.
I know things look bleak right now. I see the pain in your heart and the hopelessness in your eyes. I can see that people have disappointed you, hurt you, abandoned you, rejected you, and betrayed you.
But despite all these things, beloved, YOU matter.
Yes, you. YOU are separated–set apart—unto your Daddy God Himself. You are His. Jesus Christ, the Wonderful Counselor, Mighty God, and Everlasting Father yearns for you with a jealous love. He desires you to be His. He wants you.
THIS is the truth that rescued me from the pain of orphanhood, years ago.
You see, I used to feel just like you feel right now. I also had nowhere to turn and no one to turn to. I was fighting depression, suicidal thoughts, hopelessness, and fear.
But one day, I decided to lay my little life down at the feet of Jesus and let Him have it for whatever it was worth. I certainly didn't think I was worth very much, but I gave Him the gift of myself for whatever He could make of it. I simply told Him that I had to have Him in exchange.
And at that moment, I became His. He adopted me.
That very day, I decided that I was going to take Him at His Word and let Him be my Daddy, my Friend, and my Bridegroom. I decided to chase Him hard and allow Him to fulfill—no, insist that He fulfill His promises in my life.
I had no one else, you see.
So I threw myself at a Man—the Man of Sorrows, Jesus Christ.
I threw myself at the feet of my Savior. And I began to seek Him. I sought Him hour after hour, day after day, and year after year. I refused to relent in my pursuit of this Man.
Seeking to know Jesus was hard at first. I had no appetite for spiritual things. Even forcing myself to spend five minutes alone with God, reading my Bible and praying, seemed like a huge challenge–and a huge accomplishment when it was over!
But remember, I had no one else to take care of me. So in my desperation, I depended on Jesus. I asked Him to be everything to me. I begged Him to help me learn to know Him like the real Person He is, and He did.
And as I sought Him and learned to love Him—and, more importantly, learned how much He loves me—He healed my orphan heart.
It took time, but He healed me from the betrayal I had endured all my life. He healed me from the hurt of being abandoned and rejected by so many people. He set me free from fear and panic attacks, and He filled me with His perfect love for myself, for Him, and for others. He delivered me from hopelessness and thoughts of suicide, and He filled me with His Spirit, power, and victory instead.
Dear beauty, Daddy God wants to do the same for you too. And He will, if you let Him. What do you have to do? It's simple. Not easy, but simple.
All you have to do is throw yourself at a Man—this Man, Christ Jesus.
And when you do, you'll find that He is worth the sacrifice. He's perfect and excellent in every way. He'll never let you down. He will always listen to you, and He'll actually care about what you say.
Jesus will always be with you and never abandon you. He will always love you; He'll never reject you. He will always speak words of life, hope, and encouragement into your heart. He will never pick on you, stop believing in you, or betray you.
If you will throw yourself at this Man, Jesus Christ, He will pick you up and hide you under His wings. He'll shelter you and keep you safe from the world. He will teach you, help you, and heal you from all the hurt you've ever experienced. He'll hug and kiss you when you cry, and He'll laugh with you when you laugh.
Oh, how Jesus loves you, precious. His heart beats for you.
So will you do it? Are you willing to lay your little life down at His feet? Will you throw yourself at a Man—the Son of Man, Christ Jesus? Will you give your all for Him, knowing that you will receive so much more from simply knowing Him than you could ever give?
I know you're hurting, beauty. But hear me when I say this: you do have a purpose. Your heart can find its song again. Your life isn't over. You have a Daddy in Heaven who wants to make all things new for you. He will restore you, heal your heart, and be your Father in every way.
Will you let Him?
If so, pray this prayer with me:
Heavenly Father God, I come to You in Jesus' name. Father, I don't know You very well yet, but I want to know You. I have nothing to give You except my life, and even that is tattered and torn.

But Father, and Lord Jesus, I choose to lay my little life down at Your feet right now. I give myself fully to You. Father, please forgive me of all my sins. Wash me in the blood of Jesus who died for me. Change me. Make me like You, and have me completely for Yourself. Be my Father, my Boss, my Protector, and the Love of my life. Please be everything to me. Heal my heart and make my life new again.

Father, from this day on, I choose to throw myself at a Man—Your Son, Jesus Christ. Please help me to seek Jesus and get to know Him. Fill me with Your Holy Spirit. Lead me and teach me. Hide me under the shadow of Your wings, and let my life be a sweet offering to You.

Thank You for hearing my prayer. I ask these things in Jesus' name. Amen.
Beloved reader, there is so much hope for you in Christ Jesus. If this letter spoke to your heart today, would you leave a comment below and let me know? Thank you.