11 Ways To Totally Miss God When You Make a Decision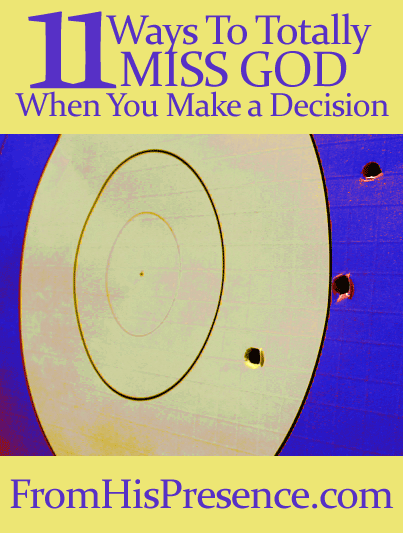 I wanted to add a little humor to your Monday, so I'm revisiting this post from the archives today. Don't be offended. It's completely tongue-in-cheek … but also true. Enjoy! – Jamie
Some people like to hear God when they make a decision. Other people, not so much. I don't know about you, but I have totally missed God when I made a decision on at least one occasion. (At least one, but who's counting?) 😉
If you're in the "not so much" crowd and you prefer to miss God when you make a decision, I thought I'd offer a few pointers today–from my own personal experience–about how you can get better at missing God.
So without further ado, here are 11 ways to really shine at missing God's will when you make a decision:
1. Have a pre-determined outcome in mind, and look for Scripture to support your outcome.
I did this once with a real estate deal. It was at the beginning of the real estate and stock market crash in 2007-2008.
The deal wasn't working, and it was a bad idea anyway. However, I found a Scripture that I (mis)interpreted to say that the deal WOULD work if we stuck with it long enough. But it didn't. And now… I'm so glad! But I was so sure I had heard God. It turns out that I just had an idea of the pre-determined outcome I wanted, so I found Scriptures to match what I wanted, without actually listening to God.
If you want to totally miss God, decide which way you want your decision to go before you ask God for His advice. Then just find some verses that match that outcome, even if they're taken out of context. It's a guaranteed way to miss God every time.
2. Make your decision when you're as empty of the fruit of the Spirit as possible.
It would be ideal if you could make all your biggest decisions when you're as mad as possible, as depressed as possible, or as offended as possible. After all, anything that's birthed without the fruit of the Spirit is sure not to result in the work of the Holy Spirit.
Anger breeds more anger. Offense breeds more offense. Hopelessness breeds more hopelessness. Therefore,  making decisions when you're not in the frame of mind to be effective will definitely help you miss God.
3. Avoid getting wise counsel at all costs.
Other people's wisdom is really unnecessary. You have all the wisdom and experience you need; you are the consummate expert on everything. What's up with that verse that says "Where there is no counsel, the people fall; but in the multitude of counselors there is safety" (Proverbs 11:14)?
If you want to totally miss God, make every decision on your own. Better yet, make every decision with the help of really bad counselors who have no success in life themselves. For example:
Get all your financial advice from really broke people.
Get your career advice from someone who was just fired from their job for cause.
Get your best parenting advice from people who have no children.
Avoiding wise counsel will help you really excel at missing God.
4. Don't compare your decision to the Word of God, the Bible.
Isaiah 8:20 says, "To the law and to the testimony! If they do not speak according to this word, it is because there is no light in them." 
Therefore, if you want to miss God, don't look for His advice in the Word. If you do slip and check out the Word, don't obey what you read there. That is a surefire, 100%-of-the-time tested and proven way to miss God's will when you make a decision.
5. Do whatever your spouse thinks you shouldn't do.
Women, your husband is a covering for you; and men, and your wife is a support and helper for you. God gave him or her that position. So if you want to increase your chances of missing God when you make a decision, don't take what your spouse says into consideration.
Actually, to really increase your chances, do the opposite of what your spouse thinks you should do. That will work. I dare ya. 🙂
6. Do whatever your godly authority figures think you shouldn't do.
All authority comes from God (Romans 13:1). So your leaders were placed over you because you need them. If you want to miss God when you make your decision, don't listen to your leaders.
Even better, as in point #5, you might even want to do the opposite of what your leaders say you should do. They probably don't have any perspective or experience you don't have, so their advice is really unnecessary if you want to miss God.
7. Do the opposite of what you have peace about.
If you want to miss God, it's really best to make a decision based on what other people think is right, even if you don't have peace about it. So:
when you have a pit of anxiety in your stomach…
when you just can't let your mind rest…
when you are really scared about the outcome of the decision you just made…
those are great indicators that you're missing God.
Colossians 3:15 in the Amplified Bible says this:
And let the peace (soul harmony which comes) from Christ rule (act as umpire continually) in your hearts [deciding and settling with finality all questions that arise in your minds, in that peaceful state] to which as [members of Christ's] one body you were also called [to live]. And be thankful (appreciative), [giving praise to God always]."
If you wanted to hear God, you'd let peace be your umpire. You'd do what you have peace and the fruit of the Spirit about. But if you want to miss God, you should totally ignore those things. Works every time.
8. Make every decision as fast as you can.
Do not, under any circumstances, slow down and take your time if you want to miss God. I repeat: do NOT slow down for ANY REASON!
You should make every decision on the spot, without research, without considering the pros and cons, and without thinking of the consequences. This means:
You should buy that pretty car that caught your eye, whether you can afford the payment or not.
You should make lots of commitments to other people–as soon as they ask–despite what your family needs.
You should take that promotion at work as soon as it's offered, even if it will cause you more stress. (After all, everybody needs to be promoted, right?)
Just be decisive. That's the most important thing if you want to miss God.
9. Pay no attention to common sense, since God will come through with a miracle to back up your decision.
God is the God of miracles. If you want to miss His best for your life, you should assume that He will always come through with a miracle to back up whatever you do. After all, He exists at your whim, right?
Yeah.
10. Do whatever other people tell you to do, without fail.
Pleasing other people should be your main role in life if you want to miss God. So always do whatever other people tell you to do:
especially if it's bad for your health,
bad for your finances,
bad for your marriage, and
bad for your family…
…if you want to miss God.
That means:
You should always adhere to what your in-laws think you should do for your family.
You should always volunteer at churches and charity organizations every time there's an opportunity.
You should always work long hours whenever your coworkers expect you to, no matter what's going on at home. (Even if your wife is leaving you, your children are on drugs, etc.)
Yep. Definitely do what other people tell you to do at all times if you want to miss God when you make a decision. Your whole life should revolve around making other people happy, right?
11. No matter what you do, don't pray about it.
Prayer is absolutely one of the two top ways to hear God–with the Bible being #1 (see point 4). If you want to miss God, DO NOT PRAY. No matter what.
Missing God is easy. Anybody can do it. In fact, you can be excellent at missing God; you don't even have to try very hard. Just do the 11 things above, and you'll be an expert at missing God's will in no time.
What are some other ways you can think of to miss God when you make a decision? Please share in the comments below!
Image courtesy of Mixy Lorenzo on Flickr.