Radical Prayer #7: God Himself Will Disciple Your Children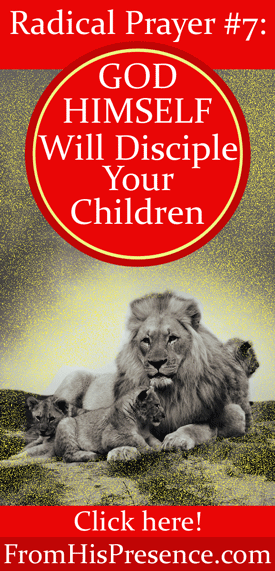 I've had more warfare over this word today than over any other word ever. But you know what? I'm so stubborn I'm going to publish it anyway, because somebody. needs. this. word.
Here's the word:
Do you ever worry about your children? Do you get concerned about their welfare, their decisions, and the state of their hearts?
I know I do. I don't even have biological children yet, but I do have spiritual children. They aren't really children; they are adults. But they are my children, and I love them so very, very much.
And sometimes I get concerned worry.
I shouldn't. I know. Worry is sin because it's doubting God. But when you love someone that much, you care about them and you want them to experience God's best for every part of their lives.
But I can't make them. Experiencing God's best requires every person to choose:
To choose to seek first the Kingdom of God, and His righteousness.
To choose to use the weapons of our warfare (the ones which are not carnal, but are mighty through God) to pull down the strongholds of evil in their lives.
To choose to humble themselves under the mighty hand of God so that He can exalt them in due time.
To choose to believe God's Word and go all-in for the sake of the King.
And I can't make them do that. I can pray. I can advise. I can pray some more. I can encourage. But when the rubber meets the road, my children have to choose.
And so do yours.
And maybe your children are rocking out at this choosing thing. Maybe they're making incredible choices and seeking God with all they've got.
But maybe they're not.
But you know what? If your children are not walking in God's best right now, God gives us a promise that will fix that.
It's a radical promise, and praying it back to God is a radical prayer. Here's the promise:
All your children shall be taught by the LORD, and great shall be the peace of your children" (Isaiah 54:13).
It's an amazing promise.
The word "taught" there actually means "discipled."
This verse means that God Himself will disciple your children. Daddy God …
… the God of mercy, the God of new beginnings, the Renewer, the Restorer, Almighty, All-Powerful, All-Knowing One, God of unending love, Wonderful Counselor, the Spirit of Truth, the Everlasting Father …
… God Himself will walk with your children, talk with your children, and do life with your children. He will take personal interest in their lives. He will lead them, teach them, and shepherd them as only He can.
He will take these things upon Himself as His personal responsibility.
And the word "peace"? It's the Hebrew word "shalom," which means "nothing missing, nothing broken."
God promises that He will bring your children into perfect shalom. That means He will bring your children into perfect wholeness, perfect unity with Himself, perfect healing, and perfect victory through Christ Jesus.
This is huge. God Himself will disciple your children.
Why is that such a big deal?
Because God is the only Person who can reach deep into your children's hearts and heal them.
Because God is the only One who can cause them to make right choices. If God can turn the hearts of kings like water, the heart of a rebellious child is just as easy for Him to turn toward Himself.
Because God is the only Person who can walk and talk with your child every moment of every day. He is with your children always, even to the end of the world.
Because God is the only One who truly knows them intimately.
Because God is the One who loves your children most.
Because it is God's goodness that brings people to repentance.
So when times are hard, I go to the Lord and ask God Himself to disciple my children.
Like the friends who lowered the man through the roof to be healed by Jesus, I lift my children up to Jesus. I confess:
That I can't heal them.
That I can't deliver them.
That I can't change their hearts.
That I can't reach the broken places or even comfort them when they're hurting.
But God can do all those things, and He will.
He will! When God Himself disciples somebody, sin has no chance. God Himself will bring the victory, healing, and shalom into their lives that Jesus Christ died on the cross to give them.
Related: 10 Things Jesus Purchased For You With His Suffering (my downloadable MP3 teaching from Isaiah 53)
Are you ready to ask God Himself to disciple your children?
Pray this with me:
Heavenly Father, I come before You in Jesus' name. Father, thank You for hearing my prayer right now. Thank You for loving me and knowing me. Thank You for allowing me to come boldly before Your throne of grace, that I may obtain mercy and find grace to help in time of need.

Father, Your Word says that You Yourself will disciple and teach my children. Your Word says that, when you do this, great will be the peace and shalom of my children.

Lord, my children need this. I can't fix them, Lord. I can't help them. I have tried and tried and tried. But Father, I can't do it.

But Holy Father, my most wonderful Daddy God, YOU CAN.

So Father, in Jesus' name, I lift up my children to You right now. I choose to release them to You. Father, please take them out of my hands. They are Yours.

Father, I ask in Jesus' name that You Yourself would take my children under Your wing. Disciple them, Lord. Teach them. Give them wisdom and revelation in the knowledge of You. Fill them with the intimate knowledge of Your glory. Fill them with Your Holy Spirit and Your anointing.

Father, in Jesus' name, give my children inspiration to seek You first and seek Your Kingdom. Fill them  with Your motivation and courage and hope. Cause them to be sensitive to You and Your Presence.

Give them wisdom, Lord–wisdom from above, which is pure and peaceable and undefiled and willing to yield and full of mercy and good fruit. Give them wisdom by experience. Help them to learn from their experiences and from the experience of others.

Father, I ask in Jesus' name that You would give my children understanding. Fill them with Your Word and keep them from sinning against You. Let them receive Your great love for them, love You back with the same love You love them with, and love others the way You do. Let them love righteousness and hate lawlessness. Make them humble and mouldable and teachable, Father. Increase their capacity for prayer, fasting, and Your Word. Give my children a heart to worship You like Jesus has.

Father, in Jesus' name, I call forth the finished works You have prepared before the foundation of the world for my children, and I command them to manifest right now. I speak to my children and I say:

Will of God, come forth in Jesus' name and be done in my children on earth as it is in Heaven!

Love of God, be revealed in their hearts in Jesus' name!

Peace of God, joy of the Lord, righteousness of Christ, come forth in my children in Jesus' name!

Kingdom of God, come in my children in Jesus' name!

Holiness, purity, revelation, and glory of God, come forth in my children in Jesus' name right now!

Father, my children are Yours. Thank You for discipling them according to Your promise. Thank You for bringing them into great peace and shalom. Thank You that my children will walk in total healing, total restoration, and the fullness of Your perfect will for them … because You Yourself will do it.

Thank You, Father. I give You all the praise. In Jesus' name, amen.
If you will pray this radical promise back to God, God Himself will disciple Your children and bring them into great shalom.
Does this word encourage your heart today? If so, please leave a comment below. I'd love to hear from you!
Related: Read these posts to build your faith and help you pray for the radical blessings God promises in His Word!