Radical Prayer #6: God Wants To Set You On High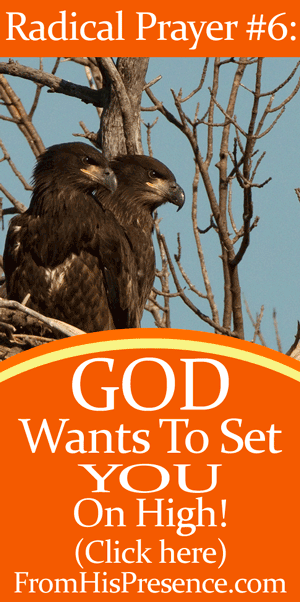 I know this may sound freaky, but God wants to set you on high.
It's true. His Word says so. Psalm 91:14 tells us:
Because he has set his love upon Me, therefore I will deliver him; I will set him on high, because he has known My name."
Now, when you first read that, you might be tempted to gloss over it. Like, it sounds good, but surely God can't really mean it. Because after all, our too-religious ideologies tell us, Jesus is the only One who should be set on high.
That sounds awesome. It sounds holy. Only problem is, it's just not Biblical.
All too often, we totally underestimate what God really wants to do for us.
We have a hard time understanding this Father of ours sometimes.
He's big, and awesome, and holy, and Wonderful. He's more amazing than anyone else we've ever met, and He's more fantastic than anything else in the universe.
Everything in the universe was created by His hand. He deserves to be worshipped, and adored, and worshipped, and adored some more.
But somehow … in His bigness …
He stooped down to rescue US.
He stooped down to love US.
He stooped down to adopt US and make us His children.
And by "US," I mean YOU. (And me, too. I'm totally in there too, but I want you to take this personally today.) 🙂
And when He stooped down and rescued us, adopted us, and made us His own, He brought us to a place in Him that we barely have begun to tap into.
We settle for not-enough, or just-barely-enough. We settle for earthly provision, hope for earthly promotion, and long for heavenly power.
But if we know Him, God said that it's His will to set us on HIGH. His Word says so in more than one place.
Check out what Ephesians 2:4-7 says:
But God, who is rich in mercy, because of His great love with which He loved us, even when we were dead in trespasses, made us alive together with Christ (by grace you have been saved), and raised us up together, and made us sit together in the heavenly places in Christ Jesus, that in the ages to come He might show the exceeding riches of His grace in His kindness toward us in Christ Jesus."
Did you get that? God made us sit together in the heavenly places in Christ Jesus. Done deal. Past tense.
Jesus is right now sitting in Heaven at the right hand of the Father, waiting for the Father to make His enemies a footstool for His feet (Acts 2:32-36). And when God raised us up into new life in Christ Jesus, God put us right there with Him.
Your body may be walking around on earth right now. However, your spirit–the real you–is occupying your body from a seat right next to Jesus in Heaven.
That's what the Bible says. And when you think about it that way, isn't it only natural that our Father would want to manifest our heavenly position here on earth? Oh yes, it is. It only makes sense.
This is why God wants to set you on high:
God's goal is to make earth look just like Heaven. Remember what Jesus said when He taught the disciples to pray:
In this manner, therefore, pray: 'Our Father in heaven, hallowed be Your name. Your kingdom come. Your will be done on earth as it is in heaven.'"
So because you are seated with Jesus in heavenly places right now, God wants to make your earthly reality look just like your heavenly reality. If you know His name–if you are His child–then God wants to set you on high in every circumstance in your life.
That's right. I said EVERY circumstance. In every situation. In every place. In every problem.
God wants to set you on high.
Because you know His name. You know Him and are intimate with Him.
Because He is in charge.
Because He sovereignly chose to save you from sin and seat you with Jesus in heavenly places.
Because "on earth as it is in Heaven" is the mission of God's Kingdom on earth.
And because He's going to "show the exceeding riches of His grace in His kindness toward us in Christ Jesus" to the universe in the ages to come.
Do you feel faith rising up within you as you read this?
I do. I feel something roaring to life in my spirit as I am even writing it. Thank You, Abba. Thank You, Father. Thank You.
So are you ready to pray with me?
Pray this prayer and ask God to set you on high in every situation in your life right now:
Dear Heavenly Father, I come before you in Jesus' name. Thank You, Papa, for Your Word. Thank You for Your promises. Thank You for being my Daddy. Thank You for loving me and giving me new life in Christ Jesus.

Father, Your Word says that You will set me on high because I have known Your name. Abba, I have never prayed that before, and I'm overwhelmed that You would even want to do this for me.

But Abba, I do love You. I do know You. You are everything to me. You preserve me and keep me alive. In You I live, and move, and have my being, Lord. This world has nothing for me; I will follow You. You are Life to me.

So Abba Father, because it pleases You to do so, and because Your Word says so, Lord, I am asking You right now to set me on high. Lord, I don't even know what that looks like. But You do. You know me better than I know myself. You know what Your plans for my life are, and only You can vindicate me and honor me and lift me up in every area according to Your will.

So Lord God, in Jesus' name, I choose to receive. Lord, I choose to receive Your elevation of me. I choose to receive Your kindness, Your goodness, and Your grace. Help me, Lord, because I know this earthen vessel isn't used to just receiving from You. But Father, use me as a demonstration of Your goodness, kindness, and grace to all the earth. Pour out on me everything You desire to pour out on me, Father, and bless me. Use me to flaunt Your goodness and grace on the earth, all for the sake of Jesus.

And Papa, please keep my head straight as You do this. Please keep me humble. Don't let me get into sin or pride. Give me clean hands and a pure heart. Help me continue to cling to You; to seek You in everything. O God, You are my God. Help me to seek You morning, noon, and night. Let me eat You, drink You in, and delight in You.

Abba Father, take Your place on the center of my heart. I ask in Jesus' name that You would cleanse me, purify me, mold me, and make me everything You desire me to be. And through it all, Father, help me to receive. Set me on high. Deliver me in every place, in every way, and set me on high according to Your Word.

Thank You, Father. Thank You for loving me. Thank You for setting me on high. Thank You for hearing my prayer and answering me. Help me to notice every answer to my prayers, Lord, so I can give You the praise You're so worthy of.

I love You, Abba. I bless You. In Jesus' Name. Amen."
Does this prayer affect you like it did me? (I cried even writing it.) Is the Holy Spirit touching you as you receive and pray His Word? If so, please leave a comment below. I'd love to hear what you think!
Related: Read these posts to build your faith and help you pray for the radical blessings God promises in His Word!
Image courtesy of USFWS Mountain Prairie on Flickr via Creative Commons license. Image has been cropped and graphics added.