Prophetic Word Friday: 7 Encouraging, Prophetic Words For You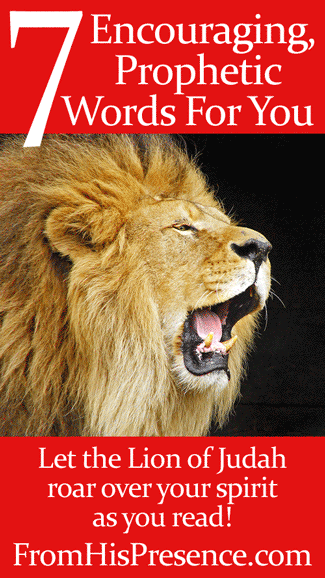 The Lord gave me several encouraging words today. They are not necessarily all for the same person. But if one of them is for you, I pray the Holy Spirit would minister that word directly into your spirit and use it to lift you up.
Without further ado, here are the 7 encouraging, prophetic words the Lord gave me for you today:
1. You are tempted to quit something. Quitting would contradict everything you believe about what you've been called to do. Quitting would contradict everything you understand from God's Word. But you are second-guessing yourself, and you worry you may not have been right in the first place. To you I say: don't quit. This is an attack from evil forces, seeking to derail you from reaching the next level. Hang in there. Look to God, and He will help you understand what to do next.
2. To one who is tired: Your tiredness is not from the Lord. The weariness in your bones is also an attack. Pray in the Spirit. It will strengthen you.
3. Look up! Your redemption draws near. I know it's tempting to think God is not hearing you and will not come through for you. But you're in the birth canal and you're a-l-m-o-s-t OUT! You're being squeezed tightest because God is bringing you into a new level of freedom that you've never known before. Submit to God and the birthing will be easier. You're almost there!
4. To one whose marriage is difficult: I hear the Lord saying "I am God who heals you" (Exodus 15:26). If you will press into Abba Father, He will redeem you, RESTORE you, and make all things new in your life. Choose you this day whom you will serve. If you and your house will serve the Lord, He will perfect all things that concern you.
5. Bless the Lord at all times. Regardless of how you feel, praise Him and bless His name. Doing so will actually lift you out of the pit and set your feet upon a rock. Keeping your eyes on the Lord through praise and worship will eclipse everything else in your view.
6. The Lord is near to you, to comfort you. He lifts Himself up, that He may be gracious to you. Receive. Receive. Receive from His hand today.
7. Welcome the Holy Spirit into your home, life, office, and vehicle right now. Ask Him to have His way with you today. I hear the Lord saying you will be ASTOUNDED at the results if you do.
Does one of these words speak to you today? If so, please leave a comment below. I'd love to hear from you! And have a great day!
Image courtesy of Tambako The Jaguar on Flickr via Creative Commons license. Image has been cropped and graphics added.