Letters To Pioneers: So You Feel Like You Don't Fit In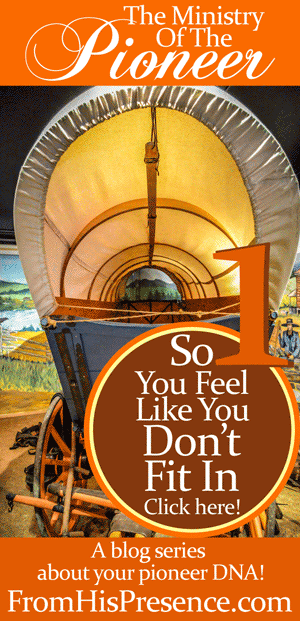 Dear pioneer,
So I caught you in a moment today when you feel like you don't fit in, huh? It's ok. I understand. I don't fit in either.
If you're anything like me–and I suspect you are, because we pioneers tend to be alike in many ways–it's not even that you merely feel like you don't fit in. To be completely accurate, you know you don't fit in.
And sometimes that hurts.
You're ahead of the game. Way ahead. You're so far ahead that sometimes it feels like you're playing a totally different game–maybe even the wrong game! You see things and you have ideas, but you look around you and wonder:
"Where are all the people?"
But they're nowhere to be found. You're alone.
So you're left to wonder: Why are you seeing something that nobody else is seeing? Why don't other people care about something that is so obvious to you?
But they're not, and they don't, and so you feel like you just. don't. fit. in. You feel like somehow, YOU'RE the one who was off. Like you must have a problem.
You feel like you were cut from the wrong mold; like your skills, your gifts, and your life are somehow a joke … because honestly it can be pretty miserable to be all alone and have nobody understand you.
I get it. I'm a pioneer, and I used to get really discouraged and even depressed about it.
I was discouraged because I didn't understand. I would see something in the Spirit realm years ahead of its time, but I didn't know why. I would talk to people about what I saw, but nobody understood. They certainly didn't understand me.
But when I learned about the ministry of the pioneer (from Ray Hughes), everything changed. I didn't fit in, but I learned why, and that made all the difference.
So dearest pioneer, if you feel like you don't fit in, I have an encouraging word for you today that will make all the difference:
You feel like you don't fit in because you don't–not with the masses, anyway. But you don't fit in because God made you that way. He made you who you are. He crafted you with His own two hands, and He called you to be a pioneer.
He didn't do it to play tricks on you or turn your life into some kind of joke. He did it because He needs you to occupy the place He called you to in the Body of Christ. He needs you to pioneer some things in this world.
There are new vistas, new territories, new lands to conquer in this Kingdom of God … and it takes a pioneer to conquer them.
That sense of separation you have? That's real. But the key to understanding it–and the key to not being depressed about it–is knowing this:
You're not separated from. You're separated unto. You're separated unto the work of pioneering.
That is the secret of the ministry of the pioneer. And that is why you don't fit in.
See, if everybody "fit in" all the time–if everybody saw the same things and was happy right where they are–then everybody would be happy to stay where they are. If everybody "fit in," the Kingdom of God could never progress:
There would be no growth.
No new things.
No adventures.
No new frontiers in the Spirit realm.
But we can't have everybody fitting in all the time, because God requires growth in His Kingdom.
Isaiah 9:6-7 tells us:
For unto us a Child is born, unto us a Son is given; and the government will be upon His shoulder. And His name will be called Wonderful, Counselor, Mighty God, Everlasting Father, Prince of Peace.

Of the increase of His government and peace there will be no end, upon the throne of David and over His kingdom, to order it and establish it with judgment and justice from that time forward, even forever.

The zeal of the Lord of hosts will perform this."
God's Kingdom must increase. His government must increase. God is zealous for the increase of His Kingdom.
So because God requires growth …
And because there are so many new frontiers to be conquered in the Kingdom …
God made you a pioneer.
And you, my pioneering friend, are a different breed:
You think differently, talk differently, see differently, and act differently.
Most people don't understand you.
Really, the only people that do understand you at a true heart level are other pioneers.
But it's okay. You've been thinking that something is wrong with you because you are so very, very different. You've been thinking that the things you see must be wrong because nobody else sees them. You've been thinking that the dreams you dream must be wrong because nobody else dreams them.
But precious reader, you are not a mistake. The things God shows you are not by accident.
You are not weird, not out of place, and not without inheritance in the Body of Christ. It's just that your role is different from most other people's roles. Some people are called to settle and occupy new land, but that's not you. It's not your DNA. Your call in the Kingdom is to take new land.
Your call is to go first, and to prepare the way for the settlers to come in.
Isaiah 62:10 describes God's mandate on your life perfectly:
Go through, go through the gates!
Prepare the way for the people; build up, build up the highway!
Take out the stones, lift up a banner for the peoples!
But the pioneer mandate doesn't mean you strike out on your own.
You still need to operate under the authority of your local church, the Body of Christ. The local church is where God demonstrates His glory on the earth, and you can't be rightly related to Christ without being a part of His Body. So being a pioneer doesn't give you a license to operate in rebellion or to fly solo like some kind of spiritual cowboy.
And I know that can be a source of frustration to you sometimes. You want to stay under the authority of your local church, but you don't see how you can if you're going to take new land too. So you feel like you have to choose, and you don't want to give up the church OR your new land.
I get it. But you know what?
You don't have to choose between your local church and taking new territory. You can have both, and choosing between them is not actually a legal choice at all.
We're going to talk about that more in post #2 in this series, called "So You Wonder What's Wrong With Your Timing." 🙂 (Check back Wednesday for that post!) But for now, just know that your local church plays a key role in making sure that your pioneering journey is a success. You can't pioneer effectively in the Kingdom without the protection of your local church.
Related: A Note To Wannabe Preachers
So what's the takeaway for you today, dear pioneer?
Today I want you to remember that you are not a mistake. As a pioneer, and you have a crucial place in the Body of Christ.
The ministry of the pioneer is special. God made you unique. He made your pioneer DNA, and He placed a call on your life to take new territory for His Kingdom.
That's why you don't fit in. "Fitting in" would actually prevent you from reaching your destiny. But you're not separated from the Body in an unholy, rejected kind of way. You're separated unto the ministry of the pioneer.
God has uniquely suited you for this ministry. And the world needs you. Your church needs you. Your business needs you. The Kingdom of God needs you.
You matter.
You, precious reader, are a pioneer, and God made you that way. Nothing is wrong with you. (Nothing is wrong with the settlers either, but that's a subject for post #3 in this series.) Even if you only fit in with other pioneers, your life was designed and ordained by God, and you are right where He wants you to be.
Does this message encourage your heart? If so, please leave a comment below. I'd love to hear from you!
Related:
Image courtesy of M01229 on Flickr via Creative Commons license. Graphics have been added.