A Note To Wannabe Preachers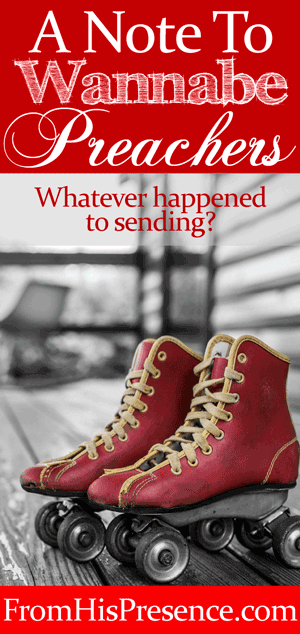 I see something happening in the Church today that bothers me. A lot. 
This is a tough subject to talk about, but I feel like I should bring it out into the open today. And in order to address it clearly, I'm going to lay it out as simply as possible.
Here's the problem I see:
We seem to have a new generation–made up of sons and daughters of all ages–of people that feel called to preach, or called to some sort of full-time ministry. And that's great. The call to preach is not the problem; we need millions of preachers and pastors and missionaries and moms and dads and businesspeople being thrust out into the harvest. This was the cry of Jesus' heart (Matthew 9:38).
But it seems like, very often, people feel the call to ministry and take things into their own hands. 
As soon as any opportunity presents itself …
Or after they get tired of waiting…
Or if they don't immediately see the opportunity in their home church that they want…
They roll on out the door of their home church, leaving the house of their fathers in search of green pastures of ministerial freedom. A lot of times, they even stab their spiritual fathers in the back on the way out.
It seems like, at their core, these sons and daughters must believe God has a big call on their lives, and as soon as they can get out from under the proverbial thumb of their fathers, they will finally be able to blossom like a rose.
That is a huge, huge problem.
Why is this a problem?
So glad you asked. I was reading Romans 10:14-15 the other day, and I became overwhelmed with grief about this. Romans 10:14-15 is a passage you're probably familiar with:
How then shall they call on Him in whom they have not believed? And how shall they believe in Him of whom they have not heard? And how shall they hear without a preacher? And how shall they preach unless they are sent?

As it is written: 'How beautiful are the feet of those who preach the gospel of peace, who bring glad tidings of good things!'"
The part of this verse that says, "And how shall they preach unless they are sent?" really jumped out at me as I was studying. I believe this verse is vitally-important to the sons and daughters in the Church right now–especially to those who are called to ministry.
This is a word for wannabe preachers.
Why is this verse so important for wannabe preachers?
I usually hear people talking about the verse above when they are trying to say that both missionaries and the people who finance them have equal reward in the Kingdom. You've probably heard the same thing. And I believe that point is certainly true…
… but that's not what the passage actually means.
When Paul wrote about "being sent," he wasn't talking about finding someone to finance a missionary. He was talking about something far more important–something earth-shaking–something of crucial importance to the church today.
Paul was talking about something of crucial importance to every spiritual son and daughter.
According to Strong's Concordance, the word "sent" (the Greek word "apostello") means this:
Set apart … send out … to order one to go to a place appointed … to send away, dismiss … to allow one to depart, that he may be in a state of liberty … send off."
Paul wrote here that people cannot hear the Gospel unless they have a preacher. But he also wrote that a preacher cannot preach unless he or she is "apostello-d":
set apart;
ordered to go to a place appointed;
sent away;
dismissed;
allowed to depart, that he/she may be in a state of liberty;
sent off.
This verse says that being sent and commissioned into ministry is a critical part of preaching. But some people have forgotten that it works that way.
Paul wrote specifically that being sent is required if you are to preach. This is consistent with what we see in Scripture:
Think of Isaiah, who in Isaiah chapter 6 was undone at His vision of the Lord, and cried out: "Here am I! Send me!"
Think of the first deacons, who were appointed and commissioned into the ministry; they didn't grasp it for themselves.
Think of countless times that missionaries and ministers were SENT OUT by the early church in Acts, such as in Acts 13:2-3:
As they ministered to the Lord and fasted, the Holy Spirit said, "Now separate to Me Barnabas and Saul for the work to which I have called them." Then, having fasted and prayed, and laid hands on them, they sent them away" (Acts 13:2-3).
Throughout Scripture, we see people being sent into the ministry. They are called by God, but then commissioned and sent by men before their ministry actually begins.
But it seems like many sons and daughters no longer care about the sending.
Oh, wannabe preachers want to be sent, for sure. But if sending requires waiting? No, that's where people seem to lose interest. So they roll on out the door instead, leaving the house of their fathers.
And seeing someone roll out the door without being sent is the saddest thing… because without the sending, without the commissioning, without the covering of their fathers, they lose something priceless. Something that can't even be put into words. And the next time you see them or hear about them, you can tell.
Too often, their eyes have become shifty.
They're doing dishonorable things.
They're grasping at the sheep that stayed in the safety of their fathers' fold, trying to get support (donations, physical attendance at their ministry, etc).
When none of that was ever necessary. Why?
Because, precious son or daughter, if you'll just wait on the Lord to send you according to His pattern, you'll never lack for anything.
You'll never lack for spiritual security or covering.
You'll never lack for anointing.
Your ministry will be covered with honor, rather than shame.
You won't have to grasp and paw for what you need.
The heart of God has always been for us to RETURN to our fathers, not to leave our fathers.
That's why the spirit of Elijah turns the heart of the children to the fathers, and the heart of the fathers to the children:
Behold, I will send you Elijah the prophet
Before the coming of the great and dreadful day of the Lord.
And he will turn the hearts of the fathers to the children,
And the hearts of the children to their fathers,
Lest I come and strike the earth with a curse" (Malachi 4:5-6).
That's why the lost son CAME TO HIMSELF in the middle of the pigsty and said, "I will arise and go to my father…" (Luke 15:17-18).
Being sent is not just "nice." It's not just an extra bonus. According to the Word of God, being sent is crucial to ministry.
What's the application for you? How should you respond to this word, especially if you're a wannabe preacher?
Precious brother or sister, if you feel called to ministry and especially preaching, according to Romans 10, please don't take things into your own hands. There's never a reason to stab your spiritual parents in the back.
Believe me: a God who is big enough to call you is big enough to tell your spiritual fathers and mothers about your call too. A God who is big enough to call you is also big enough to have you sent and commissioned into the ministry at the right time.
So what should you do? You should:
Be patient to wait on God's timing. The seemingly-right thing at the wrong time is still the wrong thing.
Pray. Without ceasing. Ask God to give you wisdom, to show you what to do and when to do it, to open doors and to shut doors.
Study to show yourself approved, so that you'll be ready when God does open the doors you've been waiting on.
I personally don't think there's anything wrong with talking with your spiritual parents about your call if God leads you to do that. But no matter what, decide beforehand that you will not dishonor the house of your fathers just to climb the ministry ladder. Set your heart to wait on the Lord, not to build your own kingdom.
If you will do that, God will honor you.
Honor is the currency of the Kingdom. When you choose to live from a heart of honor for God, for His timing, for your spiritual parents, and for the house of your fathers who raised you, God will raise you up in His own time and His own way… and you won't get lost in the desert of rebellion and independence, like so many people seem to do. If you humble yourself, He will exalt you in due time (1 Peter 5:6).
Are you a wannabe preacher? Are you willing to trust God with your life and call, and not act prematurely? Are you willing to wait for the sending and commissioning, giving honor to your spiritual fathers? If so, God will bless you for your faithfulness.
How does this message impact you? What are your thoughts on this matter? Please leave a comment below.