YOU Can Be A Crown In God's Hand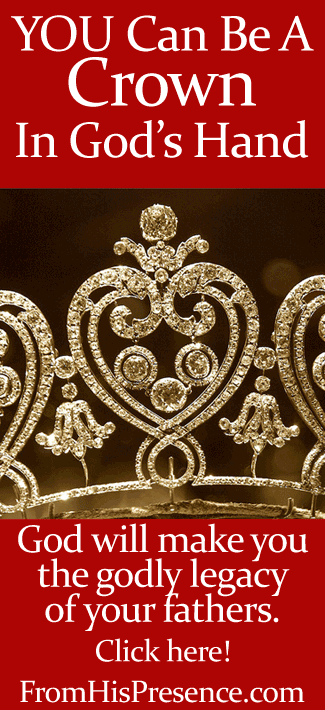 I was reading Isaiah 62 the other day and I saw something that freaked me out … in a very good way.
Want to know what it was? (So glad you asked…) 😉
Check out this passage:
You shall also be a crown of glory in the hand of the Lord, and a royal diadem in the hand of your God (Isaiah 62:3).
Now, I've read this passage many times before, and for some reason, I always mis-read it. I always took this to mean that God would give ME a crown. But that's not what it actually says.
(And yes, I do realize that this passage was originally written about Jerusalem, but the Bible says that all Scripture is given by inspiration of God and is useful for teaching, instruction, and training in righteousness, so I'm just going to personalize this and learn from it, ok?)
THIS time, when I read this passage, I saw what it actually says. And the Holy Spirit jumped it off the page into my spirit.
What this passage actually SAYS will freak you out too:
It says not that God will GIVE you a crown, but that He will MAKE you a crown.
Now at first, that puzzled me. I had a conversation with the Holy Spirit about it that went something like this:
"God, why do You need a crown in Your hand?"
And He said, "To put on somebody."
Then I asked: "Who would You put a crown on?" And I realized: A crown goes on someone's head. What does the head represent? Authority figures.
Wow. That right there freaked me out, because I have three levels of authority figures in my life:
My husband, first and foremost;
My spiritual authority; and
My Lord Jesus Christ.
And when I realized that, I broke down and wept.
Because I want to be a crown of glory on my husband's head. I want to bring him honor and joy.
I want to be a crown of glory to my spiritual fathers. After all their years of labor and ministry, I want them to look at me (and their other sons and daughters too) and say, "There's my legacy." I want to bring them honor and be a living demonstration of their faithfulness–an enduring product of the blood, sweat, and tears they have sown for the sake of the Gospel.
And most important of all, I want to be a crown of glory for the head of my Lord.
I want Jesus to look at me and say, "It was worth it." I want to be an ornament to Him; the jewelry He wears. I want to be HIS legacy.
Related: How To Find a Spiritual Father; A Note To Wannabe Preachers
Do you want to be a crown of glory too?
Do you want to bring honor to your authority figures? Ladies, do you want to bring honor to your husband? Men and women alike, do you want to bring honor to your spiritual fathers?
And most importantly, do you want to be the glittering, everlasting legacy of Jesus?
You can. You can be a crown of glory in God's hand.
How? Well, read Isaiah 61 and 62 for all the specifics, but I will tell you that the heart of leaving a godly legacy is simply this:
Seek God. Serve. And honor.
If you will do that, God will make you a crown in His hand–an honor and legacy for the heads of your spiritual fathers and for His Son, Jesus Christ.
Does this message inspire you today? Do you want to be a godly legacy for the heads of your fathers and for Jesus? If so, please leave a comment below. I'd love to hear your thoughts!
Image courtesy of Farrukh on Flickr via Creative Commons license. Image has been cropped and graphics added.