So You Wonder What's Wrong With Your Timing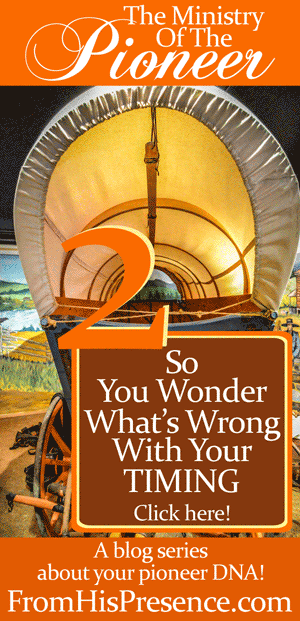 Dear pioneer,
So you wonder what's wrong with your timing, huh? You see things way ahead of their time … sometimes years or even decades ahead. You know the thing you see is an awesome thing. You strongly believe the vision is from the Lord.
But it doesn't happen. And doesn't happen. And still doesn't happen.
You talk to other people about it, but get no support (or you get some support, but not enough to actually implement the vision). Or sometimes, people outright mock you. Nobody else seems to get it, but you still believe the vision is from God.
So you wonder what's wrong with your timing. Because surely, you think, the problem must be with you. Because God wouldn't give you this kind of misery.
But precious pioneer, I have an encouraging word for you today:
There is nothing wrong with your timing for receiving or having this vision.
However, in order to not get discouraged, you have to understand how God's timing in your life can work differently from God's timing in other situations.
In the life of a settler, God's timing very often means it's time to do a thing. As in, now. As in, let's move it on out and occupy this land. 🙂
But the life of a pioneer is different. The path and call of a pioneer are different. In the life of a pioneer, God gives you a vision at the right time in His opinion, for several different reasons. And those reasons are not necessarily because it's time to implement the new thing.
Here are 5 reasons God may give you a vision long before your vision actually happens:
1. The biggest, most important, biggest, most important, (did I say biggest?) most gigantic reason:
Getting the vision doesn't mean it's time to act on it. Getting the vision means it's time to start praying it in.
God moves on the earth in response to prayer. Nothing great was ever accomplished without prayer. And as a pioneer, you will get a vision from God when intercession for that thing needs to begin.
That's why you sometimes see things years in advance. Accomplishing anything in the Kingdom takes prayer, massive prayer. And massive prayer takes massive time. So you might see something in the Spirit five years out, but you are seeing it now because somebody has to pray it in. And God knows that thing needs five years of prayer.
So if you have a vision right now, start praying. Don't put a timetable on God. But if you will start praying now, God will open doors at the right time. Follow His prompting moment to moment, day by day, and year by year. If the vision is from God, it will happen.
Related: How To Know God's Timing: The Anointing of the Sons of Issachar
2.  Maybe the idea isn't fully-developed yet, and you need to cogitate on it awhile.
I often have ideas that I think are awesome, fully-workable ideas. But when I get the idea, I don't have time to implement it; so I just keep it in my heart and cogitate on it awhile. And as I do, the funniest thing happens: that idea grows.
For example:
Maybe it's an idea for a teaching lesson or a blog post. As I ponder the idea, all of a sudden the Holy Spirit downloads additional material into my spirit, and I get five points instead of my original one point.
Or maybe it's an idea for a conversation I need to have. My initial thoughts about the conversation might be that I should say one thing. However, as days pass, the more I meditate on what I will say, the more my original idea might sound stupid and I realize I actually need to go this direction.
Maybe it's an idea for a ministry opportunity. I see the potential, but as I just ruminate on this thing in my spirit, the Holy Spirit downloads His strategy in addition to the bare-bones idea.
It will work the same way for you. God will give you ideas, and it can be frustrating if things don't work out right away to implement them. However, as you pray and meditate on the vision, that vision will develop inside of you.
As a pioneer, God's timing in your life often works the same way as a human pregnancy works.
When a woman becomes pregnant, you can't see that baby inside her. The baby is not fully developed yet. But over time, that baby grows and grows, and when he or she is fully-developed, voila! The baby is born!
Just like that, your idea takes time to grow. Even if you think an idea is ready for birthing, God sees the big picture and knows that there's so much more. So He sometimes allows you to wait and pray while He grows that vision inside you. But don't worry, precious pioneer. When the moment is right, you'll see that vision birthed.
Check out this precious promise in Isaiah 66:9:
Shall I bring to the time of birth, and not cause delivery?" says the Lord. "Shall I who cause delivery shut up the womb?" says your God" (Isaiah 66:9).
God will perfect all things that concern you (Psalm 138:8). He will birth the vision He has given you. 🙂 'Nuff said. And on to point #3 …
3. God gives you a vision ahead of time so He can baptize you with confidence when you see it happen.
Lou Engle says, "The prophetic is meant to baptize us with confidence." That is so true.
Have you ever had a vision, seen it happen years later, and looked back with awe and wonder at how God brought it to pass? I have. For example:
Years ago, I saw a vision (a mental picture) at church one day. I saw people walking through the sanctuary before Sunday morning service, praying and speaking the Word over our church. At the time, nobody was doing that.
However, a couple of years later and for completely unrelated reasons, I began praying before services in our sanctuary. At first, I was by myself. Then one or two people began to come and pray with me. Then five people began to come.
Over time, it has grown. As of right now, every Sunday morning from 7:30-8:20 AM, we have a group of about fifteen worshippers and intercessors who come and pray over our services. (I realize that fifteen people may not sound like a lot to you, but at 7:30 on Sunday morning, it is. And my point is about the growth.) 🙂 And it's a powerful, powerful time of worship and intercession.
I never connected that old vision with my reality until rather recently. But when I did, I was in awe.
What we are doing now on Sunday mornings is what God showed me in that vision years ago. When I look back, don't you think that gives me confidence that I can hear God? You bet it does! Frankly, I didn't even realize it was God giving me that vision way back then. I just thought it was a good idea. But actually, He was giving me a foreknowledge of something He would do in my life. And for that I say …
GO, JESUS!!!
How can you apply this, my pioneer friend?
Look back on your life.
Ask God to show you how what you're doing now ties to things He has shown you in the past.
And when He shows you those connections, praise Him!
God wants you to have confidence that you can see and hear. So sometimes, He shows you things in advance, just so you will know He was talking to you about it the whole time. He's just a GOOD Papa like that. 🙂
4. Your dream will test you in a way that God wants you tested and refined.
Joseph, the guy in the Bible who became the prime minister of Egypt, was a guy with a dream. Several dreams, actually. He dreamed about being in authority, and having his family bow down to him.
But you know what? He had those dreams–which were definitely from God–many years before they came true. And in those "between" years, you know what happened? His vision tested him.
Psalm 105:17-19 tells us:
He sent a man before them—Joseph—who was sold as a slave. They hurt his feet with fetters, he was laid in irons.

Until the time that his word came to pass, the word of the Lord tested him."
We often don't realize it, but we need testing in this Christ-following life.
Our character needs refining.
We need to practice perseverance.
We need to practice believing God and trusting Him to perfect our lives.
And precious pioneer, sometimes God will give you a vision wayyyyyy early because it's part of your character-building process.
What He wants to know is:
Will you keep believing Him, even when you can't see the end result in your physical circumstances?
Will you prepare for your call? Will you do everything you can do now, even if the vision seems a long way off?
Will you sow in prayer and other ways into your vision, so God can grow you a harvest?
Joseph's dream about ruling over his family came true years after God gave him the dream. Does it mean Joseph's timing was off? No; the dream was clearly from God, not from Joseph. But there was a testing process. Joseph had to hold on to that dream through betrayal, slavery, false accusations, and imprisonment.
But when the moment was right, God birthed him into his destiny. (See point #2.)
So my dear pioneering friend, don't worry if your dream tests you. It's supposed to. Just submit to the process and trust God. Hang on! Your moment will arrive.
Related: How To Get Promoted Really Quickly and Your Dream Will Test You
5. Your vision may not be for you. It may be for a future generation.
Abraham, the Biblical father of the nation of Israel, was a poster child for this particular point. Check out bits and pieces from his story, as described in Hebrews 11:
By faith Abraham obeyed when he was called to go out to the place which he would receive as an inheritance. And he went out, not knowing where he was going.

By faith he dwelt in the land of promise as in a foreign country, dwelling in tents with Isaac and Jacob, the heirs with him of the same promise; for he waited for the city which has foundations, whose builder and maker is God" (Hebrews 11:8-10).
God gave Abraham a vision, but Abraham only got the smallest taste of that vision during his lifetime. He saw it and He trusted God, but the fullness of the vision was for future generations.
Sometimes God gives us promises that are not meant to be completely fulfilled until future generations can also participate in them. Hebrews 11:39-40 says:
And all these, having obtained a good testimony through faith, did not receive the promise, God having provided something better for us, that they should not be made perfect apart from us."
A relatively modern-day example:
In 1910, the Lord offered Welsh intercessor and missionary Rees Howells a vision for the freedom of the child widows of India. Howells believed the vision was from God, so he took to fasting and prayer for ten weeks. After ten weeks, the the Lord told him he had gained the victory.
But you know what? Nothing happened in the natural realm for 39 years. It wasn't until 1949–the year before Howells died–that the laws in India that governed how child widows were treated were changed. The new laws allowed women to inherit and made great strides toward the general emancipation of women.*
Rees Howells didn't know that his vision was for a future generation of child widows. He didn't know that it would be 39 years before he saw the answer to his prayers. Nevertheless, the vision was from God. So Howells believed it, prayed into it, and won the victory … a victory for a future generation.
Dear pioneer, if God has given you a vision for a future generation, it's still a vision from God.
Don't let the potential delay discourage you or stop you from doing what you can:
Pray into the vision.
Prepare its foundation as much as you can, just like Israel's ancient King David stockpiled materials for his son, Solomon, to build the temple.
Believe God for it.
Teach others about it if God leads you to do so.
Your pioneering may not be for you, but the end result will still be worth it.
So, my dear pioneering friend, there you have five reasons you may have a vision years before its time. What's the takeaway?
The takeaway is simply this: Nothing is wrong with you. It's good and right for you to see those scenic vistas and new lands before they actually get conquered. However, one of the keys to pioneering successfully–and not getting depressed about your call–is having a proper understanding of timing.
Your pioneer DNA means you always see new vistas. But God has perfect timing for every journey, and only He knows when the right time is. When you begin to understand why God allows you to see things so much sooner than other people see them, you can carry out His plan for those interim years without getting frustrated.
Your prayers, labors, and refinement are all necessary parts of getting that vision implemented one day. But when your dream finally happens, it will be worth it.
Does this message encourage and strengthen your heart today? If so, please leave a comment below. I'd love to hear from you!
Related:
*Story told in Rees Howells: Intercessor
by Norman Grubb (Amazon affiliate link; see disclosure policy here).
Image courtesy of M01229 on Flickr via Creative Commons license. Graphics have been added.