How To Get Promoted Really Quickly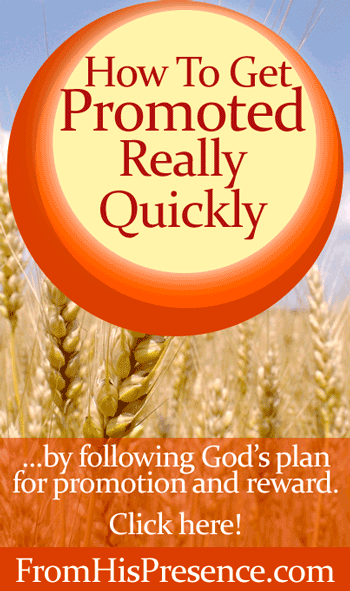 Some of you reading this have a dream in your heart, but you're not seeing your dream happen. Instead, you're going through the valley of the shadow of proverbial death, and you don't understand what God is doing in your life. If that's you, I have an encouraging word for you today.
First, let me be clear that most things we call suffering do NOT originate from God.
Sickness, abuse, and poverty are NOT from God.
He doesn't have sickness and He doesn't give it.
He never abuses; He is a kind, loving Father.
And all of the heavens and earth belong to Him, and He has promised to provide our every need.
Sickness, abuse, and poverty are the effects of sin in this world. They are not from God; they are not His will, and we should never act like they are.
God is your Healer, your Deliverer, and your Provider. If you're going through any situations that require healing, deliverance, or provision, you should press into God and seek His help. Never accept the effects of sin as your lot in life. Never.
Related: To Hell With Redemptive Suffering!
But I want to talk to you about a different kind of valley you might be going through … a valley in which God is asking YOU to die.
For example:
Maybe you've just been laid off from your job through no fault of your own. You don't understand why, but you know God is asking you to trust His plan.
Maybe God is speaking to you about laying specific sins at Jesus' feet (pride, lust, control, manipulation, envy, etc) and walking in holiness instead, and you're struggling to obey.
Maybe something else has happened in your life through no fault of your own. You're feeling blue about it, but you know God is asking you to let it go.
Related: How To Get Rid Of Your desire To Sin
I know we're already dead to ourselves and alive in Christ. But still, Jesus said we have to manifest that death-to-self in our daily lives. Every moment, every day:
Then Jesus said to His disciples, "If anyone desires to come after Me, let him deny himself, and take up his cross, and follow Me. For whoever desires to save his life will lose it, but whoever loses his life for My sake will find it" (Matthew 16:24-25).
Even though we're already dead to ourselves and alive in Christ, we still have to decide to act like it in our daily lives–to refuse our flesh and let the life of Christ flow through us by the Holy Spirit.
I've been going through a death-to-self season like this.
God has been asking me to lay down some things that have been important to me. He's been asking me to let go and trust Him; not to fight or try to defend myself; but just to relax. And, proverbially speaking, to die.
It's been tough. But you know what? I'm hungry for my dreams. And when this started, even though I didn't like it, I could smell God at work.
In the past, I've tried to resist the death process at various times, and resistance has never had good results. So this time, I decided to jump in with both feet. I determined I'd be the most humble thing on earth (like Moses, who himself wrote that he was the most humble man alive, hahaha) 🙂 and just embrace this death process.
And you know what?
God has honored me for it. It's only been a few weeks, but I'm already seeing the harvest start to come in. And the harvest will be bigger and better than my little grain of wheat ever could have been.
And if you're in that valley in which God is asking you to die to some things, I have an encouraging word for you today:
He's only asking you this because He wants to promote you.
God knows every desire of your heart. He knows your dream; He gave you your dream. And He's ready to promote you to the next step toward it.
But in God's economy, promotion requires a little something first. Jesus described it this way, in John 12:23-26:
But Jesus answered them, saying, "The hour has come that the Son of Man should be glorified. Most assuredly, I say to you, unless a grain of wheat falls into the ground and dies, it remains alone; but if it dies, it produces much grain.

He who loves his life will lose it, and he who hates his life in this world will keep it for eternal life.

If anyone serves Me, let him follow Me; and where I am, there My servant will be also. If anyone serves Me, him My Father will honor."
Did you get that? "Unless a grain of wheat falls to the ground AND DIES, it remains alone." In God's Kingdom, promotion requires death first. But if you obey and let yourself die, like that little grain of wheat, you get a huge harvest.
This is the key to promotion in God's kingdom. This is the key to your dream.
God uses the storms we go through to launch us into our destiny. He uses the giants we encounter to promote us to the next level of kingship. It's His way.
Think about David in the Bible. Why did David happen to encounter the giant on a battlefield one day? Was it chance or happenstance? No way! David encountered Goliath that day because it was God's day to promote David to the next level, and God wanted him to kill that giant so He could be promoted.
David faced a giant, and facing that giant required him to die:
He had to die to fear.
He had to allow himself to be mocked.
He took a risk and laid his life on the line to defend the cause of Israel.
But when David died to self like that, God honored him and promoted him to the next level. David became one of the most famous men in Israel. He became the son-in-law of the king and a mighty captain of the army. Eventually, he was crowned king himself, and remains the most famous king of Israel to this day.
It's almost like that death-to-self thing worked out pretty well for David.
Well, what about you? How does this apply to your life?
Right now, God is asking you to die to some things. Why does He want you to do this? Because He's ready to promote you too.
God is asking something of you. He's asking you to manifest your death-to-self-and-life-in-Christ in a particular sin, habit, or situation.
I know it might feel painful to let go of this thing. It might go against the grain not to try to defend yourself. But you CAN do it, because He never asks you to do something He won't give you strength to do.
And if you will obey …
If you will let yourself be that grain of wheat that falls to the ground and dies …
You will reap a harvest, and God will honor you.
So in closing, this is how to get promoted really quickly:
When you recognize that God is asking you to surrender and manifest your death-to-self in your situation, hurry up and submit to His instructions.
There's no getting around it. God is up to something in your life. Even though it looks hard, an amazing harvest is just around the corner. There's victory on the other side.
So don't delay. Just embrace the process, knowing that glory and new life and harvest are on the other side of this death.
And when you do, God will use your surrender and obedience as a catapault to launch you to the next level of your destiny.
Does this message resonate with you today, in terms of whatever YOU are going through? If so, please leave a comment below. I'd love to hear from you.
Related: Read about Susan Boyle's story in Your Dream Is Not Too Big For God 
Image courtesy of Tim VanReenen on Flickr via Creative Commons license. Image has been cropped and graphics added.