Letters To Pioneers: When You're Lonely and Misunderstood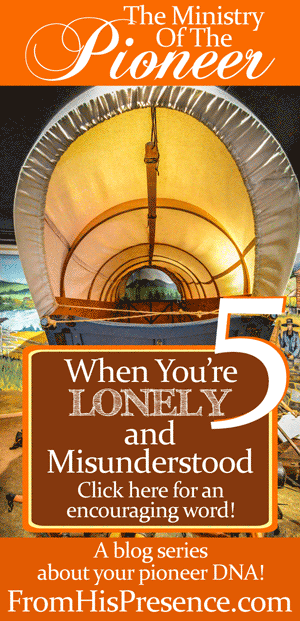 Dear pioneer, do you feel lonely and misunderstood today?
If so, I'm sorry. But I want to encourage you today. This is probably one of the most personal things I've ever shared, but I pray God would use it to bring healing to your heart and spirit.
First, let me say, I know what it's like to be lonely and misunderstood.
So many times, I have felt very lonely. Before God gave my husband and I some of our dearest friends, I had no one to talk to. I was walking alone through life, and being alone hurts.
My loneliness got a lot better when we began to pray for covenant friends. God has answered that prayer, and continues to answer it. And it's funny: the covenant friends God has sent us are those who share a destiny with us. They are pioneers and worshippers and prophetic people. They are kindred spirits, and they are closer to us than I ever imagined they could be. Doing life with them is good, even when it's hard.
But the pioneer life can still be lonely sometimes. People with a pioneer call are still separated – not separated from, but separated unto, as I talked about here. 
And that separation means that we are often misunderstood.
Many, many times, I have been misunderstood. You'll know what I mean when I say that the loneliness may be a feeling, so it can come and go and there can be reprieve from it. But the 'being misunderstood' part isn't a feeling. It's reality. It's unfortunate sometimes, but it's reality nonetheless.
People simply cannot understand.
Oh, there have been plenty of people who think they understand me. And there are one or two, I believe, who actually do. Mostly, those people who DO understand are twice my age and far wiser than I. They have already been where I'm walking. They have borne the cross of loneliness all their lives.
Some of those folks in my life–the ones who DO understand me–don't even know me well on a personal level, but that doesn't matter. They bear on their bodies the marks of the Lord Jesus Christ and of their lonely walk with Him, and I know they understand. Something in my spirit tells me they know, and they've survived; and their race well-run gives me courage to follow in their footsteps.
But there are others who look at me and form their own opinions.
They don't bother to truly know me. They shape their perception from their own perspectives, and often based on their own bias; and from that position, they try to tell me who and what I am.
And I just look at them and, inwardly, shake my head. They don't understand me, but telling them so isn't going to convince them. And it's not a battle worth fighting.
Because, honestly, this pioneer life is between me and God alone.
Facedown before God is the only place I can find Someone who really, really, understands. He is the one who made me, and the Creator knows and understands His created. He is the only Person who can.
And beloved pioneer, the only place you also will find Someone who understands you is in the courts of Heaven, at the feet of Father.
Well-meaning people can try to understand, and other pioneers will come close to understanding. You will even fit in when you find other pioneers to walk with, and that's good and right. We were made for companionship and unity with other believers.
But ultimately, precious one, know this:
God, and God alone, is capable of understanding the deep things of your heart, because He put them there. He placed those dreams and that vision into your heart, and no one else can see it. Not like you can. Not even if they try; they will always come up short.
But it's ok, because you will always have acceptance and understanding in the arms of Father.
Father loves you so much. He trusts you with the vision He has bestowed upon you. He gets it. He understands.
The pioneering path is a lonely path. By its very nature, it is walked alone.
A.W. Tozer said it best, in his brief essay called "The Saint Must Walk Alone." (By the way, this essay has been the #1 thing I have ever read in my life that has comforted me about feeling lonely and misunderstood. I strongly encourage you to read it.) Tozer said:
The prophets of pre-Christian times differed widely from each other, but one mark they bore in common was their enforced loneliness. They loved their people and gloried in the religion of the fathers, but their loyalty to the God of Abraham, Isaac and Jacob … drove them away from the crowd and into long periods of heaviness. "I am become a stranger unto my brethren, and an alien unto my mother's children," cried one and unwittingly spoke for all the rest."

and

"There are some things too sacred for any eye but God's to look upon."

and

"The man who has passed on into the divine Presence in actual inner experience will not find many who understand him. … [True] spiritual fellowship will be hard to find. But he should not expect things to be otherwise. … He walks with God in the garden of his own soul and who but God can walk there with him?

He is of another spirit from the multitudes that tread the courts of the Lord's house. He has seen that of which they have only heard, and he walks among them somewhat as Zacharias walked after his return from the altar when the people whispered, "He has seen a vision.""
The words above make me cry, then whisper. It's true. "There are some things too sacred for any eye but God's to look upon." And that can be hard. The path can be hard.
But my friend, if you are a pioneer, God made you and fashioned your DNA so that you will be able to endure the difficulty.
You were made of sterner stuff. I know you hurt sometimes, and I know you can be lonely. I know people don't understand you.
But beloved, you were born for this. And if you're like me, you know in your inmost heart that you wouldn't be happy doing anything else.
So don't quit, and don't get angry at people for not understanding you. Simply find your companionship, your being-known, and your being-understood, in Father.
This is the secret to survival, victory, and living a joy-filled life despite being lonely and misunderstood. This is where I live. Father is the One who sustains me.
So often, life can seem overwhelming, and I long for no one but Father. Heaven is my home, and I feel the tug. Sometimes that tug, that longing for eternity, makes me break down and sob like a child. I don't think I'm alone in that. I suspect you are like that too.
I heard a song many years ago called "Homesick For Heaven." The chorus says it all. It goes like this:
My heart longs for Heaven,
My heart longs for home.
I'm sick and tired of this old world,
And I just want to go home.

I hear my Father calling,
And I know He feels it too.
He's lonesome for His little girl,
And He wants her home real soon."
Beloved, you might feel that way too. Maybe even today. You may be hurting right now, and I'm sorry if you are. You may be longing for Heaven too, and the time will come when you will pass over the Jordan into the eternal light of Heaven. This world is, after all, only a breath.
But beloved, the pioneering call of God on your life is important.
Father made you who you are because He needs you to fulfill this role in the Kingdom. This role, and no other. And precious one, He understands. He understands how you feel. He understands what it's like. He understands this call that He has given you.
He is the only One who understands.
Dear pioneer, your call will bring you great joy, but you will also experience things along the journey that will hurt sometimes. Being lonely and misunderstood is one of those things that can hurt. Loneliness you can fix by asking God to bring you covenant friendships. But being misunderstood is only fixed when you crawl into the lap of Father. Your heart belongs with Father. He made you. He loves you. He understands you.
And He will sustain you.
Does this message encourage your heart today? If so, please leave a comment below. I'd love to hear from you!
Related:
Image courtesy of M01229 on Flickr via Creative Commons license. Graphics have been added.