Letters To Pioneers: When You Feel Completely Inadequate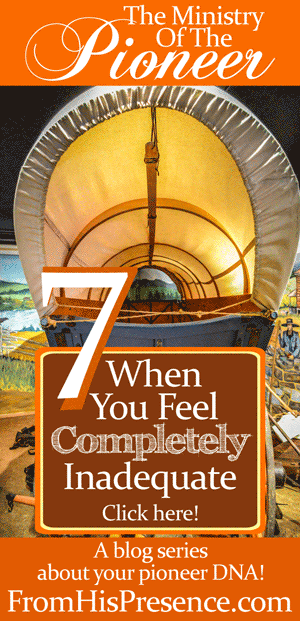 Dear, precious pioneer, greatly beloved of the Father,
If you feel completely inadequate for the task you've been given … if you feel completely inadequate even to handle life itself on some days … I have three encouraging words for you today. And without further ado, here they are:
1. Jesus said it's okay to be inadequate and needy.
Jesus knew the task He has given you is impossible for you to accomplish alone. Even Jesus Himself depended completely on the Father during His earthly ministry, openly confessing that He could do nothing by Himself.
So it makes perfect sense that Jesus taught us that we are the same way. We are just as needy as He was. We are just as dependent on Him as He was dependent on the Father. He said that, since we can't do anything alone, we should abide in Him. It's only when we abide in Him that we can bear any fruit at all:
Abide in Me, and I in you. As the branch cannot bear fruit of itself, unless it abides in the vine, neither can you, unless you abide in Me.

I am the vine, you are the branches. He who abides in Me, and I in him, bears much fruit; for without Me you can do nothing.

If anyone does not abide in Me, he is cast out as a branch and is withered; and they gather them and throw them into the fire, and they are burned. If you abide in Me, and My words abide in you, you will ask what you desire, and it shall be done for you. By this My Father is glorified, that you bear much fruit; so you will be My disciples" (John 15:4-8).
Precious one, you may feel completely inadequate today. You may feel helpless and needy. You may be taking the responsibility upon yourself to bear fruit and get a task done.
Related: God Likes Us Needy
But you know what? Jesus never called you to bear fruit on your own. He actually created you to be inadequate without Him.
You were created to be dependent on the Father for everything. It's only in Jesus that you live, and move, and have your being (Acts 17:28).
So it's okay to be needy. It's okay to feel inadequate, because, beloved, you are. And sometimes it can bring you huge relief just to dump everything at the feet of Jesus and admit that you can't do anything. Admitting that you are helpless without Him is the first step to a new level of empowerment.
2. God has not left you to be miserable in your inadequacy. He is with you and will flow through you to do what needs to be done.
You are not alone, precious reader. Papa God, Who alone has all the strength and power in the universe, is with you. He's with you right now. He knows, and He knows, and He knows, and He knows, and He knows how you feel and exactly what you are going through. He is, after all, the original Pioneer. He is the Author and Perfecter of your faith (Hebrews 12:2), and you are in the palms of His hands. He is with you.
Matthew 28:18-20 contains a beautiful blessing for pioneers that we tend to forget about. We remember the charge and the commission, but we forget the promise. Read the encouraging words of Jesus:
And Jesus came and spoke to them, saying, "All authority has been given to Me in heaven and on earth. Go therefore and make disciples of all the nations, baptizing them in the name of the Father and of the Son and of the Holy Spirit, teaching them to observe all things that I have commanded you; and lo, I am with you always, even to the end of the age." Amen" (Matthew 28:18-20).
In this great commission God has placed on your life, He promised to be with you. He will be with you always and without fail, even unto the end of the world.
Did you get that? You are not carrying out the Great Commission by yourself. Papa is with you. He knows that the thing He has called you to do is impossible without His help. But He is right there with you, working with you, through you, and in you. You are not alone.
3. God has miracle-working power, and He's ready to pour it out on and through you.
Second Corinthians 12:9 contains what God spoke to one of the greatest pioneers who ever lived, the apostle Paul:
And He said to me, "My grace is sufficient for you, for My strength is made perfect in weakness." Therefore most gladly I will rather boast in my infirmities, that the power of Christ may rest upon me."
When you are at your weakest, precious one, Papa will show Himself strongest on your behalf. That's why Paul also wrote:
I can do all things through Christ who strengthens me" (Philippians 4:13).
The words "strength" and "strengthens" in both of these verses are talking about God's miracle-working, get-er-done-ing POWER ("dunamis" in the Greek). God is saying that, when we are weak, He gives us His "physical power, force, might, ability, efficacy, energy, … powerful deeds, deeds showing (physical) power, marvelous works."*
And that, my friend, is a power you can take to the bank. When you can't do it, God can and God will. You can depend on His Word and His promise.
Would you like to pray today for Papa's empowerment and help in your inadequacy? Pray this with me:
Dear Heavenly Father, 

I come before you in Jesus' name, and Papa, I love you so much. You are everything to me. You are all I want. My life is Yours.

Father, I thank You that You are with me. Thank You for being with me always, even to the end of the world. I know You are with me, and You are strengthening me and helping me right now.

Papa, I need you. I can't do anything without you. This task You've given me? I can't do it. Not by myself, that is. Not in my own strength, for I have no strength of my own. I am completely dependent on You.

But Father, Your Word says that You made me to be dependent on You. You knew I would need You. You said that if I would abide in You, You would flow through me and somehow, with You in me, I would bear much fruit.

So Father, taking You up on Your Word, I choose to abide in You today. And Lord, I'm claiming Your promise that I can do all things through Your Son Jesus Christ, who strengthens and empowers me.

So Father, in the name of Jesus, I say: Let Your strength be made perfect in my weakness right now. I declare that I am strong in You. Fill me right now with Your power, strength, and anointing. Let your miracle-working power flow through me right now like a surging, mighty river. Help me do all things that You have called me to do. Fill me with Your Holy Spirit, and renew and refresh and restore me right now. Fill me with joy again, Lord, because I know that Your joy is my strength. Let me find rest in Your presence and strength in Your joy right now, in Jesus' name.

Father, thank You for Your great and precious promises. Thank You for loving me, making me Your own, knowing me, and taking care of me. I trust You, Lord. You are perfect in every way, and You will always hold me up. So thank You. Thank You, Daddy God. I receive everything I need from Your hand right now, Lord, and I choose to rest in You.

In Jesus' name, amen."
Does this message speak to you today? Does it encourage your heart? If so, please leave a comment below. I'd love to hear your thoughts on this!
Related:
* Quote is from Strong's, here.
Image courtesy of M01229 on Flickr via Creative Commons license. Graphics have been added.