21 Days to the Manifest Presence of God: Day 20 (God Likes Us Needy)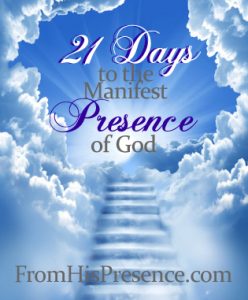 Hello! We have made it to Day 20 of this series about living in the manifest presence of God! You can refer back to Day 1 if you'd like to know my backstory for the series.
I encourage you to read all the posts in the series if you are just joining us. Each day's assignment builds on the previous assignments, and they are all vitally important! (Be sure to subscribe to receive my daily posts so you won't miss anything.)
Today, we are going to talk about the fact that God likes it when we need Him.
The quest for God's presence is and should be all-consuming. The good news is that when we seek Him, we will find Him.
The bad news is that we can't even seek Him by ourselves.
We humans are very needy creatures, and God likes us that way.
When we acknowledge how much we need God, it humbles us.
When we realize that we can't even seek God without His help, it brings us to our knees.
Which is where we connect deeply with God.
We find God most when we abandon the idea that we can live life on our own.
We find God most when we acknowledge that we need His help to even breathe.
Hebrews 1:3 states that Jesus Christ is "upholding all things by the word of His power."
Colossians 1:16-18 says, "For by Him all things were created that are in heaven and that are on earth, visible and invisible, whether thrones or dominions or principalities or powers. All things were created through Him and for Him. And He is before all things, and in Him all things consist."
Jesus Christ is the Centrifugal Force of the universe. He is holding you together right now, as you read this.
In John 15:5, Jesus said, "…for without Me you can do nothing." This means that…
So it doesn't matter how talented a songwriter you are; you need God's help to write that song.
It doesn't matter how talented a blogger you are; you need God's help to draft that post.
It doesn't matter how good of a financial analyst I am; I depend daily on God to help me analyze files.
And it doesn't matter how much of a Jesus-seeker you are; you need His help to continue to seek Him.
There is nothing that I can do apart from His guidance, His empowerment, His ability flowing through me. Nothing.
And I feel that dependence strongly.
Someone said to me a few months ago, "I've learned so much from you! You're just so strong!" and I was astounded.
Because if they only knew…
That I retreat to my office every morning and cry out to God for help getting through my day.
That I entreat God to help me with the mundane tasks around the house, like cooking and cleaning, because they overwhelm me. Frequently.
That most weekends, I hide out in my home office with the Lord on Saturday mornings because I can't face the world any longer until Daddy God "makes it all better."
That so often, I have been ready to give up on situations and on people. Only the heart of God and His love flowing through me have kept me hanging in there in prayer until we get results.
That I am so imperfect, and I need my God so badly.
But they don't know. Only my husband and God know. (And now you.)
But it's ok, because God likes me needy.
He likes you needy, too.
As long as you present your needs to Him and acknowledge that only He can meet them, it pleases Him for you to need help.
So your assignment for today is simple:
Would you acknowledge your dependence on God in everything you do today?
Would you get alone with Him and tell Him about all the things you have to do… all the things that overwhelm you… and admit you can't do them on your own?
Would you ask for His help, and then let Him help you?
He will meet you at the point of your need.
What's something you are dealing with right now that you can't handle on your own? A family issue? A task before you? Too many things on your schedule? Leave a comment and let's chat!