21 Days to the Manifest Presence of God: Day 19 (The Power of Words)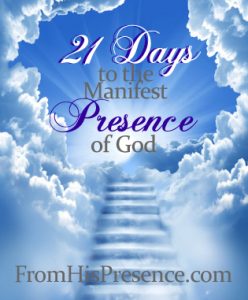 Hello! Welcome to Day 19 of my series about developing an awareness of God's presence! You can refer back to Day 1 if you'd like to know my backstory for the series.
I encourage you to read all the posts in the series if you are just joining us. Each day's assignment builds on the previous assignments, and they are all vitally important! (Be sure to subscribe to receive my daily posts so you won't miss anything.)
Today, we are going to talk about the power of words.
Have you ever noticed that sometimes our words can get out of control?
I know I have. Sometimes things just come out that I didn't mean to say!
Words are important in the spiritual realm. Not because you might hurt someone's feelings, either. (I'm assuming you already know that if you hurt people with your words, you should apologize and make it right.)
No, your vocabulary is important for an even deeper reason. That reason is:
Most of the time, you will get what you say.
I say "most of the time" because I'm not into a "name-it, claim-it"-type theology, in which people believe that if they start saying, "I have a million dollars!" then suddenly $1,000,000 will show up on their doorstep.
But it is true that words shape your mindset. They shape your thoughts, and your expectations, and your emotions. By doing so, they shape your circumstances.
The Bible is full of verses about the power of your words. Here are a few:
"Death and life are in the power of the tongue, and those who love it will eat its fruit." Proverbs 18:21
 "Let no corrupt word proceed out of your mouth, but what is good for necessary edification, that it may impart grace to the hearers." Ephesians 4:29
"But those things which proceed out of the mouth come from the heart, and they defile a man." Matthew 15:18
"But I say to you that for every idle word men may speak, they will give account of it in the day of judgment." Matthew 12:36
Our positive words  bring blessings upon us, but our negative words actually harm us. When we speak out negative things, it's like a curse over our lives.
Here are some examples of things we might say that harm us:
"That just kills me!"
"I'm sick and tired of…"
"I can't do it."
"That's never going to change."
"I'll never reach my dream."
"Nothing ever goes right for me."
But here are some things we can say that will bring blessings upon ourselves:
"I can do all things through Christ who empowers me."
"Somehow, God will get me through this."
"I'm so thankful for all the things God has done in my life."
"I may not be perfect yet, but thank God, I'm not where I used to be!"
"My marriage is getting better all the time."
When you read the list of negative statements, couldn't you feel the death and sliminess in those words?
But when you read the list of positive statements, couldn't you feel the hope and encouragement they bring? I can!
Here is your assignment for today:
Find things in your life that you are accustomed to speaking negatively about. Then replace your negative statements with positive ones.
Remember, a negative statement is anything you wouldn't want to be true; anything that you wouldn't want to happen.
A positive statement is anything you WOULD want to be true. Anything you DO want to happen.
Have you found something you need to start speaking positively about? What is it, and what positive words are you going to start saying? I'd love to hear! Leave a comment below.
Related: The Power of Encouragement
Resources:
If you need help with this subject, I highly recommend Joyce Meyer's book, "The Secret Power of Speaking God's Word"
 (Amazon affiliate link). It's a book of positive, Scriptural confessions you can speak over yourself. It will teach you how to speak life into your situation, instead of death. This book has helped me get through many dark nights!
Also, if you'd like a free resource, I encourage you to subscribe to get my email updates, and download the free, printable blessing cards that I offer to my subscribers. These cards contain 76 powerful blessings that you can speak over yourself, your emotions, your finances, your family, etc. They are mostly one-sentence blessings, so they're easy, and they're all biblical. I believe you will love them!