21 Days to the Manifest Presence of God: Day 18 (Dreaming With God)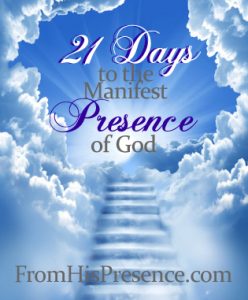 Hello! Welcome to Day 18 of my series about developing an awareness of God's presence! You can refer back to Day 1 if you'd like to know my backstory for the series.
I encourage you to read all the posts in the series if you are just joining us. Each day's assignment builds on the previous assignments, and they are all vitally important! (Be sure to subscribe to receive my daily posts so you won't miss anything.)
Today, we are going to talk about dreaming with God.
Living your life in God's manifest presence is a lot like taking a walk with a friend. God is your Friend – the best Friend you have ever had and ever will have. But this Friend isn't just like you. He's not limited like you are.
He knows the route of your walk before you do.
This Friend actually holds all the power in the universe. He made you, and He actually has a plan for your life.
Jeremiah 29:11 tells us that it's a great plan, too. It says, in the Amplified Bible, "For I know the thoughts and plans that I have for you, says the Lord, thoughts and plans for welfare and peace and not for evil, to give you hope in your final outcome."
Related: God Has Not Forgotten You
John 10:10 tells us a bit more about the life God has for you. Jesus said, "The thief comes only in order to steal and kill and destroy. I came that they may have and enjoy life, and have it in abundance (to the full, till it overflows)."
God has a plan for you that will give you an amazing life. It will be full of wonderful things. It will be full of joy, peace, welfare, and hope. You're gonna love God's plan.
That being said, don't you want to know what God's plan for you is?
In order to find out, you've got to dream a little. The cool thing is that God wants to dream with you.
What are your dreams for your life?
Have you ever made a list of life goals?
Have you ever thought you'd like to do some radical thing, then instantly squashed that thought and said to yourself, "That would never happen"?
Remember your dream. Reclaim that radical thought. It might be God's exact plan for you.
Related: Dethroning Christian Myths (He Must Increase, But I Must Decrease) and YOU Are God's Dream
Your assignment for today is to start a list of life goals.
And to write down on it everything you can think of that you'd like to do, even if you don't think it could ever happen.
Remember, this is a list of life goals. You have years to decades in front of you. Your life in 10, 15, 40 years might look completely different than it does right now.
So write down all your dreams. You never know.
God wants to dream with you. It starts with the dreams He's already placed in your heart.
More dreams will come along. God will give you additional dreams and thoughts as the years go by.
But start where you are right now.
And write them down.
What is one thing that is on your list of life goals? Will you share?
I'll start: One of my dreams is to write for Christianity Today by my 35th birthday. So I'm starting now where I am: writing and blogging. (Stay tuned as I plan to post my entire list of life goals soon.)
How about you?
Related: Read the whole "21 Days to the Manifest Presence of God" series here!