21 Days to the Manifest Presence of God: Day 16 (The Word of God)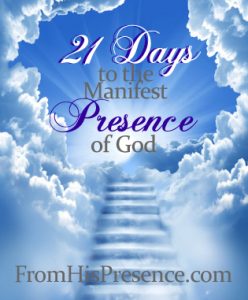 Hi and welcome to Day 16 of my series about developing an awareness of God's presence! You can refer back to Day 1 if you'd like to know my backstory for the series.
I encourage you to read all the posts in the series if you are just joining us. Each day's assignment builds on the previous assignments, and they are all vitally important! (Be sure to subscribe to receive my daily posts so you won't miss anything.)
Today, we will cover a bit more of our most important check-and-balance for hearing God properly.
That check-and-balance is called the Word of God, the Bible.
Here's the crux of this subject:
No matter what we think we have heard God say, if it doesn't line up with what He says in the Bible, then WE DIDN'T HEAR FROM GOD.
Period.
Isaiah 8:20 says, "To the law and to the testimony! If they do not speak according to this word, it is because there is no light in them."
Second Timothy 3:16-17 says, "All Scripture is given by inspiration of God, and is profitable for doctrine, for reproof, for correction, for instruction in righteousness, that the man of God may be complete, thoroughly equipped for every good work."
John 1:1-4 says, "In the beginning was the Word, and the Word was with God, and the Word was God. He was in the beginning with God. All things were made through Him, and without Him nothing was made that was made. In Him was life, and the life was the light of men."
 John 1:14 says, "And the Word became flesh and dwelt among us, and we beheld His glory, the glory as of the only begotten of the Father, full of grace and truth."
Somehow, God says that He and His Word are the same. The Word of God IS God.
Psalm 138:2 actually says, "…For You have magnified Your word above all Your name."
God is into His Word. His Word is actually a manifestation of Himself.
God can't go against His Word, because He can't go against Himself. He is who He is, and He does not change. (Malachi 3:6 says, "For I am the Lord, I do not change…")
Therefore, whenever we believe we have heard God say something, we always need to check and see if it matches the Bible. If it came from God, it will be supported by the Bible. In context, too. Not taking one word here and one word there and making a snippet of whatever you want it to say, like a sound engineer would in a recording studio.
So here is your assignment for Day 16:
Go into your special place with God. Ask Him to speak to you.
Then when He says something, ask Him to show you the same thing in the Bible.
If you are already familiar with what the Bible says, He might bring a verse into your mind that you never thought would apply to this situation. As long as you're taking the verse in context, a new understanding is perfectly fine. That's the Holy Spirit teaching you.
If you aren't very familiar with what the Bible says, you might need to look up relevant keywords in the concordance in the back of your Bible. Or, you might need to Google up "Scriptures about …" and see what comes up.
You might even ask a friend or trusted advisor if he/she knows any good Bible verses about your subject.
If you can't find Scriptural evidence for what you think God is saying, then you can know that you did not hear from God. (And I'd hold off on acting on that word if it was me.)
But if you find proof for what you think you've heard in the Bible, then you can be sure that you've heard from God.
What words did God speak to you today and then give you proof for out of the Bible? I'd love for you to leave a comment and tell me about it!
Related: Read the whole "21 Days to the Manifest Presence of God" series here!