Dethroning Christian Myths: He Must Increase, But I Must Decrease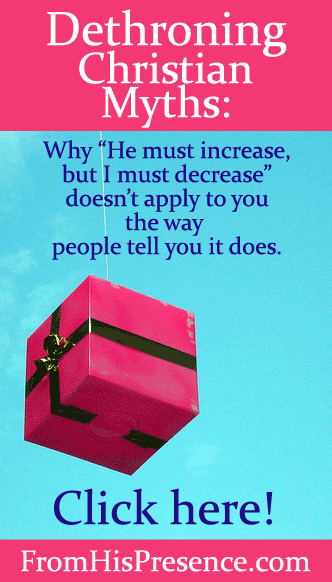 I saw a photo that was being shared on Facebook the other day that said, "Lord, empty me of me, so I can be filled with you." This is based on John the Baptist's words, "He must increase, but I must decrease." Sounds great, doesn't it? Too bad it's not Biblical.
Whoaaa. Every really spiritual reader just did a double-take. 🙂
Yes, I know, saying that the statement above is not Biblical is rather inflammatory. But I'm about to prove it to you from the heart and Word of God, and I think you're going to like it. The new perspective is going to rock your world and draw you closer to your Heavenly Father than ever before. Are you ready?
Background for "He must increase, but I must decrease":
The phrase "He must increase, but I must decrease" comes from John 3:27-36. In this passage, John the Baptist is talking with his own disciples and some Jews about the Law. They had been arguing about ritual purification, and they came to John to settle their argument. John took the opportunity to explain to them that things were changing.
He explained that he (John) was not the Christ, but that Jesus had arrived from Heaven. He talked of the new day that was upon them; about the transition from the Law to the Kingdom. John was the last prophet under the Law. But Jesus ushered in the Kingdom, which is based on true relationship with God by grace.
So when John said "He must increase, but I must decrease," he was talking about the fact that the Law was being fulfilled, and the new day of the Jesus' Kingdom was dawning.
But Christians have taken these seven words and turned them into a mantra with a completely different meaning.
When Christians say "He must increase, but I must decrease," they don't mean "I represent the Law and Jesus represents the Kingdom; my time is over and Jesus' time is here."
No.
When Christians say it today, they are taking it completely out of context. What they really mean is:
Lord, get rid of everything that's me, because I believe You can only be glorified in me if I don't really exist. If You can just get rid of me, then You will somehow be able to glorify Yourself in me."
And we say that with the best intentions, and God knows our hearts when we do.
But the problem is that it has never been God's dream to kill you.
It's true that God wants your old, unregenerate self to be killed off, and He has already done that work. If you have been saved from sin by faith in Christ Jesus, your unregenerate self is already dead. Second Corinthians 5:17 tells us: 
Therefore, if anyone is in Christ, he is a new creation; old things have passed away; behold, all things have become new." 
This "new creation" is a totally new creature; something that has never existed before. In Christ, you have become a new man.
And now, as a new creation in Christ Jesus, you have sanctified goals, dreams, and desires. You have spiritual gifts, a personality, and talents… all of which the Lord has given you on purpose.
When you ponder the Biblical truth about who you are in Christ, you can suddenly see how useless it is to try to get God to kill you again. It's like saying:
Lord, undo all Your work, please. All the spiritual gifts, dreams, personality, and desires You've put in me… please get rid of those. I know You've made me new, but You didn't do a good enough job. I'm pretty sure You couldn't possibly glorify Yourself in me the way You made me."
Isaiah 29:16 says, "For shall the thing made say of him who made it, "He did not make me"? Or shall the thing formed say of him who formed it, "He has no understanding"?
Yet that's completely what we are saying to God when we tell Him to empty us of ourselves so that we can be filled with Him.
O Christian–new man in Christ that you are–I have good news for you today: It's not God's dream to undo His work in you. It's not God's dream to kill you.
God's dream is to have all of Him in all of you. That's the Kingdom perspective.
Pastor Bill Johnson says, "Jesus didn't come to earth to demonstrate what God could do. Jesus came to earth to demonstrate what man could do when filled with God."
That is so true.
God redeemed you to Himself so that you could walk in relationship with Him, manifesting His glory on the earth (Romans 3:23). He filled you completely with His Holy Spirit.
Now, as His child, you are a representation of Him. In order to represent Him to the world, you're going to need your gifts, dreams, and desires. God gave you those gifts on purpose, and He knew what He was doing.
So God cares about what matters to you. You are His baby. He doesn't want you to empty yourself of you. So, instead of "He must increase, but I must decrease," what should you be saying? Just this:
"All of God in all of me."
That is the truth of the Kingdom.
Tomorrow, I will post more on this topic, including the how and why you are God's dream. But for now, would you just thank God for the gifts and dreams He has given you, and ask Him to fill all of you with all of Him?
Image courtesy of Procsilas Moscas on Flickr via Creative Commons license.