21 Days to the Manifest Presence of God: Day 21 (Conclusion)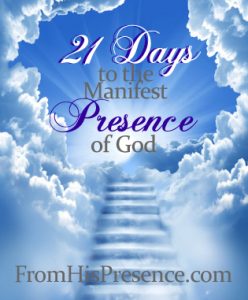 We have finally arrived at the end of this series about living in the manifest presence of God.
It's the end of a blog series, but I hope it is the beginning of something new in your life.
There's no way I could ever have covered everything about living in God's manifest presence. The posts have to be short. Plus, I don't even come close to knowing all there is to know.
But I am a presence seeker, and I believe you are too.
And seeking Him, we find Him, but yet we continue to seek Him. It's a holy paradox.
So here is my challenge for you:
Would you continue to seek Him with me?
Would you dedicate yourself to this one thing–to seek after God's face, and never relent in this life or in the life to come? Would you become a student of God's presence, and of His Word? Would you continue to ask Him to help you seek Him?
The reward is our Heavenly Father Himself, and our Lord Jesus, and His beautiful Holy Spirit.
And you are Christ's reward. He loves you, because He loves you, because He loves you.
Here is a short video of a song called "How He Loves," by John Mark McMillan, that talks about how much God loves you.  As the last hoorah in this series, please take the time to watch this video. I hope that you will feel the  presence and love of God touch you as you watch it.
If you've liked what you've read so far, I'd love for you to subscribe to my blog. You'll get free, printable blessing cards; my eBook, "The Presence Seeker's Creed," an occasional newsletter, and additional freebies in the future. You can subscribe by clicking the link on the sidebar!