What To Do When Nobody Gives You Any Credit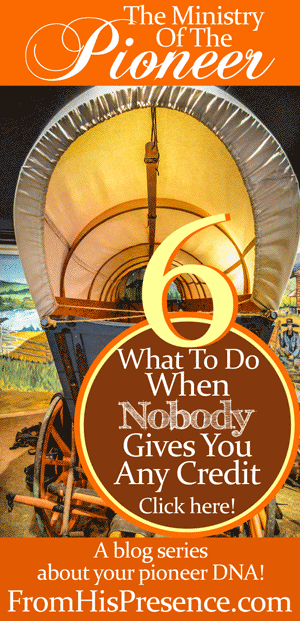 Before I began to write this series, I surveyed my email subscribers and asked what their questions were about the pioneer call. Many, many people responded. And one of the most candid, most relevant, most poignant questions I received was this:
When others do begin to get it, it's rare that anyone will say, "hey, this is what you have been saying for the last 6 months." The realization that I need to be right or the affirmation of man peaks to only one thing, my own sense of pride! That's what frustrates me. I wish I could die to self, but I don't know how."
Wow. Deep. Dear reader who sent that question, thank you for your honesty.
I think that needing affirmation and recognition is something we all struggle with.
I know I have struggled with this a lot. (You can read my story below.) It's completely natural to want to be recognized and affirmed.
Our need for affirmation goes back to our innate need to be loved, to belong, and to have worth in the sight of others. Everybody wants these things. God created us with a natural understanding that honor has value, and so we naturally desire to be honored.
But sometimes in this life, people do not give honor to others as they should. This sad fact doesn't apply just to pioneers. It applies to everyone. I'm not going to try to psychoanalyze all the reasons for which people fail to give honor where honor is due, ok? We just need to lift our eyes to Jesus and see what He says about this thing, not stare at why people aren't treating us right.
So here's the thing: We can't be responsible for how someone else treats us.
We can only be responsible for responding rightly; for walking righteously before God. And that's what the reader's question, above, was about. He said himself that he wanted a heart change so that he doesn't worry about needing affirmation anymore.
So how do you find that heart change, so you don't worry about the affirmation of man?
Here's what to do when nobody gives you any credit:
And by the way, this applies to every kind of situation:
When people aren't giving you credit for your idea; or
When people don't give you credit for or appreciate something you have done;
Or even when people don't value you in the Kingdom as a fellow human being, a son or daughter of God, with a calling and innate worth as God's creation.
1. Recognize first and foremost that you belong to God, and that you are greatly beloved.
And when I say recognize, I mean meditate on this fact day and night until you really get it in your spirit, and nothing can shake you from this realization.
Dear brothers and sisters, this is THE most important thing. It's easy to know this in your head, but it's a different thing to really get a revelation of it in your heart. A true, heart-level revelation, however, will make all the difference in the world. A heart revelation that you are God's; that you belong to Him; and that you are special and precious and beloved in His eyes will change your life.
I used to struggle with this, big-time.
I got passed by for so many blessings, opportunities, and chances to be affirmed. I began to feel like I had no place, no worth in the Kingdom of God. I felt like nobody believed in me or wanted me around. I felt discarded and rejected.
I was really hurting, so I took it to God. And you know what He said?
It was the most precious thing. He gave me Scripture after Scripture, mostly out of Isaiah, about how He made me for Himself. He told me over and over that I am His; that I belong to Him; that I am His inheritance. His words of love washed over me. Words like:
But now, thus says the Lord, who created you, O Jacob, and He who formed you, O Israel: 'Fear not, for I have redeemed you; I have called you by your name; you are Mine. 

When you pass through the waters, I will be with you; and through the rivers, they shall not overflow you. When you walk through the fire, you shall not be burned, nor shall the flame scorch you.

For I am the Lord your God, the Holy One of Israel, your Savior; I gave Egypt for your ransom, Ethiopia and Seba in your place. Since you were precious in My sight, you have been honored, and I have loved you; therefore I will give men for you, and people for your life'" (Isaiah 43:1-4).

and

"'You are My servant, I have chosen you and have not cast you away'" (Isaiah 41:9b).

and

"Yet hear now, O Jacob My servant, and Israel whom I have chosen. Thus says the Lord who made you and formed you from the womb, who will help you: 'Fear not, O Jacob My servant; and you, Jeshurun, whom I have chosen'" (Isaiah 44:1-2).
And you know what? It made all the difference in the world. God comforted me by showing me:
That HE accepts me and has not rejected me;
That I have value and worth, whether anybody else sees it or not;
That I am precious in His sight; and
That He is jealous over me–even to the point of discarding others if need be so He can honor me. (That won't sit well with the religious crowd, but it's the Word of God just the same.) 
When I really got this, all the hurt, anger, and bitterness that I felt from being passed over and discarded just rolled off me. I felt like, "They can have that, because I have a better portion." And it's true. I did and I do. For the first time in my life, after I got this revelation, I felt completely secure in who I am and with my worth in God's sight.
Dear, beloved child of God, the same precious words of Scripture apply to you.
YOU are also precious in God's sight. HE honors you. He values you whether anyone else does or not. And He will do what it takes to honor you in the sight of men also, just because YOU are His portion.
So study these Scriptures. Ask the Holy Spirit to help you get it deep in your spirit that you belong to Him; that He made you; and that YOU are His portion. It will comfort you and make the next step so much easier.
2. Prize your hidden life with God above all else.
When nobody gives you any credit, it is essential to remember that your life and your service are unto God and for God.
I've adopted a simple motto for my life that says it all. That motto is this:
"I don't need men to clap when I do something, but I do need Heaven to move."
I've talked about this before, in the most important article I've ever written. Whether men clap for me or not is of little-to-no consequence. Do I enjoy honor and appreciation as much as the next person? Yes, of course. But you know what?
What matters much more is that I obey God. What matters more is that I carry out the call of God on my life. What matters more is that I am one whom God can use to change the world in my generation.
Whether anybody else realizes it or not.
So that's why I don't care if men clap for me anymore. What I do care about is this: I want my footsteps to carry weight in Heaven.
I want Heaven to roar and earth to tremble when I pray.
I want angels to move and demons to flee when I declare the will of God into a situation.
I want to shape history through fasting and prayer.
I want the power of God to flow through me in greater levels than I've ever seen before.
I plan to heal the sick, raise the dead, and cleanse the lepers. Freely I have received, and freely I will give.
And I will do these things whether anybody else affirms me or not.
I encourage you to adopt the same motto for yourself: "I don't need men to clap when I do something, but I do need Heaven to move."
Decide that you're going to go after what really matters.
Decide that you're going to move Heaven and shake the earth.
Decide that you will do these things because you live before God alone.
The prophet Daniel in the Bible faced intense persecution. But you know what? He carried weight in Heaven. When he took to fasting and prayer, an angel showed up. And you know what the angel said first? Check it out:
And he said to me, "O Daniel, man greatly beloved, understand the words that I speak to you, and stand upright, for I have now been sent to you." While he was speaking this word to me, I stood trembling.

Then he said to me, "Do not fear, Daniel, for from the first day that you set your heart to understand, and to humble yourself before your God, your words were heard; and I have come because of your words" (Daniel 10:11-12).
The first thing that angel told Daniel was how beloved he was in Heaven. Then he said that God moved as soon as Daniel set his heart to seek Him.
Precious reader, the influence you have with God is more important than any standing ovation men could ever give you.
So learn to carry the kind of weight in Heaven that Daniel carried. Begin to prize the superior pleasure of honor from God over the inferior pleasure of honor from men. And do this whether anybody else ever appreciates you or not.
3. Ask God to honor you.
God loves to honor His people. When things in my life looked really bleak a few years ago, I began to claim God's promise in Psalm 91:15 that He would honor me. And you know what? He did.
You can read all about that here, in Radical Prayer #1: God Wants To Honor You. And you can read more about it here, in Radical Prayer #6: God Wants To Set You On High.
Honor is important to God, and He wants to pour it out on you. Don't get all religious on me here. Just read the articles above, and let the Word of God prove itself.
Dear reader, the important thing is this: Whether men ever give you any credit or not, God will.
And that is really all that matters.
So please, please, please… meditate on the Scriptures above. Get it deep down in your spirit that you are GREATLY beloved; that you belong to Him. YOU are His portion. Learn to carry weight in Heaven, and value the influence you have before the throne more than the applause of men. And then ask God to bring you the honor He desires to manifest in your life.
And He will.
Does this message speak to you today? Does it encourage your heart? If so, please leave a comment below. I'd love to hear your thoughts on this!
Related:
Image courtesy of M01229 on Flickr via Creative Commons license. Graphics have been added.