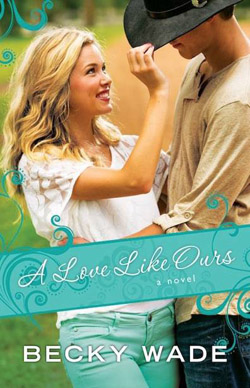 This post contains Amazon affiliate links to the book being reviewed. If you use these links to purchase the book, Amazon will pay us a small commission at no additional cost to you. Thank you in advance for helping support this ministry in this way!
You all know I have a thing for Western novels. Well, this one is so good that I went to Disney World recently and couldn't put it down even there, at the Happiest Place On Earth.
I'm not kidding. Private party at Typhoon Lagoon? I took my book, sat in the beach chair, and read. Free afternoons to wander any park I please? I read the book first. I truly couldn't put it down.
So what is this awesome book, you ask? So glad you want to know. It's called "A Love Like Ours
" by Becky Wade. And it's amazing.
The story is all about a girl named Lyndie who loves horses and used to love Jake, and a man named Jake who loves horses and used to love Lyndie. When they were kids. That was a long time ago, because now he's an angry ex-Marine with a serious case of PTSD from serving in Iraq. He's got a chip on his shoulder that no one can tame. Except God, that is, but Jake displays no interest in God.
Of course, God still has an interest in Jake. So Jake had better watch out, because there's a Healer in the house. Holla.
Anyway, this story is gorgeous. It's realistic. It's modern. It doesn't sugar-coat anything. Becky Wade has come up with two completely believable characters doing completely believable things, with a supernatural God who works on their behalf when they learn to seek Him.
I loved this book. It inspired me. It thrilled me. And if you want to read the. most. amazing. modern cowboy novel ever, you should get a copy of "A Love Like Ours
." I think you will love it too.
(And now I'm going to have to check out more of Becky Wade's books, because who knew she had written more? Not I. Stay tuned about those.) 🙂
Note: I received a free copy of this book from the publisher in exchange for an honest review. The free copy didn't influence my opinion. I still gave up Disney park time for this book and would do it again in a heartbeat. 🙂
Also, the Amazon links above are my affiliate links. That means if you purchase this book through Amazon by clicking on my link, Amazon will pay me a small commission, at no additional cost to you of course. If you want more details, you can delight yourself in my disclosure policy here.