Introspection Is Like a Daily Haircut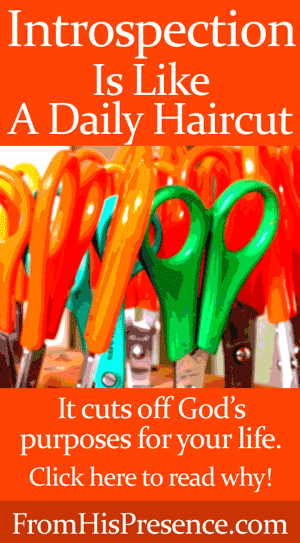 Have you ever spent any time trying to figure out what's wrong with you? Yeah. Don't worry. You're not alone. 🙂
Before I got saved, I was really messed up, and I spent a lot of time dwelling on that fact. Introspection was my favorite activity.
"Introspection" just means looking at yourself and trying to figure yourself out.
In my case, I spent a lot of time asking questions (of myself and others!) like:
"What's wrong with me in this area?"
"Why am I like this?"
"How do I need to change _____ in order to be… (accepted, pretty, popular, find Mr. Right, etc)?"
Just thinking about it now makes me cringe. Ugh… I was in a sorry state, and I made it even worse by looking at myself all the time! But I didn't know any better then. I thought that examining all my problems as closely as I could was the way to solve those problems.
However, after I got saved, joined my church, and began to grow in the Lord, my pastor told me not to get into introspection. He called it "navel-gazing," and said I should look at Jesus instead of myself. That was news to me!
I started trying to get in the habit of looking at Jesus. It took time, but eventually it worked. I began to look at the Lord more than I looked at myself, and it's funny. Looking at myself had never done any good. But when I began to look at the Lord, I actually began to change. I started becoming like the One I was gazing upon.
I was reflecting on this lately, and this analogy occurred to me:
Introspection is like a daily haircut.
Just like a haircut, you think introspection is fun at first. You sit in the chair, look in the mirror, and hope to get all prettied up. But every time you focus your attention on yourself instead of on Jesus, you cut off the purpose God had for you in that moment.
Each day you go back for a haircut, and you cut your hair shorter and shorter. It feels all right for awhile, so you don't notice that you have a problem. You just keep on focusing on yourself, and you continually cut off more and more of God's purposes for you.
Eventually things get scary. Eventually there's not much left. What happens then?
I don't even want to think about it. Squandering one's life and destiny is a scary thought.
Here's a better idea: what would happen if we skipped introspection altogether?
What would happen if we followed Papa's instructions, found in Hebrews 12:1-2:
Therefore we also, since we are surrounded by so great a cloud of witnesses, let us lay aside every weight, and the sin which so easily ensnares us, and let us run with endurance the race that is set before us, looking unto Jesus, the author and finisher of our faith, who for the joy that was set before Him endured the cross, despising the shame, and has sat down at the right hand of the throne of God."
What would happen if we just looked at Jesus all the time? The more we looked at Him, the more we would become like Him.
Second Corinthians 3:18 confirms this:
But we all, with unveiled face, beholding as in a mirror the glory of the Lord, are being transformed into the same image from glory to glory, just as by the Spirit of the Lord."
See, what you focus on is what you empower. Whatever you look at becomes bigger in your imagination and in your reality.
So when you look at yourself all the time, your entire paradigm becomes full of nothing but Y-O-U.
But when you look at Jesus, and keep on looking at Jesus, then JESUS becomes bigger in your reality. Your entire horizon becomes filled with nothing but Jesus.
And when your horizon is filled up completely with Jesus, everything will change in your life.
That's why David wrote, in Psalm 34:2: "Oh, magnify the Lord with me, and let us exalt His name together." "Magnify" means to make something appear bigger. When you "magnify" Jesus, you're looking at Him more closely. You're making Him appear bigger in your life, and your life becomes consumed with Him. He becomes all you can see, touch, taste, hear, and smell. 
Introspection and magnifying Jesus are two completely opposite activities. Introspection cuts off the purposes of God. It turns your focus in on yourself.
Magnifying Jesus, on the other hand, fills your paradigm with the reality of Jesus' life, Word, and Person. Which one will you choose today?
Does this word resonate with you today? Is the Holy Spirit speaking to you about this? If so, please leave a comment below. I'd love to hear what you think!
Image courtesy of Hans Kylberg on Flickr via Creative Commons license. Image has been cropped and graphics have been added.