The Best Illustration of What the Kingdom of God Is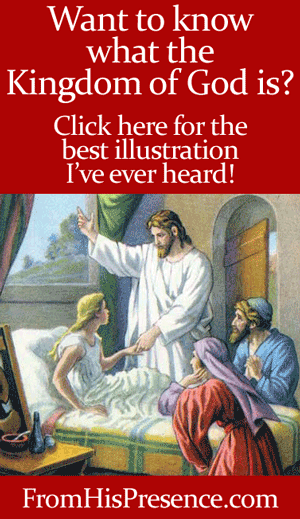 Have you ever wondered what Jesus meant when He talked about the Kingdom of God?
The arrival of the Kingdom of God was Jesus' central message. However, I used to always wonder what He was talking about. It seemed like a pie-in-the-sky idea, and I had never heard anybody preach on it. So what on earth is this thing called "the Kingdom"?
But then I heard the best illustration ever of what the Kingdom actually is. This illustration, from Bill Johnson, rocked my world. I thought I'd share it with you today. (I don't remember what he said verbatim, so I'm summing it up in my own words below.)
Check out the best illustration ever of what the Kingdom of God is:
When the Roman Empire was in its heyday, it was a huge kingdom that kept getting bigger. The Caesars continually sent out their armies to take new territory.

When a new territory came under Roman control, the Romans would use force to try to make that new territory as much like Rome as possible. They would build Roman temples and institute the Roman religion, which involved the worship of Caesar. They would institute Roman education, arts, and culture. They built Roman baths. They would do everything they could do to make the new territory just like Rome.

Why? They did it so that if the Caesar ever came there, he would feel right at home because the territory was just like his own home.

That is what the Kingdom of God is. The Kingdom of God is when everything in Heaven is instituted on the earth, so that God's government, teaching, worship, glory, and power are manifested here on earth, and the earth looks just like Heaven.

After all, the King is coming back here one day. When He does, we want Him to feel right at home… just as if He were still in Heaven.

That's why Jesus prayed, in what we often refer to as the Lord's prayer, "Thy kingdom: Come! Thy will: be done on earth as it is in Heaven!" (Yes, Jesus' prayer was actually a command like that, not a plea.)
Isn't that amazing?
So how do we get there?
By encounter. By becoming aware of the Presence of God with us continually.
Romans 14:17 says:

for the kingdom of God is not eating and drinking, but righteousness and peace and joy in the Holy Spirit."
The Kingdom of God is found in a Person–the Person of the Holy Spirit.
That's the same Holy Spirit who is always with you. The One who adores you and loves you beyond description. The One in whose Presence is fullness of joy.
The Kingdom–a.k.a. "on earth as it is in Heaven"–happens in your life when you learn to become aware of God's Presence always. When you learn to live FROM His Presence toward earth, instead of in earth always seeking His Presence. That's why Jesus said that "the kingdom of God is within you" (Luke 17:21).
On earth as it is in Heaven. That's the Kingdom of God.
Matthew 6:33: "But seek first the kingdom of God and His righteousness, and all these things shall be added to you."
How will you seek the Kingdom of God today? Please share how you seek the Kingdom in the comments below!
Related resource: Get a copy of Bill Johnson's fabulous book, "Hosting the Presence: Unveiling Heaven's Agenda
" on Amazon and it will change your life. This book will teach you how to carry God's manifest Presence always. (Amazon affiliate link; you can delight yourself in my disclosure policy here if you like.)