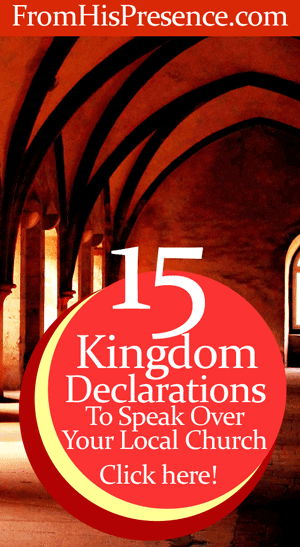 Ready to take your place as the warlord you are and start enforcing change on the earth? One great way to do this is by speaking blessings over your local church.
The Lord gave me a series of declarations recently for the local church. These are all based on the Word of God, and they are powerful. If you're ready to make a difference, speak these kingdom declarations over your church. Then watch God move in response to His Word!
15 Kingdom declarations to speak out loud over your local church:
1. In the Name of Jesus, I decree that (insert church name) is a Kingdom church filled with righteousness, peace, and joy in the Holy Spirit.
Related: Need joy? Read about the day Jesus rocked the 12-bar blues.
2. We at ________ set our minds and keep them set on things above, where Christ is. We set our love on God the Father, His Son Jesus Christ, and His Holy Spirit. We make Jesus Christ the Center of everything we do. We honor the Holy Spirit and yield to His presence, His power, and His will in all things.
3. We at ________ are filled with the Holy Spirit and power. We go about doing good and healing all who are oppressed by the devil, for God is with us.
4. We have an open heaven by the blood of Jesus. The Holy Spirit rests upon us and remains. We are keenly sensitive to the Lord and His voice. We ALL hear God's voice behind us, saying "This is the way; walk in it," and we never turn to the right or to the left. We hear God's voice clearly, and we follow Him. All of our prayers are heard and answered, and everything we need is provided in abundance.
5. We have not received the spirit of bondage again to fear; but we have received the Spirit of adoption, by Whom we cry out "Abba! Father!" We operate in power, love, and a sound mind, and we are all filled with God's perfect love. We dwell in unity as brothers and sisters in Christ, and God's anointing covers us.
6. Every time we gather together, we host the Presence of God. The glory of God rests upon us corporately and individually, and God is enthroned upon our praises. We have a heart to worship even more than David had. We always encounter God deeply in our worship.
Related: Are You Camped Around the Presence?
7. The atmosphere of Heaven saturates this church and all of its members. We are overshadowed by the Holy Spirit, and like Peter, even our shadows release the power of God everywhere we go.
8. We at __________ are lovers of the Word. We study to show ourselves approved unto God, workmen that need not be ashamed. We eat God's Word for breakfast, lunch, and dinner. We do not live by bread alone, but by every word that proceeds from the mouth of God. We hide God's Word in our hearts, and God's Word keeps us from sin.
9. We speak as the oracles of God. We preach the Gospel boldly and with power. The Word of God thunders from our pulpits, our media outreach, and from every way that we and our members communicate. God works with us as we preach, confirming His Word with signs, wonders, and miracles.
10. ____________ is a house of prayer for all nations. We have the spirit of grace and supplication. Our prayers rise like incense before God night and day. We govern in prayer and enforce God's will on the earth through intercession. We pray effectually and fervently. We boldly come before the throne of grace, that we may obtain mercy, and find grace to help in time of need. Our prayers are heard in Heaven and quickly answered on earth.
11. We at _________ have a supernatural grace for fasting. When we fast, we keep God in the forefront of our hearts and minds. We set our hearts to seek God in secret, and He rewards us in the open.
Related: Field Notes From My Fasting Failures
12. We bring all the tithes into the storehouse, and we prove the Lord in this: that He opens for us the windows of Heaven and pours us out such a blessing that there is not room enough to receive it. Our God rebukes the devourer for our sakes and brings us our complete harvest. Because we seek God's Kingdom and righteousness first, everything we need is added to us. Everything we put our hand to prospers. Our God supplies all our needs according to His RICHES in glory in Christ Jesus.
13. Every member of __________ is plugged in and operating in covenant with the Body of Christ. Every member is equipped and serving within his or her gifts.
14. We at ___________ have a heart for the hurting and broken. We have abundant resources for local and foreign missions. We go into all the world and preach the Gospel. We make disciples for Jesus Christ everywhere we go, starting with the world between our own two feet. We point the way to the Father's table in everything we say and do.
15. We at ___________ see with the eyes of God, hear with the ears of God, and love with the heart of God. And because it's the goodness of God that brings men to repentance, we demonstrate God's goodness everywhere we go.
In Jesus' name!
What other Scriptural declarations can you think of to speak over your church? Please leave a comment below! I'd love to hear your ideas!