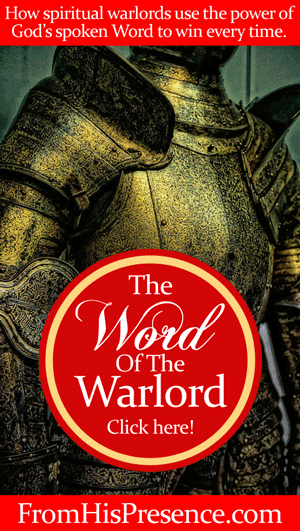 A spiritual warlord understands the power of God's spoken Word. He or she uses God's Word to win great victories in EVERY battle.
Walking in the power of God's Word is THE most important part of becoming a spiritual warlord. Why?
Because, Jesus, the Ultimate Warlord, lived by the Word of God. In Matthew 4:4, Jesus Himself quoted Deuteronomy 8 and said:
It is written, 'Man shall not live by bread alone, but by every word that proceeds from the mouth of God.'"
Jesus lived by the spoken Word of God. The words of the Father breathed life into His body, soul, and spirit moment by moment. Even though Jesus IS and WAS the Word Personified (John 1:1-14), Jesus gave up the supernatural prerogatives of being the Word in order to operate here on earth as a Spirit-filled Man.
And as a Spirit-filled Man–a Warlord indeed–Jesus lived by the Word of God.
Jesus knew the Scriptures–the Words God had already spoken–inside and out.
Jesus lived by the words continually proceeding from the Father's mouth.
Jesus listened to what the Father was saying and spoke only what He heard from the Father.
The Word of God was the dominating force–the power source–of Jesus' entire life.
And as Jesus lived every moment by the Word of God, He enforced the Father's will on the earth in every single situation. How? Because He spoke God's Word out loud, and the Word of God is creative.
When God's Word is spoken out loud, it forth-tells God's will into a situation and it actually makes God's will happen.
When God created the earth, He SPOKE and it was done. God has always spoken things into existence. He spoke every part of creation into existence. Even Adam and Eve, whom He ultimately formed with His hands, were first a declaration. It's not just that He formed Adam and Eve with His hands. No; He spoke Adam and Eve into existence first. (God said "Let Us make man in our image," and then "It is not good that man should be alone; I will make him a helper comparable to him" [Genesis 1:26; Genesis 2:18].)
In theological circles, this is called God's "effectual word." It's a fancy-shmancy term that simply means:
When God's words are spoken into a person or into a situation, those words literally birth God's will into reality in that situation.
That's why God said:
For as the rain comes down, and the snow from heaven,
And do not return there,
But water the earth,
And make it bring forth and bud,
That it may give seed to the sower
And bread to the eater,
So shall My word be that goes forth from My mouth;
It shall not return to Me void,
But it shall accomplish what I please,
And it shall prosper in the thing for which I sent it" (Isaiah 55:10-11, emphasis mine).
And a spiritual warlord creates victory in every situation by speaking God's Word into it.
A spiritual warlord looks at every kind of situation and speaks God's Word out loud over it:
Marriage problems? "My husband loves me as Christ loves the Church, and he gives himself for me. I love and submit to my husband as to Christ. My husband and I pursue peace with one another, and we serve one another in all things, as Christ serves. All things work together for my good, for I love God and am called according to God's purpose."
Money problems? "My God shall provide ALL my needs according to His RICHES in glory in Christ Jesus. I am anxious for nothing; but in everything, by prayer and supplication, with thanksgiving, I make my requests known unto God; and God's peace, which passes all understanding, guards my heart and mind in Christ Jesus. Jesus became poor so that I could be rich, so I receive the abundant provision of God today."
Health problems? "God sent His Word and healed my disease. I am healed by the stripes of Jesus. I speak to my body and command it to line up with God's Word right now and manifest the healing Jesus purchased for me on the cross."
Kid problems? "All my children are discipled by the Lord Himself, and great shall be their peace. Nothing is missing and nothing is broken in my children's lives. My children hear the voice of the Lord behind them, saying "This is the way; walk in it," and they always obey and never turn to the left or to the right. My children are holy, as God is holy. My children go before the Lord in the spirit and power of Elijah, to turn the hearts of the children to the fathers and the hearts of the fathers to the children, and the disobedient to the wisdom of the just, to make ready a people prepared for the Lord. The Holy Spirit is hovering and brooding over my children right now and drawing them to Jesus. My children are sold out to Jesus Christ and they live consecrated to Him every day of their lives."
And as you speak God's Word out loud into every situation, O warlord, you will find yourself dominating those situations and enforcing the will of God into them.
So how do you start creating God's victory through His spoken word?
1. Start learning the Word now.
Just start wherever you are. Even Jesus had to learn and grow (Luke 2:52). And if Jesus had to learn and increase, we do too–and we can learn as much and as fast as we want to. It all comes down to how much time you spend studying the Bible.
So start where you are:
If you're not spending any time in the Word now, begin with 15 minutes a day and grow from there. (Here's how to start with Bible study.)
If you're currently spending 15 minutes a day, increase to 30 or 45 minutes.
If you're spending an hour in the Word now, figure out additional ways to get more Word in you. Get away with God on your lunch break. Listen to audio Bible as you drive or work. Turn off the TV earlier at night and spend a few minutes reading your Bible in bed before you go to sleep. (I always sleep way better if I read God's Word first anyway, so it's a win-win.) 🙂
You don't have to be at any particular place to start. Just start. Start now.
(Did I mention to start now? In five years, you'll be five years older whether you have any more victory in your life or not. Is it ok with you if you're in exactly the same place then as you are now? If not, then now is the time to change things. Start with baby steps and God will help you grow.) 🙂
2. Start speaking God's Word out loud, even if this is the first time you've ever read a Bible in your life. 
You don't have to be experienced at this thing to get victory–even huge victories. It's the power of God's Word that gets the victory, not your own power. So whenever you read something in the Bible that appeals to you, or something that applies to your situation, turn it into an "I" statement and speak it out loud.
For example, if you're reading Matthew 10:8, you might speak out loud:
I heal the sick, raise the dead, cleanse the lepers, and cast out demons! I have received freely from God, so I give freely to others!"
And by the way:
If you'd like help with knowing what to speak out, sign up for my email subscriber list here and you'll get my free, printable blessing cards with 76 Scriptural affirmations to speak over yourself. They're all prepared for you–all you have to do is read them out loud.

These printable cards contain blessings on your mind, body, friendships, emotions, marriage, finances, spiritual life, and prayer life.

They are instantly-downloadable as soon as you confirm your email subscription. Get them today so you can start seeing lasting change in your life!
And as you increase in the Word, your faith and ability to hear God will increase too.
The Bible tells us:
So then faith comes by hearing, and hearing by the word of God (Romans 10:17).
So it's a win-win. When we surrender to God and seek Him in His Word, we learn to hear Him better. We increase in faith and power, and we become transformed. God changes us and makes us like Jesus…
I beseech you therefore, brethren, by the mercies of God, that you present your bodies a living sacrifice, holy, acceptable to God, which is your reasonable service.

And do not be conformed to this world, but be transformed by the renewing of your mind, that you may prove what is that good and acceptable and perfect will of God" (Romans 12:1-2).
And as we begin to know God's Word and speak it out, we begin to dominate the earth with God's will as the spiritual warlords God called us to be.
"On earth as it is in Heaven" becomes reality in our lives. The Word always accomplishes its purpose and does what God sent it to do. YOU can win the victory every time–both spiritually and naturally–if you know AND SPEAK the Word.
Friends, we need to eat the Word for breakfast, lunch, and dinner. We need to chew on it all day until our very DNA changes to match the Word of God.
Word of God in, Word of God out. Power of God in, power of God out. If we want to enforce God's will on the earth as spiritual warlords, it all starts with His Word.
Are you ready to enforce "on earth as it is in Heaven"? How does this message speak to you? Please leave a comment below; I'd love to hear your thoughts!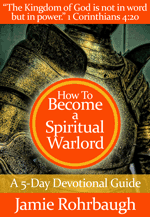 Do you prefer to read the Warlord series in one easy-to-use PDF file? You're in luck!
I also made a 5-day, printable devotional guide out of this series. Each devotional has a simple prayer and/or equipping assignment at the end.
 (The prayers and equipping assignments are not included in the blog posts online.)This e-book will kick-start your devotional life with power. So click the button below to grab the Spiritual Warlord devotional guide e-book on my Gumroad store!

Related: Read all the posts in this series!